Mother's Day is going to be a little different this year, perhaps a little smaller and a little quieter, but that's no reason to make it any less delicious. Here at gather & be, we like to make ANY celebration all about the food, and Mother's Day is no exception. When you're honoring that special lady, whether she's your Mom, a female figure who has influenced you, or yourself (yes, you!), we like to make it a day to remember.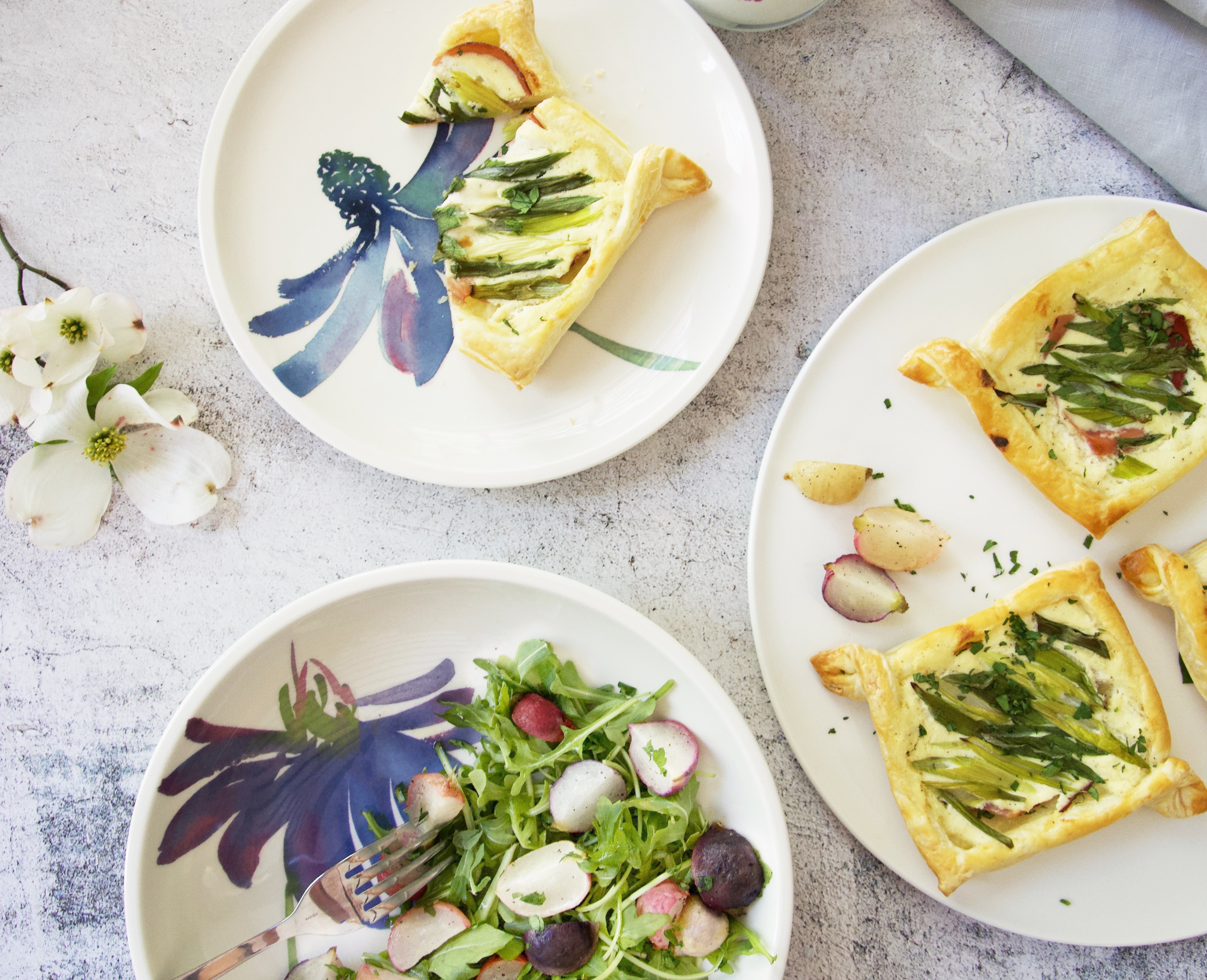 We're keeping it easy because we want to make sure we have plenty of "me time" factored in to Mothering Sunday. Yes, we want to be able to read our book without interruption, and doze off when we feel like it. We'll gladly accept a foot rub or pampering of any sort too, and please make sure our coffee /champagne /gin & tonic is topped up at all times.
Puff pastry makes a gorgeous but easy tart. We love it for its versatility and, of course, those flaky layers! It's a staple in our freezers and sure comes in handy during a pandemic! Prosciutto makes everything better, and paired with sliced spring scallions, it's a winning combination in these Scallion & Prosciutto Tarts that Mom is sure to love.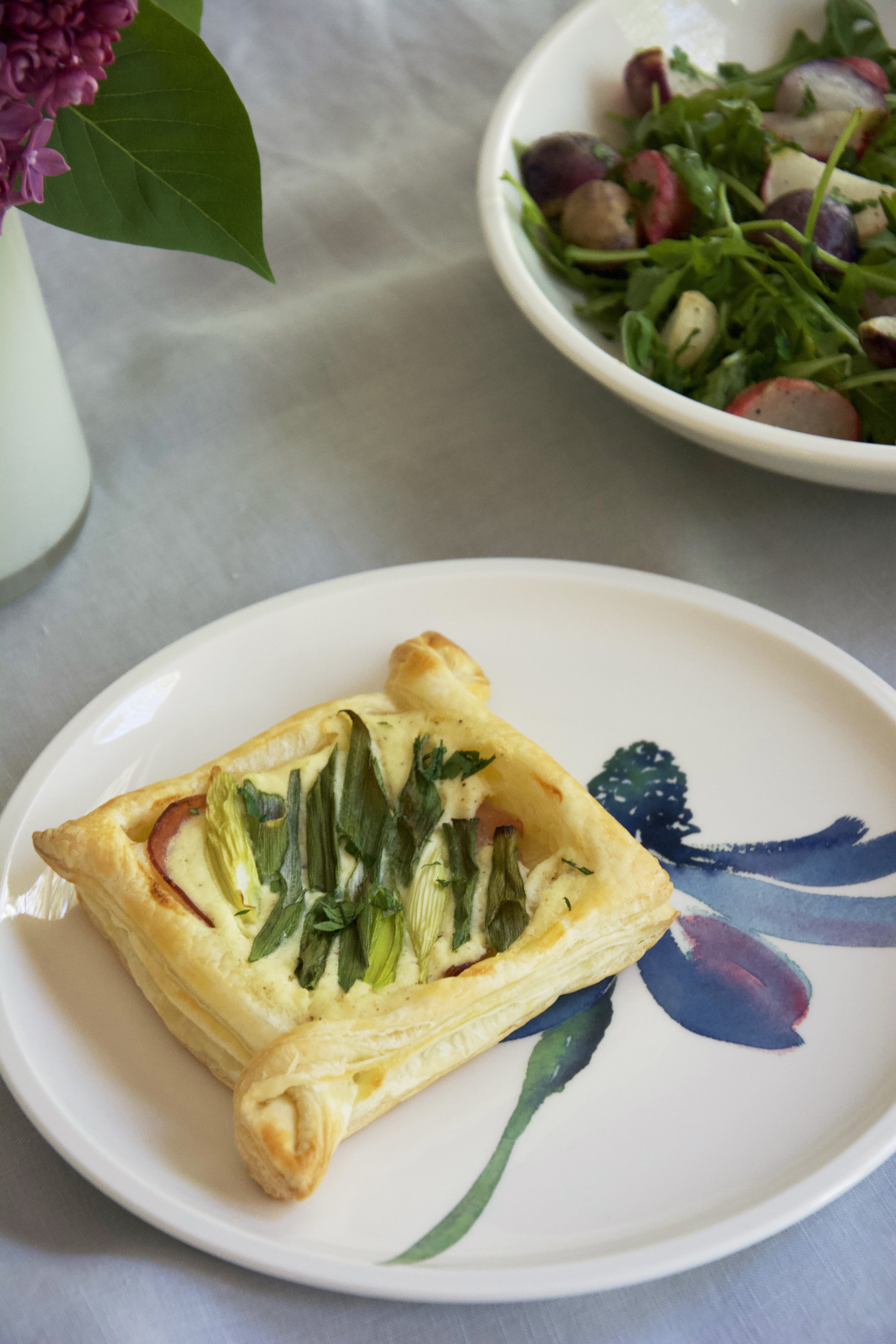 To go with it, we've come up with an ever so simple (in execution, but not in flavor!) Roasted Radish Salad. Roasting radishes brings out their sweet side, and dampens their peppery side. The baby arugula brings the sharp note back to the plate, and this lovely, full-flavored White Balsamic Dressing ties it all together.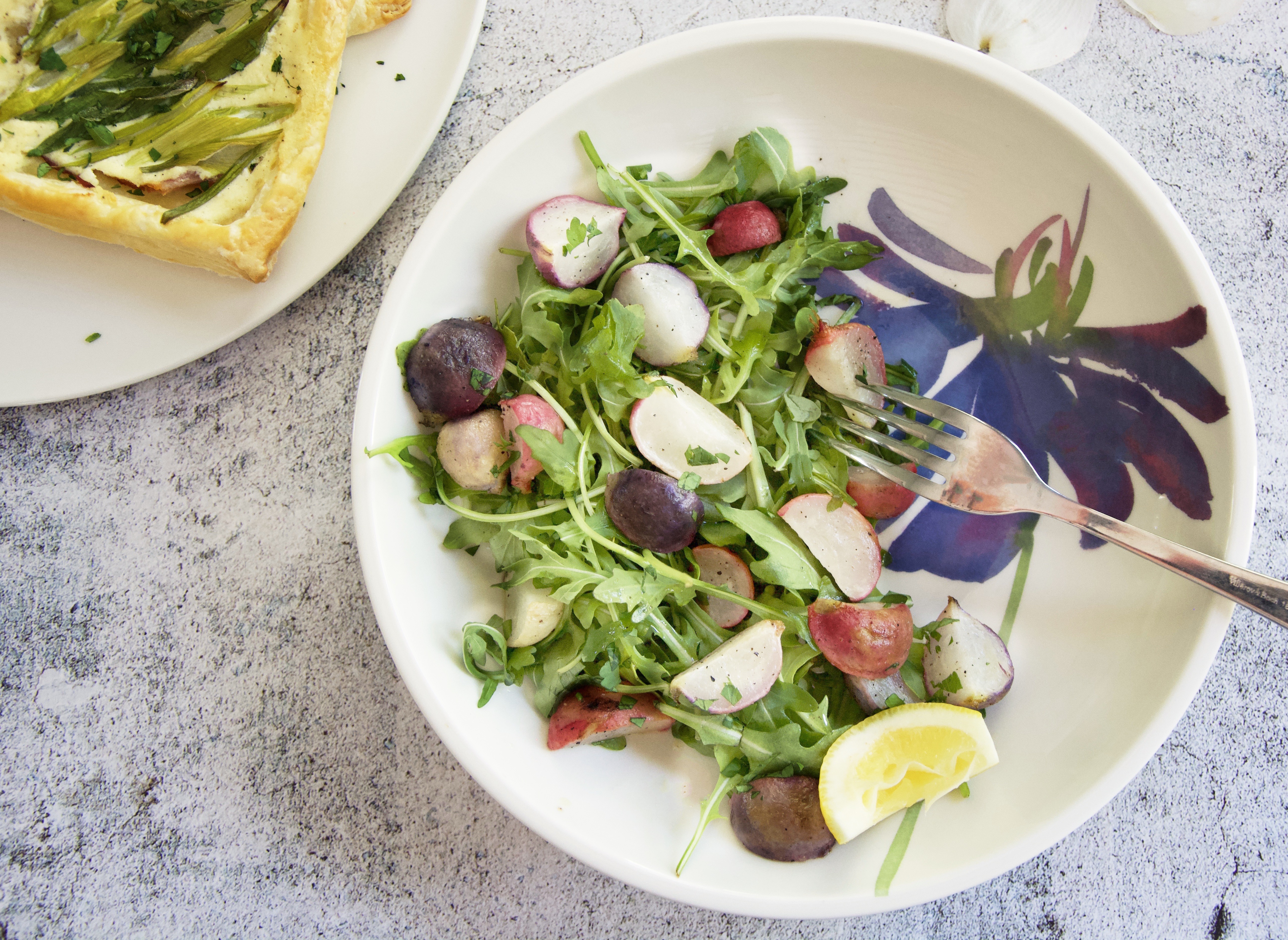 We love the way the colors of these two dishes complement the Artesano Flower Art collection. This line showcases vibrant, water-color florals on contemporary shapes, giving the overall collection a fresh, modern touch. Plus, it pairs perfectly with the other Artesano collections–like Artesano Original, with its crisp white dinnerware and acacia wood accent pieces. Whatever meal you're serving, this collection will bring some color to your table.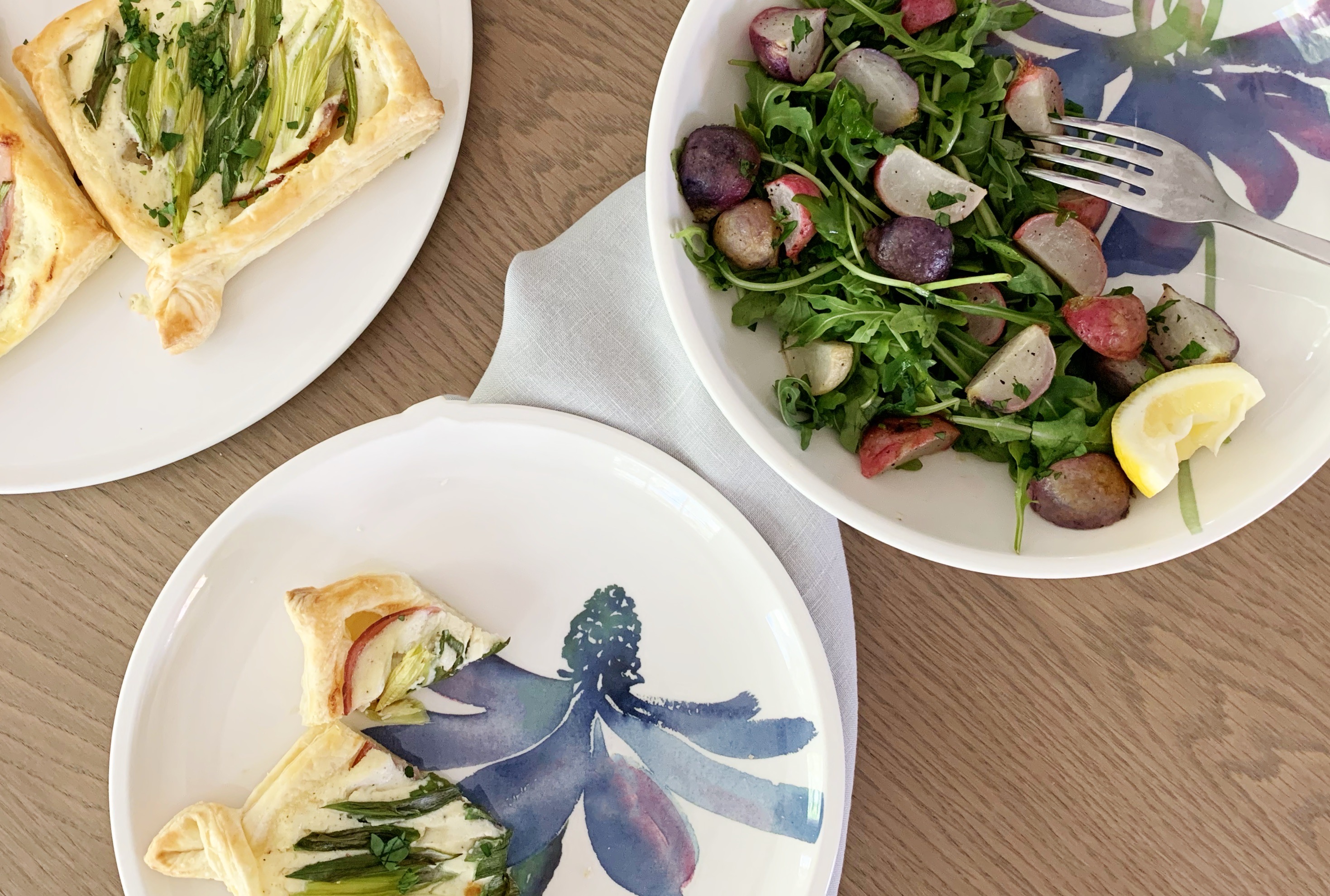 Whether you're having your kids prepare this whilst you sip on a glass of something special, you're making it for YOUR Mom, or whether you bookmark this for next weekend because you really just want to have some ME time on Mother's Day, high five to you! Well done for all your hard work, multitasking, chef and taxi skills, newly acquired teacher skills, and for being the general UN peacekeeper of the household. Oh, and don't forget to call Mom!
Scallion & Prosciutto Tarts (makes 4)
Ingredients:
1 sheet of rolled puff pastry – thawed if frozen, but still very cold
1 egg, lightly beaten for egg wash
1/2 cup (60g) ricotta
1 egg yolk
1 tablespoon heavy cream
salt & pepper
2 slices prosciutto, halved
4 scallions, sliced on the diagonal
Directions:
Preheat the oven to 400F
Cut the puff pastry into quarters, so that you end up with 4 squares. Score the edges of each square, about 1/2 inch (1cm) in from the edge all the way around
Combine the ricotta, egg yolk, cream, and a few grinds of salt and pepper. Set aside
Drape a piece of prosciutto over each square, top with a tablespoon of the ricotta mixture, arrange the sliced scallions on top
Brush all the edges with egg wash and bake for 20 minutes until the pastry has puffed up and is golden
Cool on a wire rack or serve warm – both ways are delicious!
Roasted Radish Salad
Ingredients:
8-10 (6oz / 160g) radishes, quartered
1 tablespoon olive oil, for roasting
salt & pepper
1 packet (5oz/140g) baby arugula or other leafy greens
For the White Balsamic Dressing:
3 tablespoons (45ml) white balsamic vinegar
1 tablespoon dijon mustard
2 tablespoons (30ml) extra-virgin olive oil
3 tablespoons (45ml) grape seed oil, or another mild tasting vegetable oil
a pinch of garlic powder
a drop (1/4 teaspoon) of honey
salt & pepper
Directions:
Preheat the oven to 400F
Toss the quartered radishes with the olive oil, roast for 20 minutes. Season with salt and pepper as soon as they come out of the oven. Set aside
To make the dressing, simply put all the ingredients in a jar, close the lid and shake away!
Arrange the baby arugula in a salad bowl or on individual plates. Arrange the roasted radishes on top
Drizzle over the dressing and there you have it!