If you are familiar with us gather & be girls, you know how we love a good party. Cinco de Mayo is coming up, and we are not going to let this pandemic rain on this fiesta! These days there's little to look forward to in the short term, so we'll sign up for anything that gives us an excuse to roll up our sleeves and get busy in the kitchen, whilst swinging our hips to some music.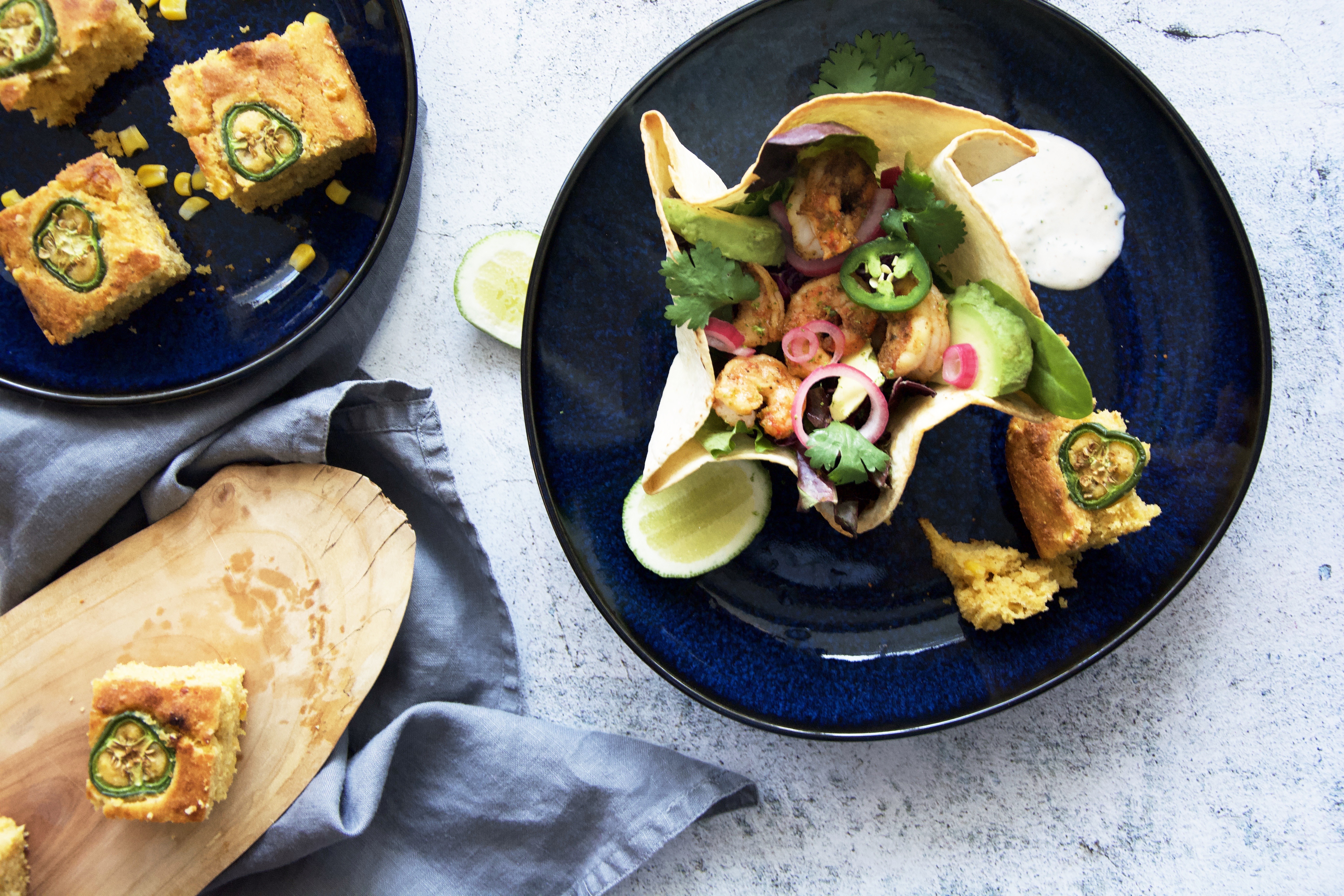 It's no secret that we love tacos, and this Cinco de Mayo we're changing things up with a Shrimp Taco Bowl Salad, you know, because of #quaranteating and all. This may be lighter fare, but we assure you it's bursting with flavor. It's got the punch of chipotle, the fresh zing of lime, and a creamy dressing to tie it all together. We like to serve it in this baked taco shell bowl, which incidentally, is also delicious! We're not stopping there – we're taking our Cornbread south of the border, with street corn seasoning and some jalapeño heat. Are you ready for this?
To serve, we adore these Lave Bleu and Lave Gris collections. Blues and grays are the new white as far as tableware goes, in our humble opinions. These stoneware plates are hand-glazed and their slightly speckled optic adds depth and interest to any dish. The organic shape adds another level
of intrigue, and makes it the perfect backdrop for this colorful feast.
It wouldn't be Cinco de Mayo without margaritas, so whip up your favorite kind–whether it's traditional, strawberry, or spicy jalapeño and let's get this party started already! We love the Purismo Bar Margarita Glass Set for serving up our fave margs. We've got great food, pretty plates and good spirits. Whether it's just you or you and your family, everyone could use a little fiesta! Salud!
xoxo Donata & Kirsty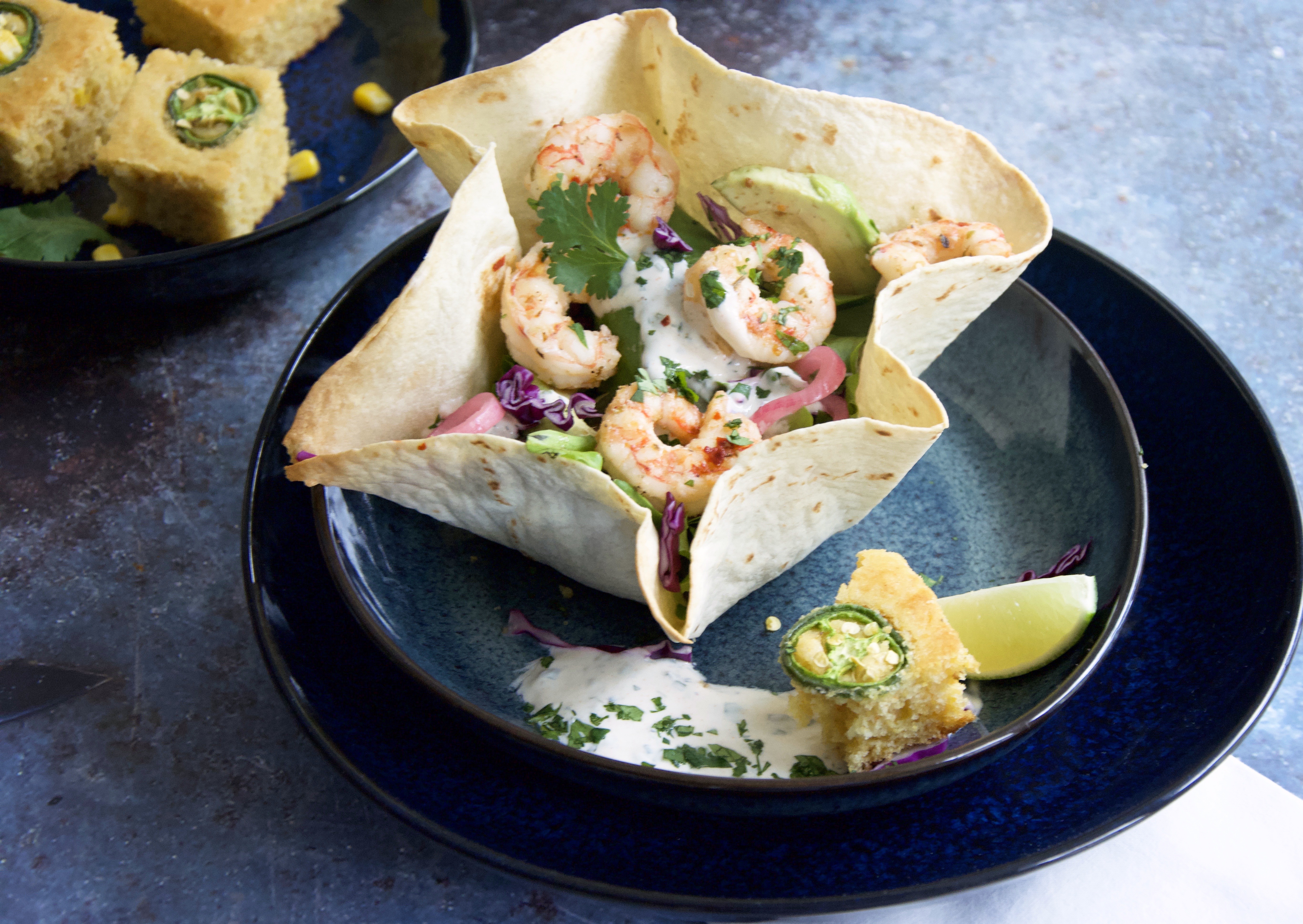 Shrimp Taco Salad Bowls
– Makes 4
This salad is composed of four different parts, but all are easy and can be made ahead!
To shape the taco shell bowls:
4 large (8″) soft tortillas
2 teaspoons vegetable oil or oil spray
Preheat the oven to 375F
Brush, or spray, oil onto both sides of each tortilla. Drape a tortilla over an upside-down oven-proof bowl. You may have to do this in batches depending on how many bowls you have. We used bowls that were 4" in diameter. Form the tortilla around the bowl with your hands.
Bake for 8-10 minutes (keep an eye on it after 8 minutes) until the edges are brown and
the tortilla is no longer soft
Cool on a wire rack–*can be made a day ahead and kept in an airtight container at room temperature*
Shrimp Taco Salad Dressing:
1 cup sour cream (or 1/2 sour cream 1/2 Greek yogurt for a lighter dressing)
3 tablespoons freshly squeezed lime juice
1/4 cup cilantro, finely chopped
2 tablespoons water
1/2 teaspoon cumin
1/2 teaspoon salt
1/4 teaspoon onion powder
1/4 teaspoon garlic powder
1 teaspoon hot sauce – we love Cholula. If you're using Tabasco, start with 1/4 teaspoon and taste before adding more.
Directions:
Combine all ingredients, cover, and keep in the fridge until ready to serve. Taste for seasoning before serving. *Can be made a day ahead*
Quick Pickled Red Onions:
1/2 cup apple cider vinegar
1 tablespoon sugar
1-1/2 teaspoons salt
1 red onion, thinly sliced
Directions:
Combine the vinegar, sugar and salt in a bowl. Stir until the sugar and salt have dissolved. Add the sliced onion and refrigerate until needed. Keeps for up to a week in the fridge.
Spicy Roasted Shrimp:
1 lb. raw, de-veined and peeled shrimp
2 teaspoons olive oil
1/4-1/2 teaspoon salt
1/4 teaspoon pepper
1/2 teaspoon cumin powder
1/2 teaspoon dried oregano
1/4 teaspoon garlic powder
1/4 teaspoon onion powder
1/4 teaspoon chipotle chili powder
zest of 1 lime
Directions:
Preheat the oven to 400F
Rinse and pat dry the shrimp. Place them in a roasting tin. Drizzle over the
oil, then sprinkle over the salt & pepper, cumin, oregano, garlic, onion and
chipotle chili. Toss to make sure everything is well coated.
Roast for 6-7 minutes total, turning halfway, until cooked through.
Remove from the oven, sprinkle over the lime zest, toss to combine. You can serve these hot or cold. If cold, refrigerate until you're ready to serve them. This can be made a few hours ahead.
To assemble the salad you'll also need the following:
1 bag of leafy spring greens
1/8 red cabbage, thinly sliced
1 avocado, sliced
Directions:
Place each taco bowl on a plate
Add a handful of leafy greens and red cabbage
Dot with avocado slices and divide the roasted shrimp among the bowls
Top with pickled onions, and drizzle with dressing, serving extra on the side

Elote Cornbread (makes 8 servings)
1 cup cornmeal
1 cup flour
1 teaspoon baking powder
1/2 teaspoon baking soda
1/4 teaspoon salt
1 teaspoon cumin powder
1 teaspoon chipotle chili powder
1/2 teaspoon garlic powder
1/2 unsalted butter, melted
1/3 cup light brown sugar
2 tablespoons honey
1 egg
1 cup buttermilk, or 1 tablespoon white vinegar added to 1 scant cup of whole milk
1 cup corn kernels, thawed if frozen/drained if from a can
1 jalapeño, sliced into coins
Directions:
Preheat oven to 400°F
Prepare an 8 or 9-inch square baking pan or cast iron skillet
Combine the cornmeal, flour, baking powder, baking soda, salt, cumin, chipotle and garlic in a large bowl – set aside
In another bowl, whisk the melted butter, brown sugar, and honey together until completely smooth
Add the egg and buttermilk, combine
Add the wet ingredients to the dry ingredients
Add the corn and stir until just combined. Don't over mix the batter!
Pour the batter into the prepared baking pan. Dot the jalapeño slices on top
Bake for 20 minutes or until golden brown, and the center bounces back when gently poked
Allow to cool slightly before slicing and serving with lots of butter
*We prefer this served warm. To reheat, wrap it in foil and warm for 10 minutes in a low (325F) oven*