Easter is one of our favorite holidays, symbolizing new life, fresh starts, and flowers in bloom. It also marks the start of many farmers markets which bring spring vegetables to our tables, a refreshing change from the heavier, albeit comforting, winter selection that we're so ready to move away from. In the gather & be households, traditional Easter Sunday always starts with an egg hunt, followed by brunch and a lazy afternoon with lingering guests. This year we'll both only be hosting the people we live with, but that's no reason not to pull out all the stops, and linger we shall, regardless!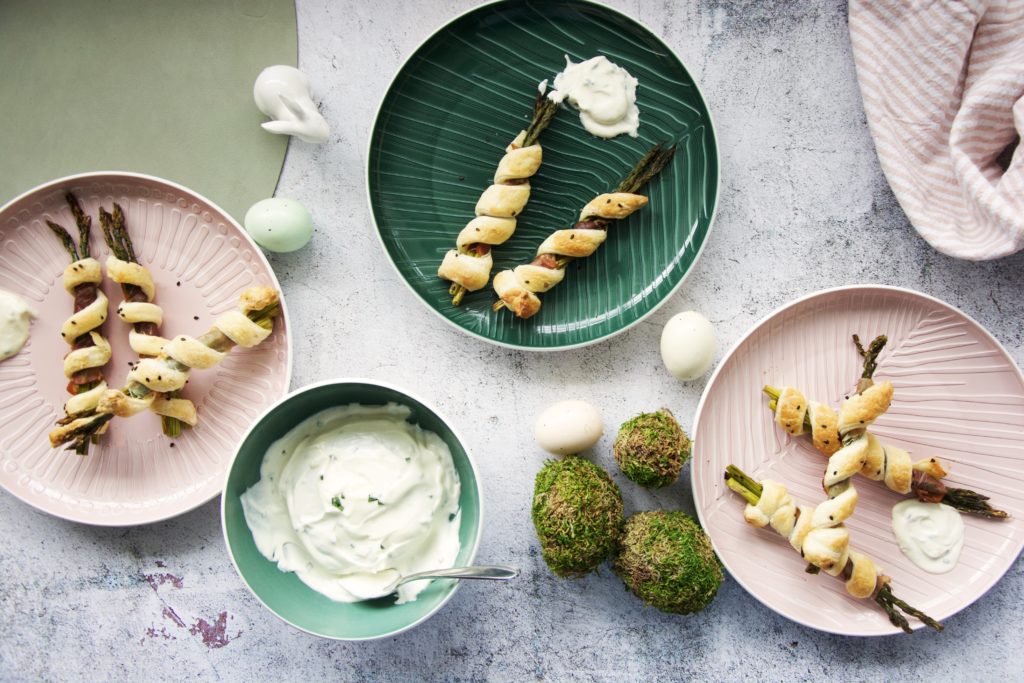 Our brunch consists of traditional Easter fare such as deviled eggs, quiches, spring salads and Easter breads. Did we mention champagne? There's always champagne! We love handheld appetizers to add another savory note to the table, and for this we're bringing in one of our favorite spring vegetables – the glorious green asparagus. We've wrapped it in prosciutto and puff pastry for an easy to eat morsel, and we're serving it with a Whipped Chive Aioli, because everything is better with a good sauce. This aioli, incidentally, is amazing on sandwiches, or served alongside any meat or fish, we're obsessed…
We've chosen Villeroy & Boch's It's My Match tableware with its punchy colors and interesting patterns for our Easter brunch. Mixing different textures and hues makes a tablescape more appealing to the eye, and this deep green, offset with the fresh rosy pink does just that. The beauty of it, is that it's not limited to Easter and will take you right through to summer. Happy Spring everyone! We hope you can find a drink, a bite to eat, and take a moment to go outside and enjoy the beauty that nature has to offer at this time of year!
xoxo Donata & Kirsty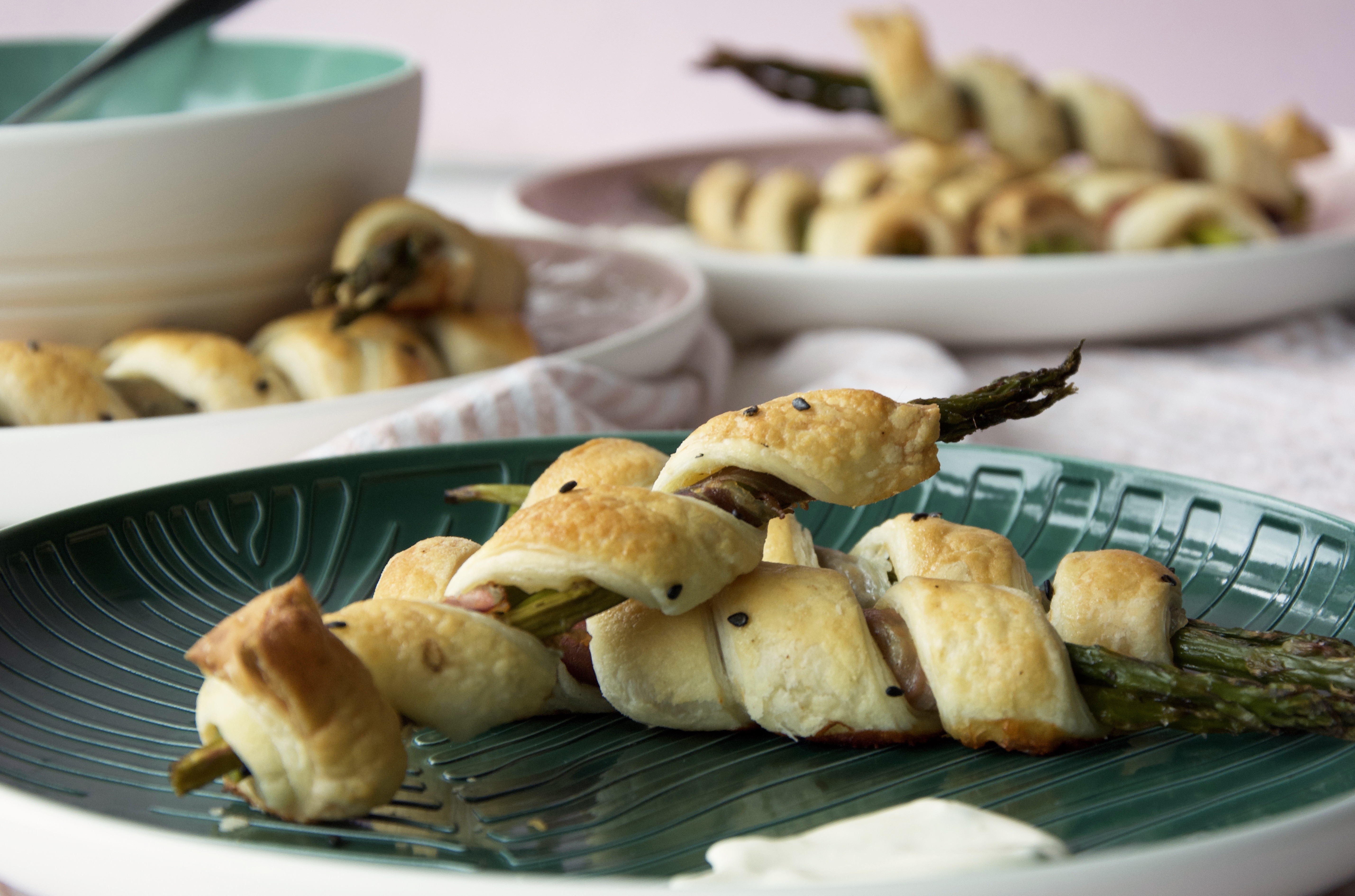 Asparagus & Prosciutto Twirls with Whipped Chive Aioli
Ingredients: (makes 12)
36 slim asparagus spears, or 24 thicker ones drizzle of olive oil
1 square of puff pastry, well chilled
4 slices prosciutto, cut into 3 strips each, length-ways
1 egg, lightly beaten for egg wash
1 tablespoon black sesame seeds
Directions:
Preheat the oven to 350F. Drizzle olive oil over the asparagus and season with salt. Roast for 10 minutes. They don't need to be fully cooked, as they will cook further in the pastry.
Remove the asparagus from the oven and allow them to cool slightly whilst you prepare the puff pastry.
Increase the oven temperature to 400F.
Lay out the square of puff pastry on a lightly floured work surface. Cut the pastry
into 12 thin strips (approximately 1/2-inch thick).
Line a baking sheet with foil and brush lightly with oil.
Prepare your work station – lay out the prosciutto and puff pastry strips. Take 3
asparagus spears and roll them in a cut prosciutto strip at a 45-degree angle. This is easier to do on the work surface than trying to wrap the prosciutto around the asparagus in the air. Repeat with the puff pastry strip and place it on the prepared baking sheet. Continue until all the ingredients have been used up. You can prepare a few hours ahead to this step, keeping the twirls lightly covered in the fridge until you're ready to bake them.
Brush each twirl with egg wash, sprinkle with sesame seeds.
Bake at 400F for 20-25 minutes until the pasty has nicely puffed up and is golden.
Whipped Chive Aioli
Ingredients:
1 cup mayonnaise
1 clove of garlic, crushed
1 teaspoon lemon juice
1 teaspoon dijon mustard
3/4 cup heavy cream
2 tablespoons chopped fresh chives
Directions:
Combine the mayonnaise, garlic, lemon juice and mustard in a bowl.
In a separate bowl, whip the cream with an electric beater until soft peaks form.
Fold the whipped cream into the mayonnaise and add the chives to combine.
Cover and refrigerate until ready to use.