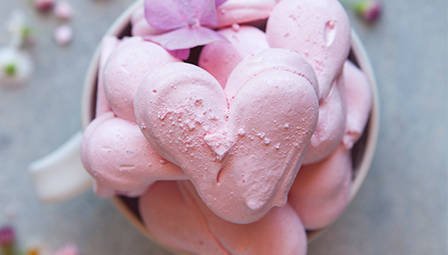 Valentine's Day is just around the corner, and we've got the perfect sweet treat to make for your sweetheart on the special day! Meringue is a light, cloud-like dessert that's simple and stunning!
Ingredients:
8 egg whites
1 cup granulated sugar
1 cup powdered sugar
Pink or red food coloring
1/4 cup cornflour
1 pinch of baking powder
Directions:
First thing's first! Separate the yolks from the egg whites.
Beat the egg whites together with the baking powder in a dish until the texture is light and fluffy
Slowly add the sugar.
Mix in the food coloring of your choice
Beat the egg white until the mixture is firm and shiny
Mix the powdered sugar with the cornflour and sift the powder over the beaten egg whites before folding in with a dough scraper
To get the meringue into the desired heart shape, fill a piping bag (with a round spout attachment) with the mixture. Start in the middle of the heart curve–first, draw the left curve and the half down to the tip at the bottom then start at the top again and do the right heart curve. Finally, fill in the heart and break off the piping bag in the middle.
Dry the meringues in a preheated oven at 200°F for a half hour–depending on their size. Leave the oven door slightly ajar so that the moisture can escape
The meringues are ready when they have hardened
Finally, allow them to cool before enjoying!