The holiday season is just around the corner, and many of us will spend time baking treats to share with family and friends.
Cinnamon is closely associated with the holidays. It can be found in a number of confections that are typically enjoyed during the holiday season. After all, there's nothing like the scent of warm cinnamon wafting out of an oven, permeating the rest of the house to evoke the nostalgia of holidays gone by.
Though a fresh-from-the-oven cinnamon bun may be hard to top, these pinwheel cookies certainly give it a run for its money. These glazed pinwheel cookies taste just like a crunchy, sweet cinnamon bun, and they're sure to impress your loved ones.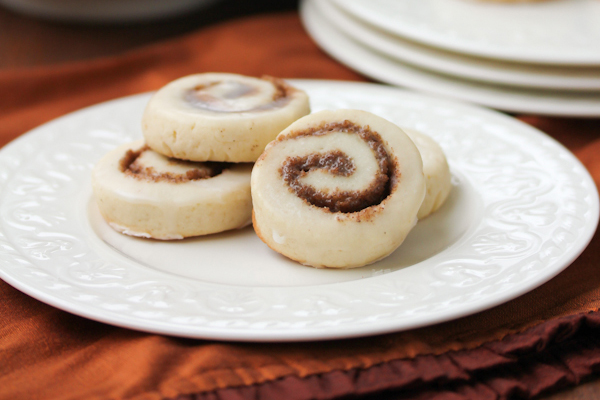 Ingredients:
2 ½ sticks unsalted butter, softened (about 1 ¼ cups)
4 oz. softened cream cheese
3 tsp. vanilla extract, divided
1 tsp. dry active yeast
1 cup granulated sugar
3 ¾ cups all-purpose flour
½ tsp. salt
½ cup brown sugar
1 ½ tbs. cinnamon
3 tbs. whole milk
1 cup powdered sugar
Directions:
Mix 2 teaspoons of vanilla extract with 1 teaspoon of dry active yeast.
Cream the butter, cream cheese, vanilla with yeast, and granulated sugar with an electric mixer until light and fluffy (about 2-3 minutes).
Turn the mixer on low, add the salt, then slowly add the flour.
Scrape the bowl and mix until well combined.
Press the dough into a flat disk.
Wrap and refrigerate the dough for (at least) 30 minutes.
Preheat the oven to 375 degrees F.
Mix the brown sugar and cinnamon together in a small bowl.
Cut the dough in half and leave one half in the fridge while working with the first half.
Flour a piece of wax paper and roll the dough into a 7 X 18 inch rectangle that is approximately ¼ inch thick.
Sprinkle half the cinnamon sugar over the dough leaving 1 1/2 inches bare along the long edge.
Starting on the cinnamon covered side, carefully roll the dough tightly toward the bare edge. You may want to cut the dough into two sections to make the rolling easier. *At this point, you can place the rolls back in the fridge and save for weeks if needed.
Press the seam firmly, then cut the roll into 1/3-1/2 inch slices and lay on parchment paper lined cookie sheets.
Repeat with the remaining dough and cinnamon sugar.
Bake for 9-12 minutes.
Cool completely, then whisk the powdered sugar, milk and remaining vanilla extract together in a small bowl.
Dip the face of each cookie into the glaze and set on a rack to dry.
Once the cookies are dry, choose a pretty plate to set the stage for your festive confections! We chose to serve these cookies on a plate from our Cellini dinnerware collection. The crisp white color of the collection really helps to make the cookies' cinnamon swirl really pop!
Preparation time: 1 hour
Cooking time: 10 minutes
Yields: 64 – 72 cookies
Recipe provided by A Spicy Perspective