It's officially spoopy szn, and we've got a recipe for you that combines all your favorite Fall flavors into one dessert that's sure to make the drool drip right down your fangs: Pumpkin Spice Cupcakes with Ginger Cream Cheese Icing.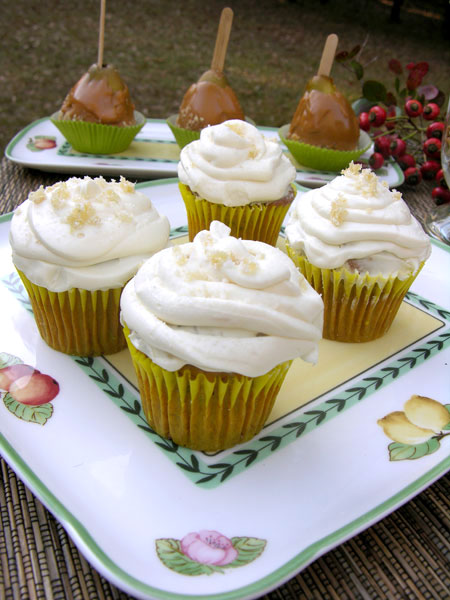 Ingredients:
(Yields 24 cupcakes)
For the cupcakes:
3/4 cup butter, softened
2-1/2 cups sugar
3 eggs
1 can (15 ounces) solid-pack pumpkin
2-1/3 cups all-purpose flour
1 tablespoon pumpkin pie spice
1 teaspoon baking powder
1 teaspoon ground cinnamon
3/4 teaspoon salt
1/2 teaspoon baking soda
1/2 teaspoon ground ginger
1 cup buttermilk
For the icing:
1 package (8 ounces) cream cheese, softened
1/2 cup butter, softened
4 cups Confectioners' sugar
1 teaspoon pure vanilla extract
½ teaspoon crystallized ginger, grated
¼ teaspoon ground cinnamon
Directions:
In a large bowl, cream butter and sugar until light and fluffy
Add eggs, one at a time, beating well after each addition
Add pumpkin
Combine the flour, pie spice, baking powder, cinnamon, salt, baking soda and ginger; add to the creamed mixture alternately with buttermilk, beating well after each addition
Fill paper-lined muffin cups three-fourths full
Bake at 350° for 20-25 minutes or until a toothpick inserted in the center comes out clean
Cool for 10 minutes before removing from pans to wire racks to cool completely
For frosting, in a large bowl, beat cream cheese and butter until fluffy
Add the Confectioners' sugar, vanilla, ginger, and cinnamon; beat until smooth
If you are going to dip or pipe the icing onto the cupcakes, it also helps if the icing is slightly stiff so you may need to add more Confectioners' sugar to achieve desired results
Grate a little crystallized ginger onto the top of the cupcakes as garnish
These cupcakes are perfect for Halloween or any autumn get-together, and we think serving them on pieces from our French Garden collection will help to evoke those quaint & cozy Fall feels.
(Article & Photography by Martie Duncan.