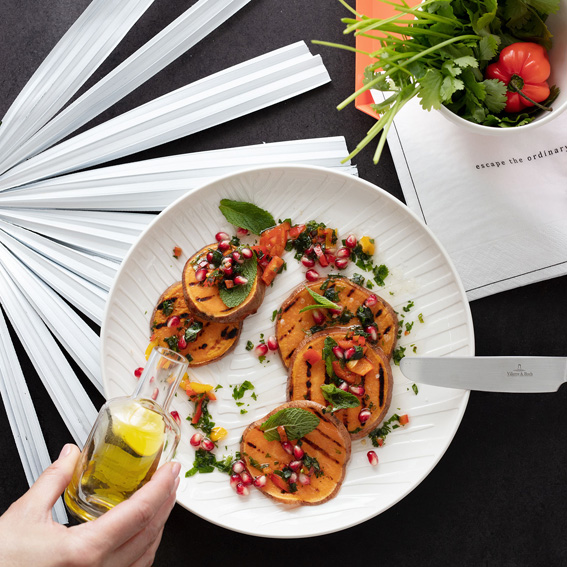 Ingredients:
1 bunch of mixed fresh herbs (parsley, mint, coriander)
1 small clove of garlic
1 small red chili
1 lime
salt
1/2 cup olive oil
1/2 pomegranate
2 medium-sized sweet potatoes
Directions:
For the chimichurri:
Wash the herbs, shake dry, and chop finely.
Peel the garlic and put it through a garlic press.
Halve the chili, remove the seeds, and dice finely.
Halve the lime and press.
Mix the herbs, garlic, and chili with the lime juice and 1/4 cup olive oil.
Season with a pinch of salt.
Remove the seeds from the pomegranate and set aside.
For the sweet potatoes:
Wash and dry the sweet potatoes, then cut into thin slices.
Toss the sweet potato slices in a bowl with the remaining olive oil.
Heat up a griddle pan, add the potato slices, and grill on both sides for 3-4 minutes.
Arrange the sweet potato slices with the chimichurri and pomegranate seeds and serve.
We served this dish on a plate from one of our brand new collections, It's My Match. The It's My Match collection is available in three different color schemes: white, powder (a pale pink), and green. There are three motifs included in this collection: Blossom, Palm Leaf, and Uni. All of the pieces in this collection feature an unglazed exterior with a matte finish. It's My Match is perfect for mixing and matching all three colors and motifs; there's lots of fun to be had with this brand new addition to the Villeroy & Boch line-up!