Our friends over at Gather & Be are sharing another recipe with us and this time, it's vegan AND gluten-free!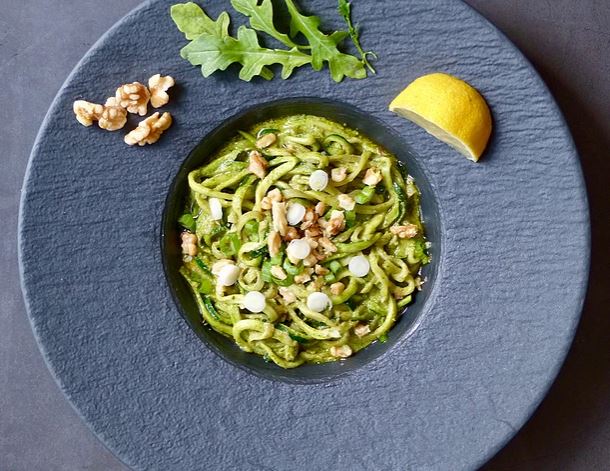 Vegan Arugula Pesto blends peppery arugula with garlic, lemon, and walnuts to create a truly amazing sauce you won't be able to get enough of. The ladies over at Gather & Be served this sauce atop zoodles for a delicious and quick lunch dish that's so good you may even want to have it again for dinner!
Ingredients:
3 packed cups of arugula
Juice of one lemon
1/2 cup walnuts
2 medium cloves of garlic
1/2 tsp. salt
1/2 cup extra virgin olive oil
Freshly ground pepper, to taste
Directions:
In a food processor or blender (an immersion blender works well here too) combine all of the ingredients apart from the olive oil and pepper. Blitz until you have a paste.
Add the olive oil while blending in a slow and steady stream to bring the pesto together.
Finish off with a few grinds of pepper.
It's as simple as that! Here, Kirsty and Donata from Gather & Be sautéed zoodles with a bit of olive oil and a pinch of salt until just tender, then added two tablespoons of the Vegan Arugula Pesto and topped it with some sliced spring onions and a dash of chopped walnuts. They served this culinary creation in the pasta plate from our Manufacture Rock collection, setting the perfect stage for the fresh and bright sauce.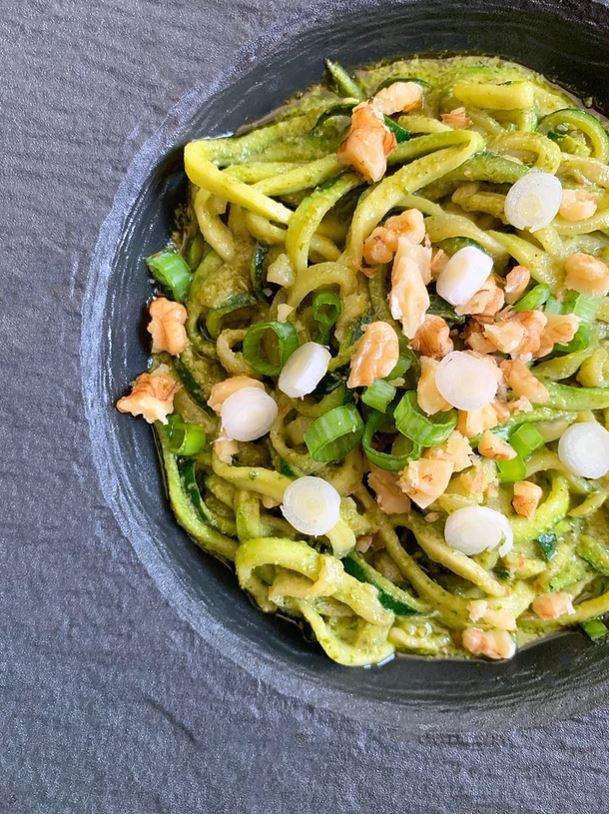 The Manufacture Rock collection adds a rustic, slate-like look to any table. This collection combines premium porcelain with high-quality craftsmanship inspired by natural materials, and is available in a midnight black color (shown here) or crisp white, Manufacture Rock Blanc. The pieces from this collection have a matte finish and pair perfectly with the items from our other Manufacture tableware collections, including Manufacture Rouge, Manufacture Gris, and Manufacture glassware.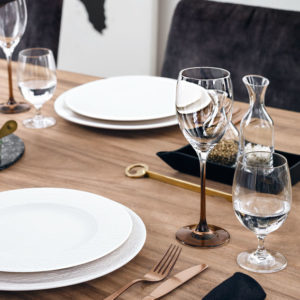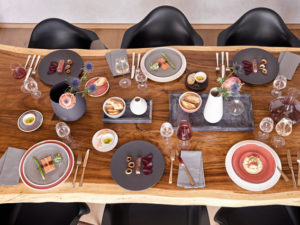 Once again, we'd like to sincerely thank our friends over at Gather & Be for sharing yet another delicious recipe with us. We can't wait to see what else they cook up in the kitchen!