Another week, another delicious recipe from our friends over at Gather & Be! This week, they're sharing their recipe for Cannellini & Lemon Hummus–the perfect snack! This recipe is great for making ahead and keeping in the fridge for the next time you want to kick back, relax, and have yourself a little "me" time (because once you taste this hummus, you are definitely NOT going to want to share!). So, fire up Netflix, get ready for some binge-watching, and pour yourself a glass of wine.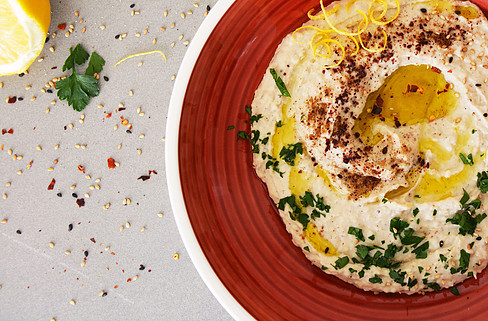 Ingredients:
1 15.5 oz can of Cannellini Beans, drained and rinsed
Zest of 1 lemon
2 tablespoons lemon juice
2 tablespoons tahini
3 tablespoons extra virgin olive oil
1 clove of garlic, crushed
2 teaspoons za'atar (eastern Mediterranean spice blend)
1/2 teaspoon salt
4 turns of fresh pepper with the pepper grinder
To top: more za'atar, chili flakes, fresh parsley and olive oil
Directions:
Zest and juice the lemon and set aside.
Add the beans, lemon juice, olive oil, garlic, za'atar, salt, and pepper to a food processor.
Pulse until combined and the desired consistency is reached–some like it chunky, some prefer smooth!
Mix in the lemon zest by hand.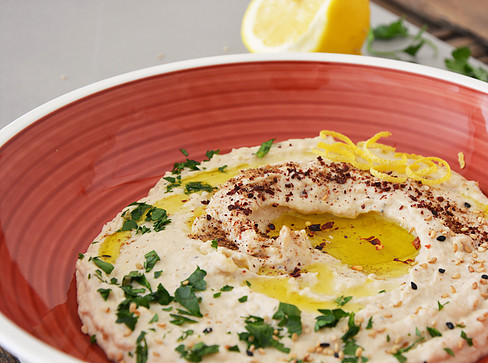 Heap it into a bowl, use a spoon to make a swirl indentation, drizzle with more extra virgin olive oil, and let it form a puddle. Sprinkle with some more za'atar, add chili flakes, and parsley if you're feeling extra adventurous, and there you have it! It's that simple. Serve with warm pita bread, pepper sticks, carrots, or whatever you're in the mood for.
Kirsty and Donata at Gather & Be served this gorgeous hummus in a bowl from our Manufacture Rouge collection. The swirl of red on the bowl really helps this hummus POP! We love the color contrast *almost* as much as we love this hummus–and that's a lot! Each piece of our Manufacture Rouge collection is both microwave- and dishwasher-safe (so clean-up is easy), and hand-painted, so each piece is unique!
We'd like to, once again, thank the wonderful women at Gather & Be for sharing this delicious recipe with us.
Happy snacking!