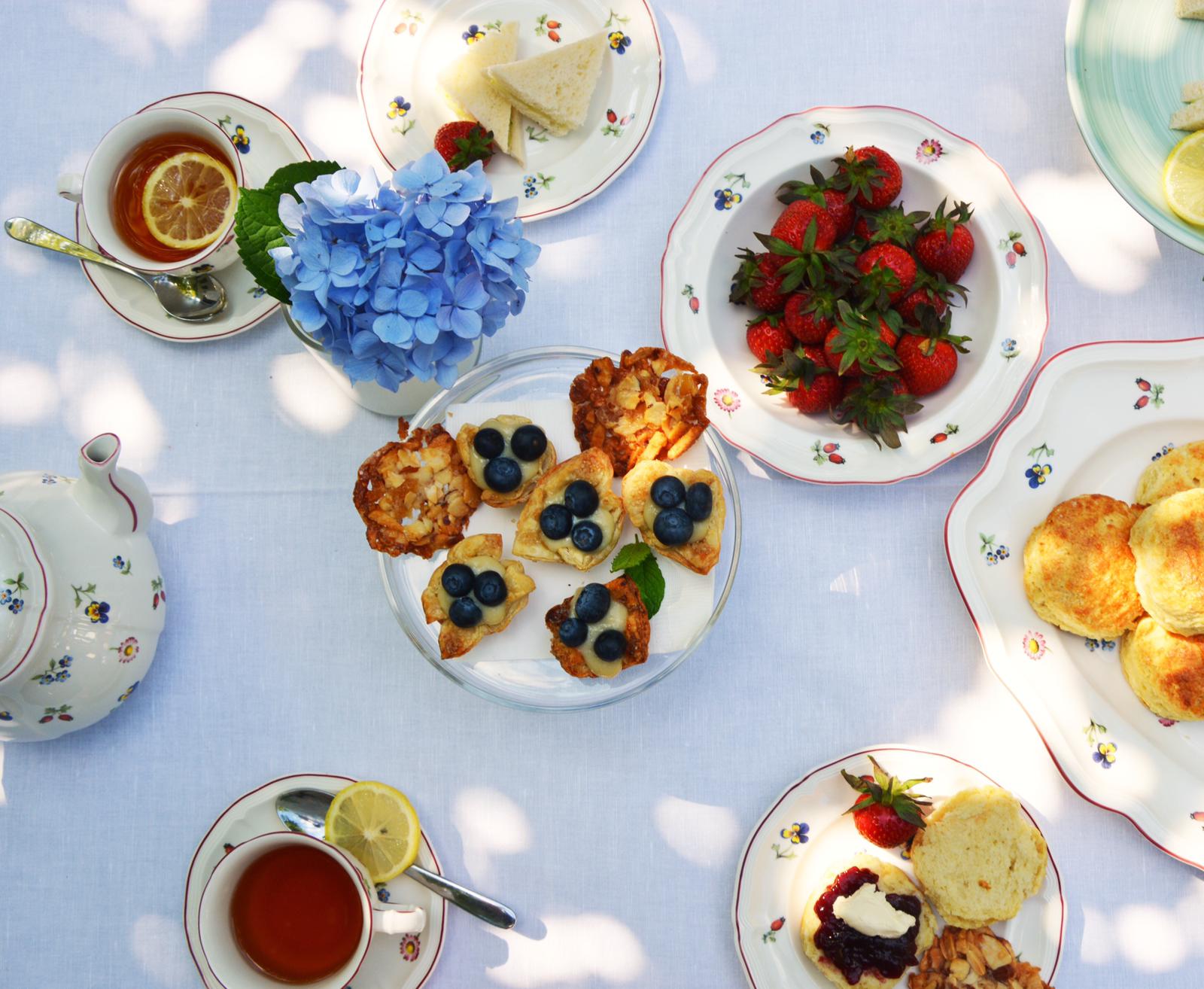 Yes, we are absolute party animals–whether we're dining or disco-ing. Sometimes though, the more sophisticated part of our nature shines through and there's nothing like the pomp and circumstance of a traditional British Tea Party to make us feel rather regal.
Of course, the tea itself is vital (our tea of choice for this occasion is a citrus-y and light Lady Grey!), but how good could any party be without the food? And just as important as the food (and the lovely people we're giving the royal treatment to) is the presentation of the spread. Which is why our tableware of choice for this occasion is Petite Fleur, a Villeroy & Boch classic and beloved pattern.
The Petite Fleur tableware has scalloped edges and a scattering of delicate flowers in beautiful hues, making it a charming and timeless favorite. We like to use freshly-pressed white linens and platters of different sizes and heights to draw the eye in. A simple vase with flowers from the garden is a wonderful finishing touch.
An Afternoon Tea is not done properly in our books without scones and cucumber sandwiches. Then, to further delight our guests, Ginger Florentines and Blueberry Tarts with Lemon and Lavender Pastry Cream are part of the mix. Fresh strawberries are always, always a good idea, especially when paired with the aforementioned scones and clotted cream.
A wonderful conversation starter for your tea party, by the way: Do you say scone to rhyme with "cone" or scone to rhyme with "on?" There have been vicious debates on the subject to no avail, but we would suggest keeping the tone light and diplomatic. Now, go put the kettle on and let's have tea!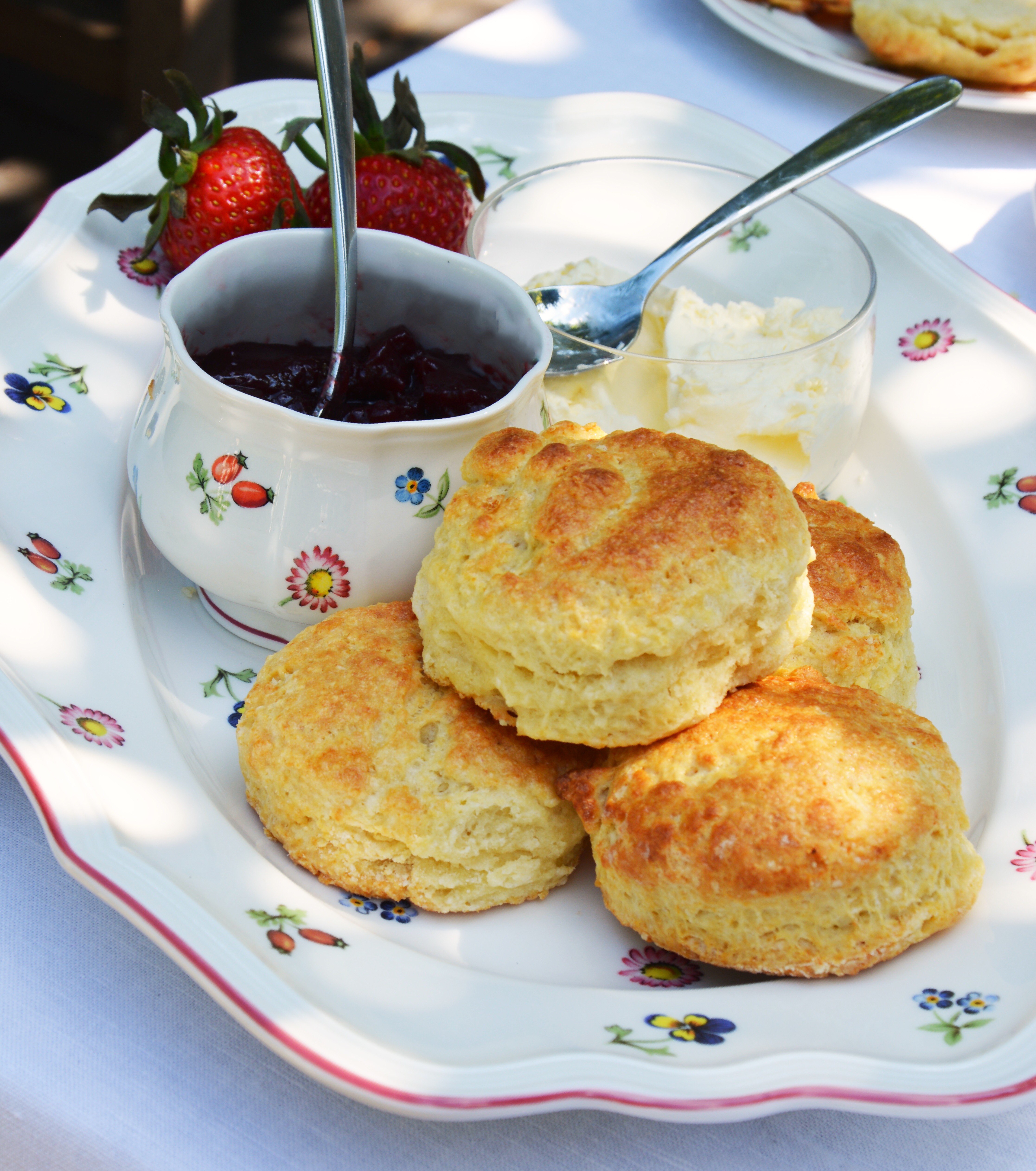 Afternoon Tea Scones adapted from Nigella Lawson – makes 12
Ingredients:
3-3/4 cups all-purpose flour
1 teaspoon kosher salt
2 teaspoons baking soda
4-1/2 teaspoons cream of tartar
1/2 cup (1 stick) unsalted butter, cold and cut into small cubes
1-1/4 cups whole milk
1 egg, beaten
Directions:
Preheat the oven to 425 degrees F. Combine the flour, salt, baking soda, and cream of tartar in a large bowl. Add the cubed butter and rub the mixture with your fingers until the butter is evenly distributed and it resembles damp sand. Add the milk and use a fork to bring it all together. Don't over mix or you'll lose the airiness of the scones. Transfer the dough to a floured surface and gently work it into a smooth circle.
Instead of rolling out the dough, use a flat hand to pat it down until it is an even 1 1/4 inch thick disk. Use a round cutter, approximately 3 inches in diameter, to cut as many scones as possible. Gently form any scraps into another disk and cut the remaining scones.
Place them on a baking sheet lined with parchment paper, they will rise significantly, but it doesn't matter if they end up bumping into each other–it adds charm! Warm scones served straight from the oven are the bees knees. Simply halve them and serve with generous helpings of jam and clotted cream.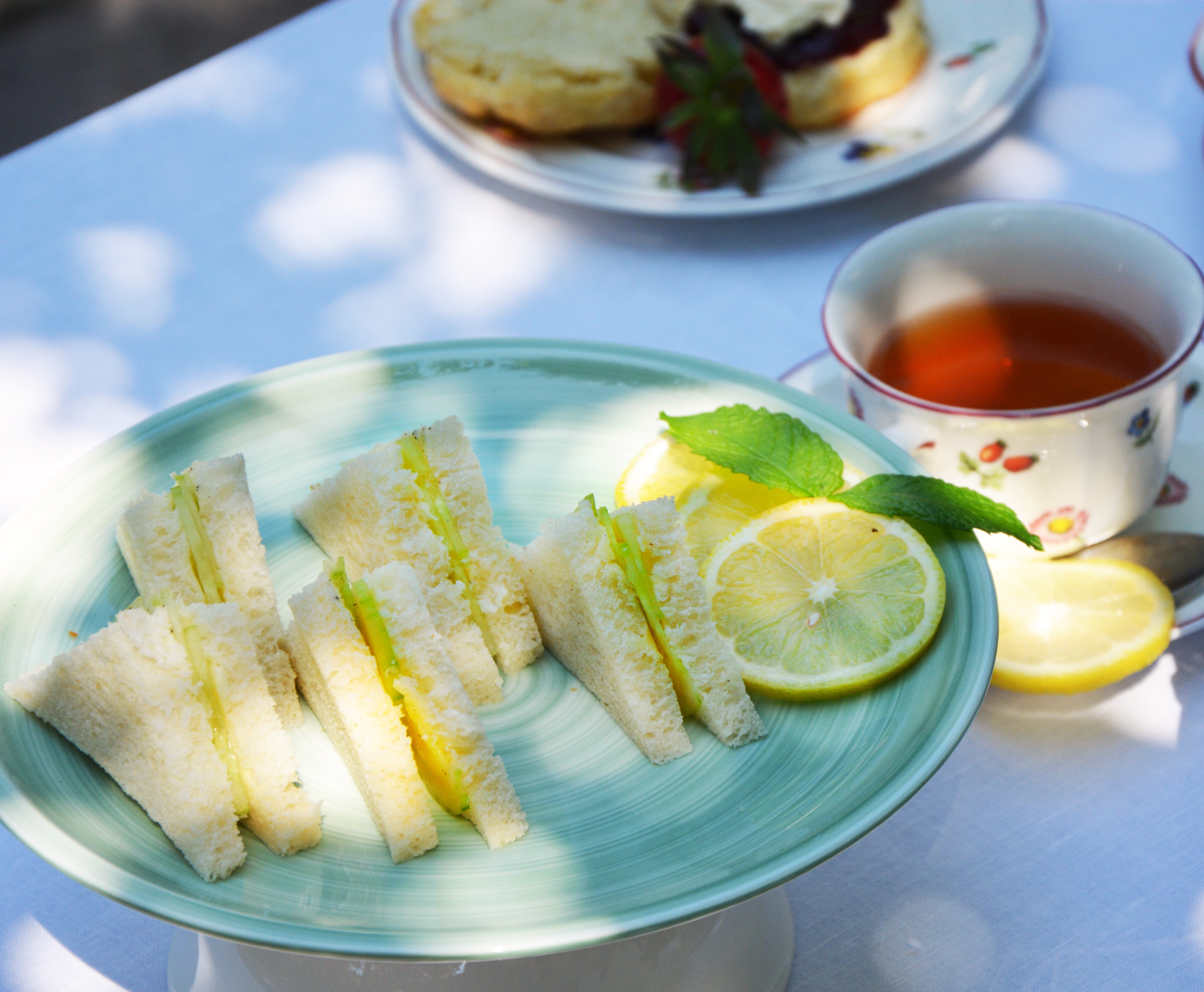 Cucumber Sandwiches
Ingredients:
12 slices of good white bread (square is best, crusts removed)
1/2 stick (1/4 cup) salted butter at room temperature
1/2 cucumber, peeled and sliced very thinly
salt and pepper
Directions:
Place the cucumber slices in a colander over a large bowl and sprinkle with a few turns of the salt grinder (about 1/8 teaspoon). Use your hands to mix it together and let it sit for about 15 minutes. Meanwhile, remove the crusts from the bread and butter all 12 slices.
Remove the cucumbers from the colander and pat dry with paper towels. Lay the cucumber slices on 6 of the buttered bread slices, overlapping them slightly. Grind a light sprinkling of black pepper over the cucumber. Top with another slice of buttered bread and cut into triangles. Sometimes, we cut 2 triangles and sometimes 4 out of one "sandwich." It depends on how dainty we're feeling!
These are best served fresh, but you can make them up to 2 hours ahead. To do so, arrange them on your serving platter, cover with a slightly damp dishcloth, and put them in the fridge.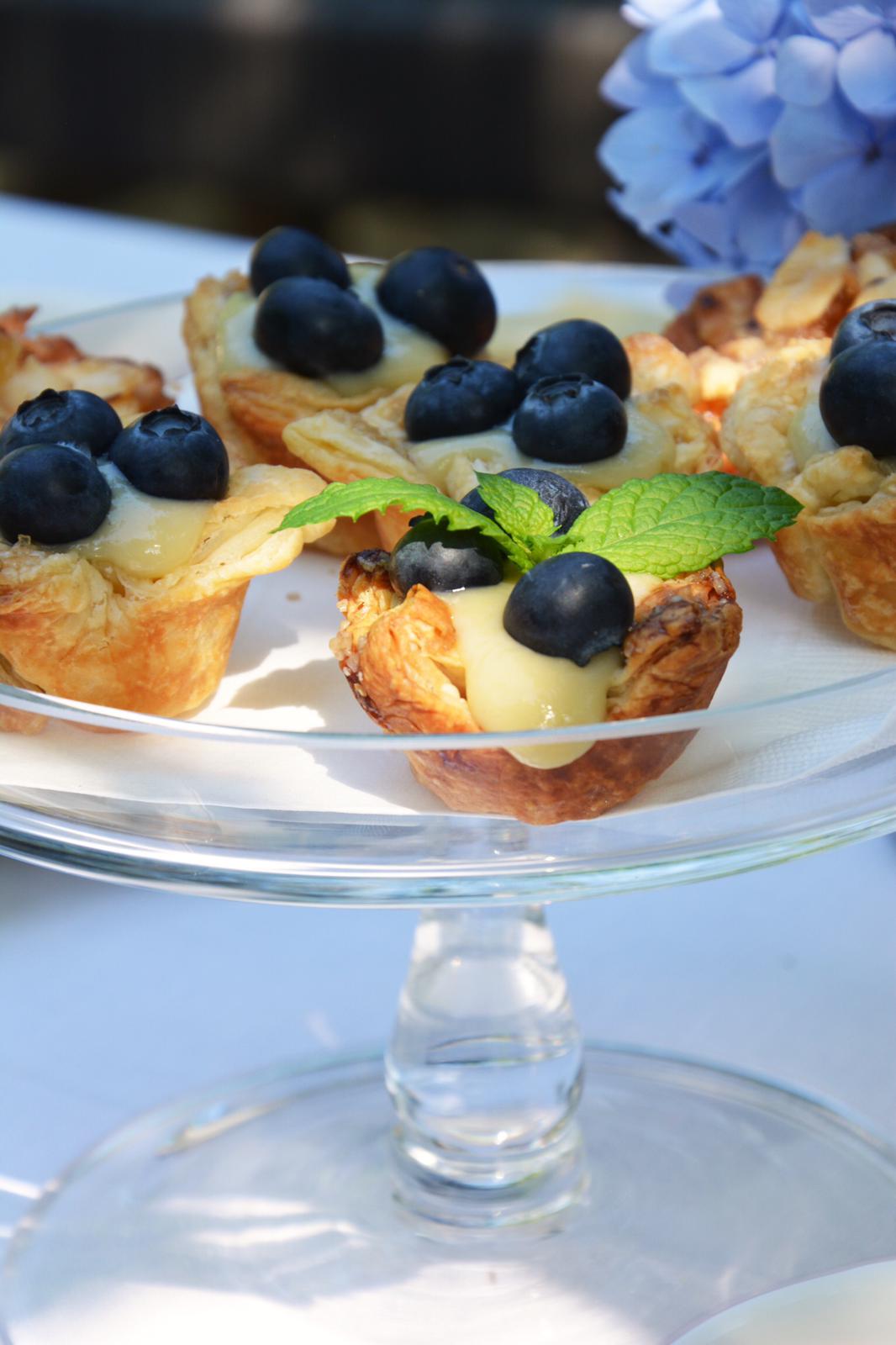 Blueberry Tarts with Lemon & Lavender Pastry Cream
Ingredients:
For the Tart Shells:
1 sheet of Puff Pastry, defrosted if frozen
2 tablespoons raw sugar (or Demerara Sugar)
For the Pastry Cream:
3 eggs
1 egg yolk
2/3 cup sugar
1/4 cup flour
1/4 cup cornstarch or arrowroot
a pinch of salt
2 cups whole milk
2 teaspoons lavender buds
Rind of 1 lemon, peeled with a vegetable peeler
Blueberries
Directions:
Preheat the oven to 400 degrees F and prepare a mini muffin tin with a non-stick baking spray. Unroll or unfold the puff pastry and sprinkle 2 tablespoons of sugar over the pastry. Lightly press down the sugar. Cut the pastry into small squares, measuring about 3×3 inches each. Press the squares into the mini muffin tin. Bake for 8-10 minutes until golden brown. The little pastry crusts are likely to puff up in the oven. Use the end of a rolling pin or wooden spoon to press it down whilst they're still hot. Allow the tart cases to cool for 10 minutes before transferring them to a wire rack to cool completely. These can be made a day ahead, simply store in an airtight container until ready to use.
To make the pastry cream, combine the eggs, egg yolk, and sugar in a large bowl. Add the flour, cornstarch, and salt and mix well with a whisk until the mixture is nice and thick. In a large saucepan, heat the milk with the lavender buds and lemon rind until hot. You don't want it to boil, but it should be letting off a little steam. Have a strainer ready over the heat-proof jug or bowl, and strain out the lavender and lemon. Pour a little bit (a one-second pour) of the hot milk into the egg mixture while whisking. Pour in a little more and whisk away, before slowly adding the rest of the milk in a steady stream–whisking all the while. Set this aside and wash and dry the pan you were using because the mixture is now going back into the pan (we know this sounds complicated, but bear with us). Once you've done it, you'll get the hang of it and it will become an invaluable cooking skill!
Now that you have a clean pan, pour the custard back into it and whisk over a low-medium heat until the mixture starts to thicken. Make sure you get that whisk into all the edges so that the mixture doesn't burn in the pan, or create clumps. If you end up with clumps, no problem; just push the custard through a sieve at the end. When it has the consistency of a nice, thick pastry cream (a spoonful should be able to hold its shape), you can stop whisking (finally!) and pour it into a clean bowl. Place a sheet of unwaxed parchment paper or plastic wrap directly on the surface of the custard to prevent a skin from forming, then refrigerate until cool.
To assemble the tarts, simply dollop a bit of pastry cream into each tart shell and top with fresh blueberries.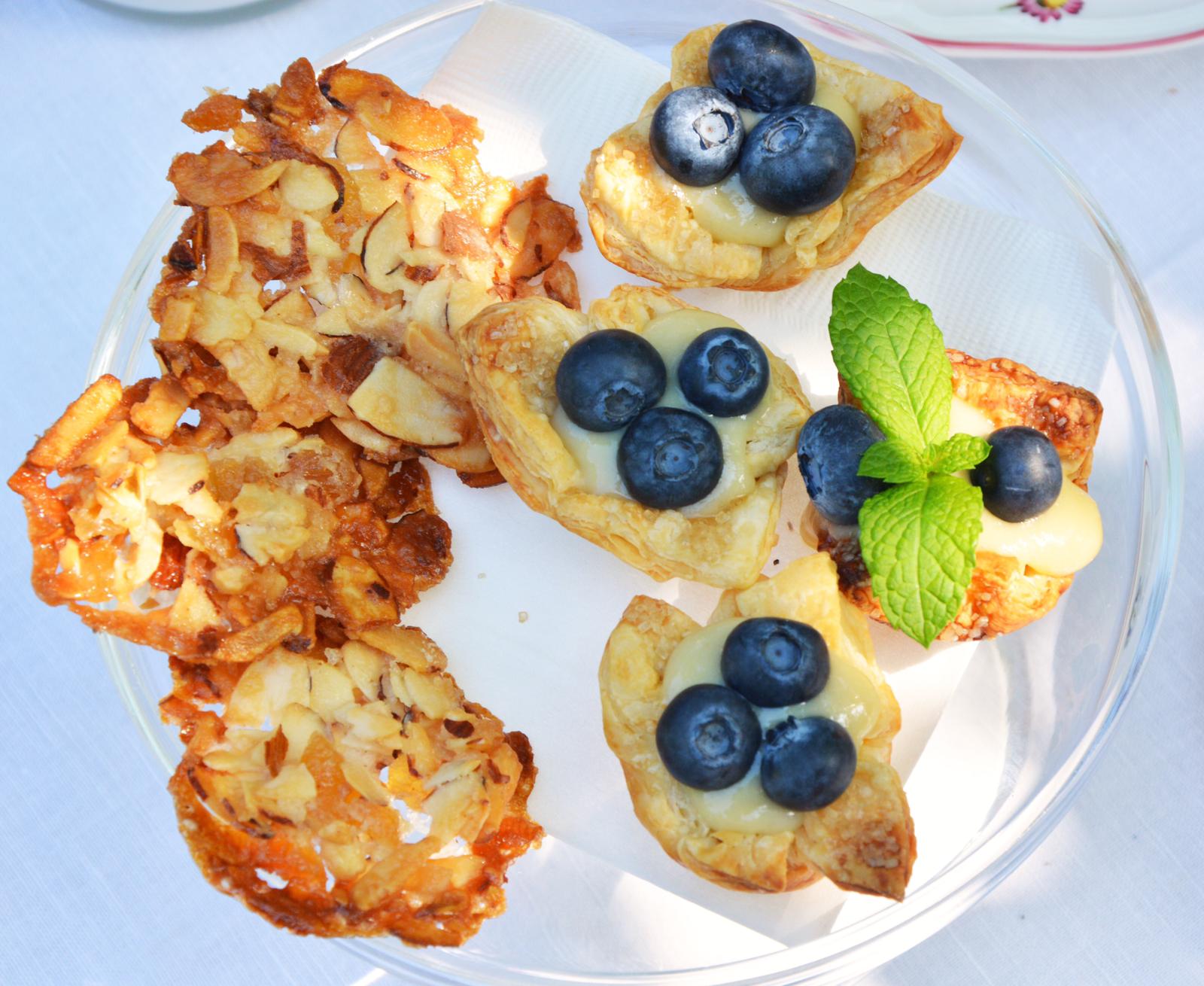 Ginger Florentines (makes 25-30)
Ingredients:
1/2 cup (1 stick) unsalted butter
1/2 cup plus 2 tablespoons sugar
4 oz candied ginger, thinly sliced into strips
6 oz almonds, we used a mixture of flaked and chopped almonds
a pinch of salt
2 tablespoons heavy cream
Directions:
Preheat the oven to 350 degrees F. Line two baking trays with parchment paper. Melt the butter in a small saucepan and stir in the sugar. Slowly bring it to a boil and then remove from the heat. Add the ginger, almonds, and a pinch of salt and mix well. Whisk the cream until it thickens (but it doesn't need to be whipped) and gently stir into the warm sugary mixture. Set aside for 10 minutes or so to allow the mixture to thicken a bit.
Use a teaspoon to spoon little mounds of the mixture onto the baking trays and flatten them slightly with your fingers. These will spread a lot, so leave plenty of space between each mound. Bake for 8-10 minutes, keep a close eye on these as ovens vary and they brown very quickly at the end. If any caramel oozes and escapes from a Florentine, just nudge it back into place with a knife when they're still hot. Allow them to cool for 2 minutes before carefully transferring them to a wire rack. These keep well for a few days in an airtight container.
That's all for now from the lovely ladies over at Gather & Be! Enjoy your Afternoon Tea 🙂
Cheerio,
Gather & Be and Villeroy & Boch