Here, at On the Table: the Villeroy & Boch Official Blog, we're excited to bring you even more delicious recipes from our friends over at Gather & Be! Last time, Kirsty and Donata shared a scrumptious and fun pancake recipe that the kids are sure to love. This time, they've come up with multiple recipes that are perfect for your next backyard soiree!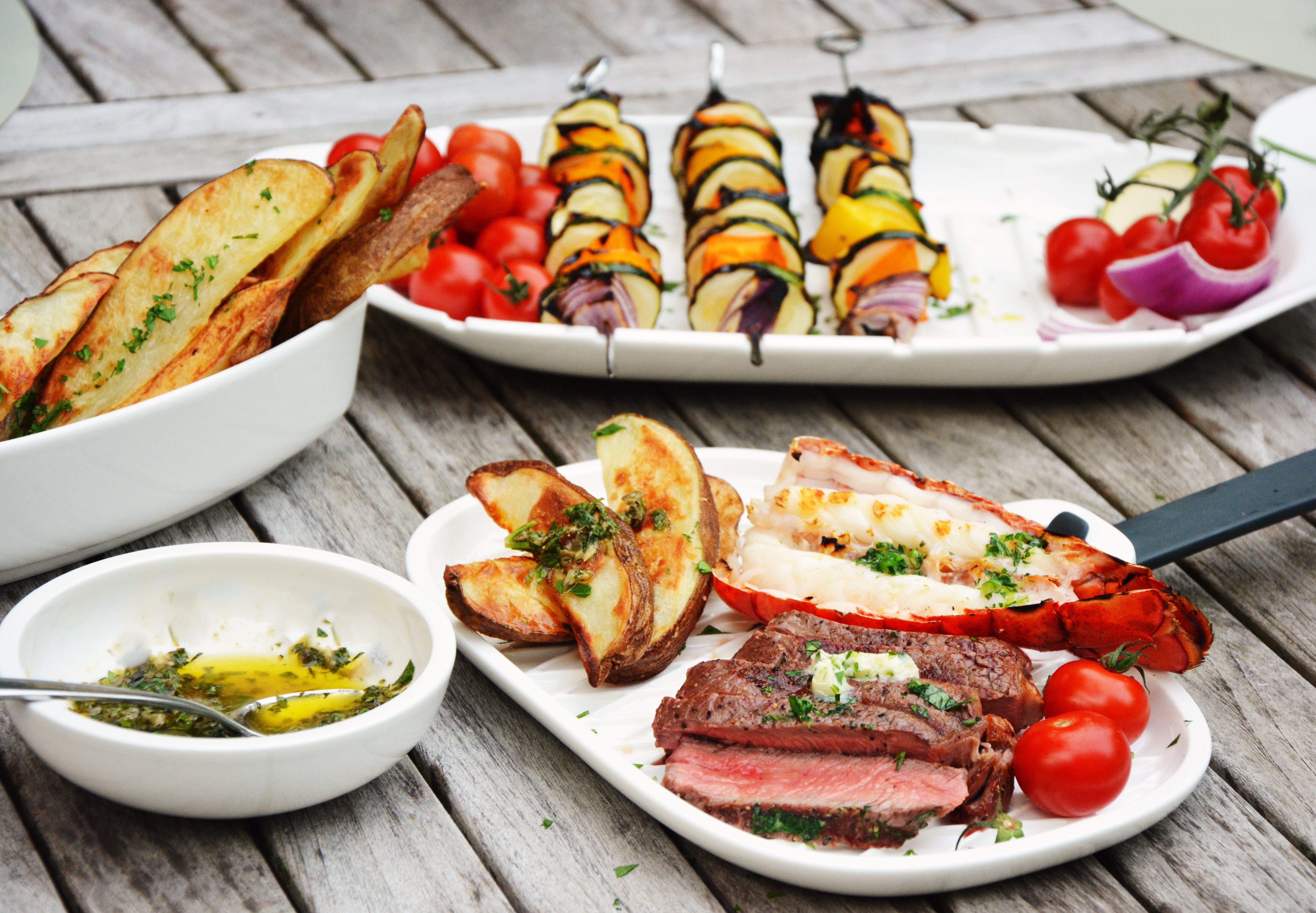 Summer's here to stay, so we're firing up the grill! We love cooking and eating outdoors, and entertaining is much more relaxed when it's not confined to four walls. Many elements of a barbecue can be prepared ahead of time, which means there's more time to enjoy our guests!
For a great barbecue, the table setting is just as important as the food. We absolutely love this BBQ Passion Collection, not only for its interesting and conversation-starting designs (and it's all dishwasher-safe!), but some of the dishes can even go from grill to table. In the words of Ina Garten–how easy is that?! We also love a good white plate, and this classic, crisp hue offsets the colors of the food so beautifully.
For an outdoor dinner, it's always nice to have an appetizer that gets people talking, and of course we've got your back on this one. This Beer-Infused Queso is made using these cute little BBQ Passion Grill Pans, which go directly on the grill. Assemble this ahead, just pop it on the griddle when your guests arrive and let it transform into a gooey, cheesy delight whilst you mix the drinks!
For mains, we're beefing up our game with a Surf & Turf Platter. There's nothing like a fine rib eye and lobster tail to woo your guests. Whether you're serving two or ten, there is not much difference in prep time. If you get a good quality steak, all it needs is some salt and pepper before it hits the heat. We used the BBQ Passion Meat Platter, which goes straight from the grill to the table, and there's even a removable handle to help you transfer it without needing oven mitts.
A meal isn't complete without an excellent sauce or two, so to accompany our Surf & Turf, we have a Garlic Scape Butter and an Italian Green Salsa. The BBQ Passion Steak Plate has a handy little built-in nook for the sauce so it doesn't mingle uncontrollably with your meal.
As a side, veggie kebabs are always a hit, and this BBQ Passion Serving Platter makes them easy to prepare and serve. This platter has little grooves on each side so the kebab skewers are suspended over the dish. This way, your vegetables won't get squished and linger in the drippings, isn't that genius?!
So gather some friends, heat up the grill, and get those drinks on ice for a memorable summer barbecue. For more delicious summer recipes, head over to www.gather-be.com.
RECIPES
Beer-Infused Queso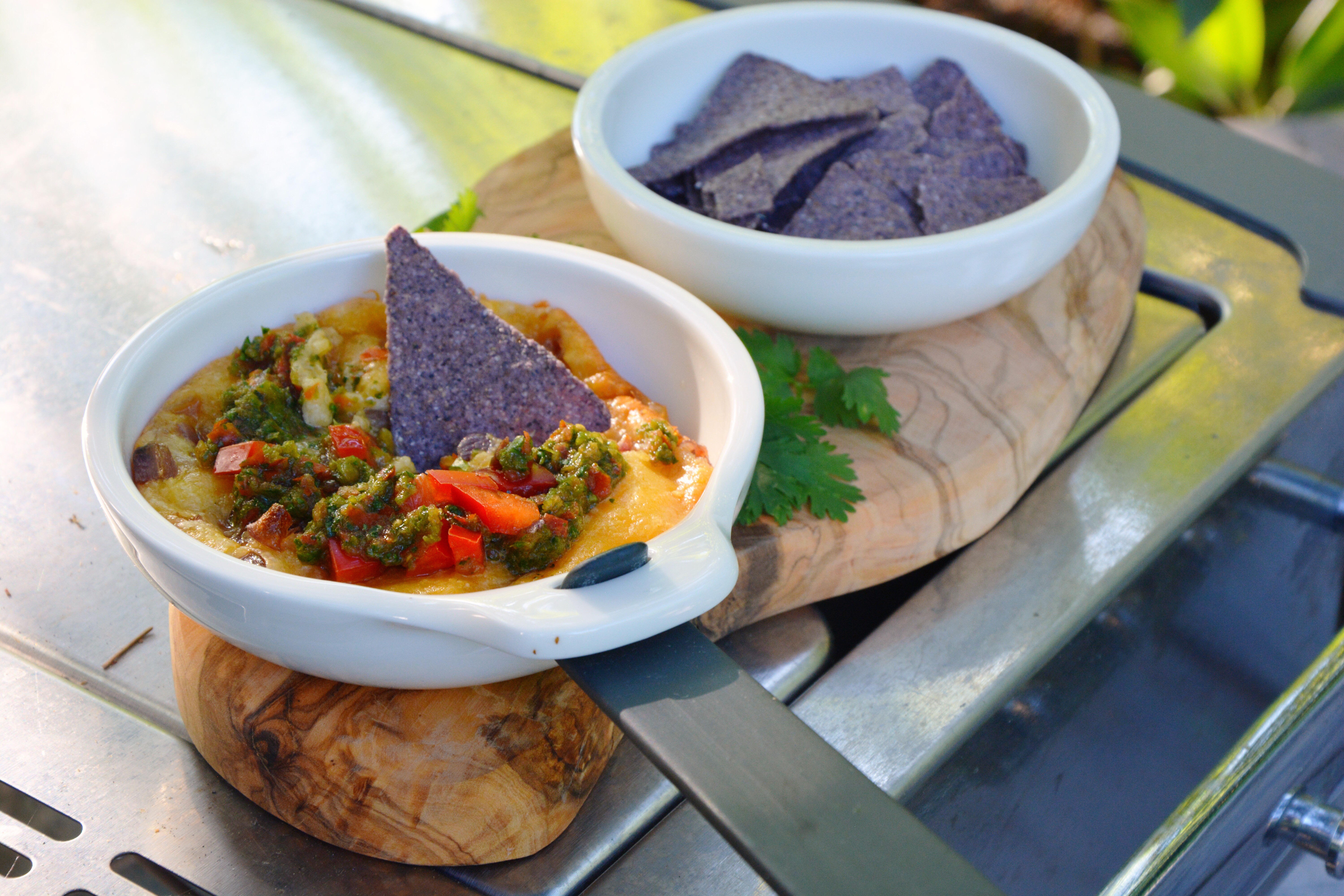 Ingredients:
1 small red onion, minced
1/2 cup Mexican beer
1 small tomato, seeds removed and roughly chopped
1 jalapeño, seeded and roughly chopped
1/4 cup fresh cilantro
1/2 tsp Kosher salt
12 ounces grated Monterey Jack
1 tablespoon flour
Directions:
Drizzle a little olive oil into a small frying pan and cook the onions over low-medium heat for 5 minutes until they're glistening.
Add the beer and turn the heat up, cook for 4-5 more minutes until the liquid disappears. Set aside.
Put the tomato, jalapeno, and cilantro in a small food processor and blitz until just combined. Season with salt and set aside.
Preheat the barbecue to medium heat. Toss the cheese with flour in a medium bowl.
Combine the cheese and onion and transfer the mixture to your BBQ Passion Grill Pans.
Place the grill pans on the barbecue and close the lid. Stir it every now and then until it's all melted and bubbly (10-15 minutes).
—————————————————
Surf & Turf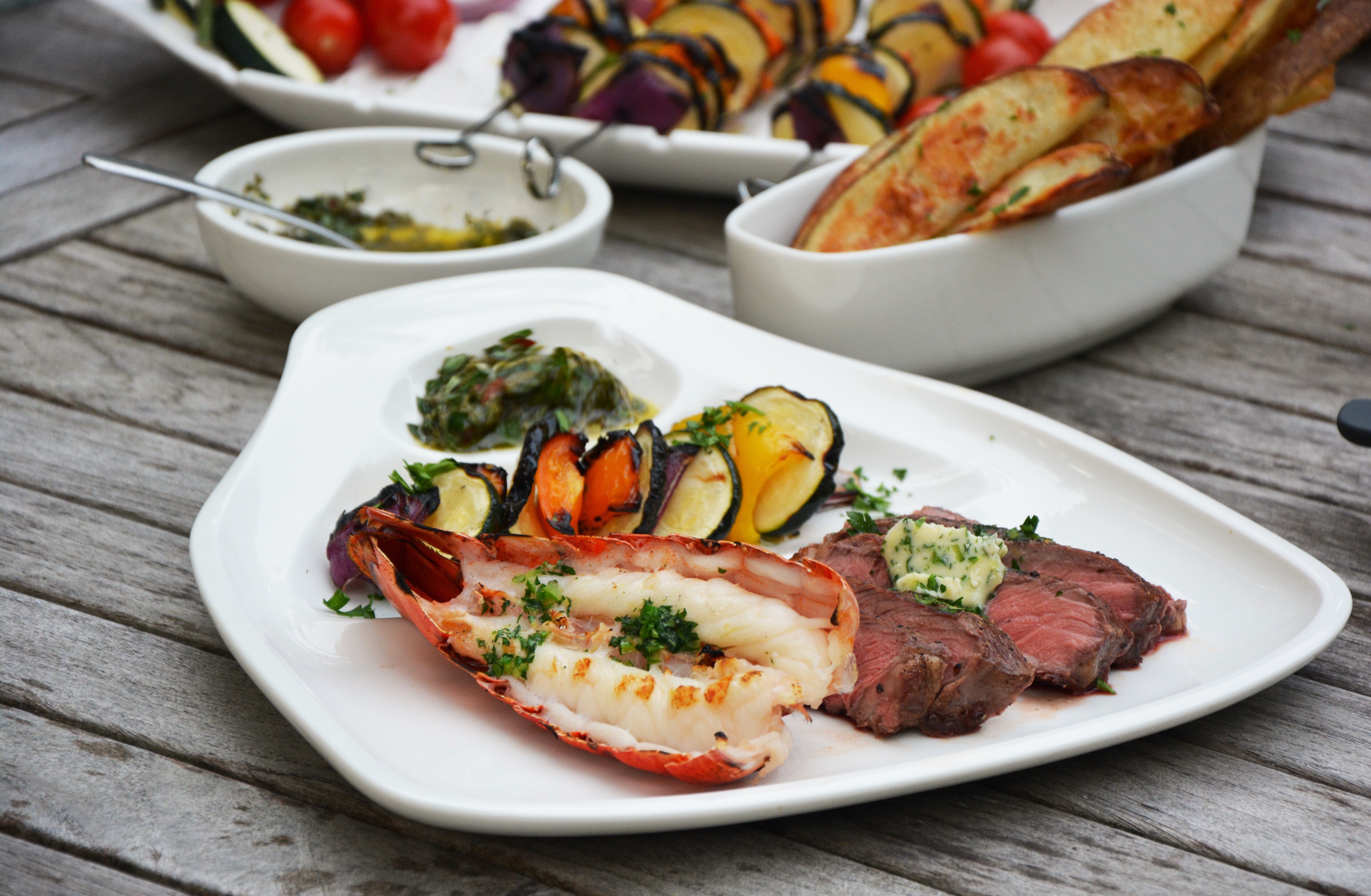 We always make sure our meat has been sitting our for around 20 minutes before it hits the heat. This takes off the chill, ensuring even cooking and better results. Season the steaks with salt and pepper, good quality meat doesn't need anything more! After the steak has been grilled to your liking (3-5 minutes per side for rare, 5-7 minutes for medium rare, and 7-9 minutes for well done), don't forget to let the steak rest for at least 10 minutes before serving it to allow the juices to settle. Patience is a virtue we know, but this is a good time to top up your glasses!
The lobster tail can also be prepared ahead. Ask your fishmonger to butterfly it for your, and then skewer it so that it's doesn't curl when cooked. Cook it meat-side down on the grill for about 5 minutes, until the shell turns that lovely red lobster color. Turn over and garnish with a round of Garlic Scape Butter. That's all it takes!
————————————————————
Vegetable Kebabs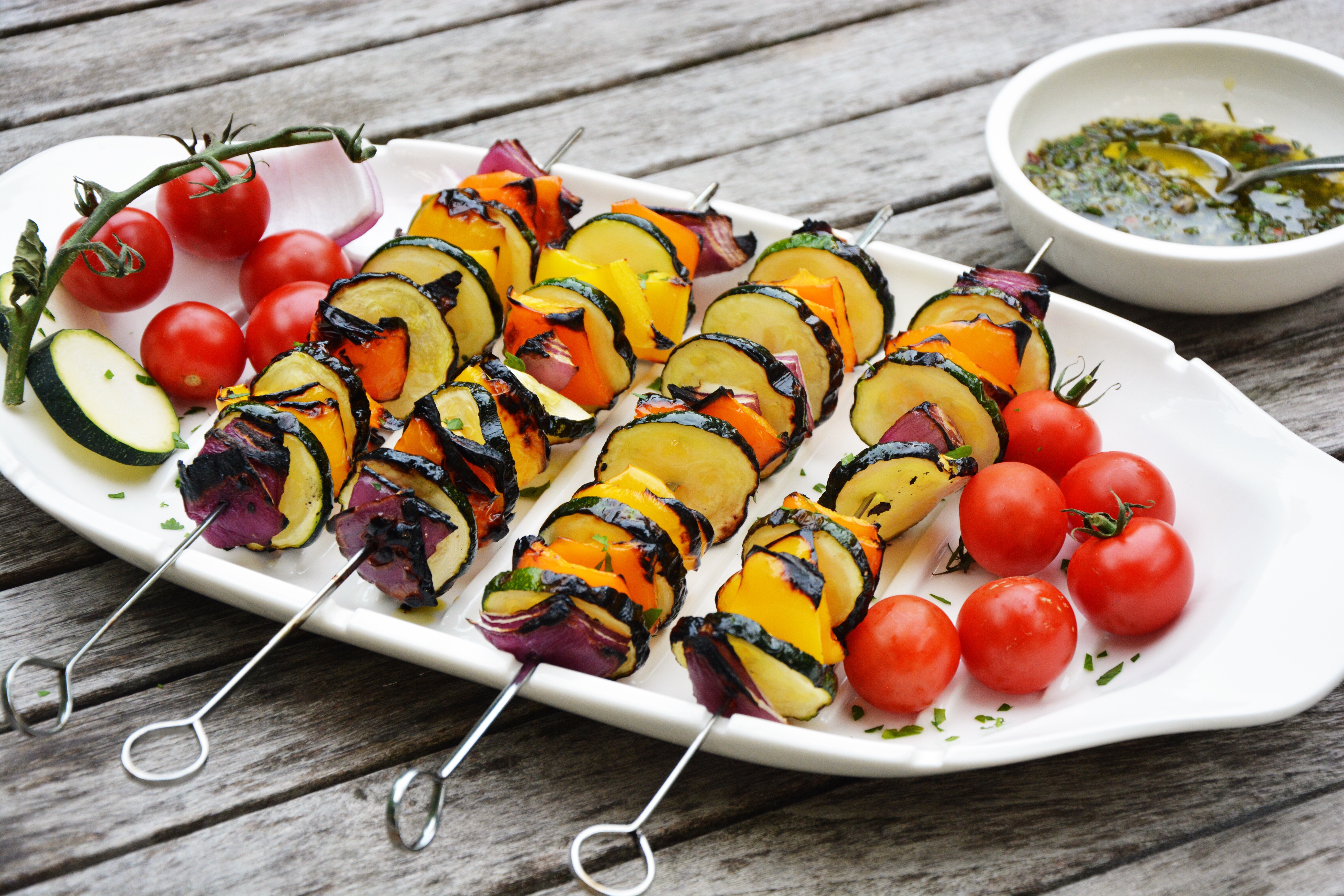 Try to cut all the vegetables so that they're similar thickness as some cook more quickly than others. Many grocery stores have these prepared, so if chopping isn't your thing or time isn't on your side, just buy them!
Brush the kebabs with olive oil, and grill then over a medium heat, turning occasionally for 15-20 minutes.
—————————————————————
Garlic Scape Butter

Garlic scapes have a short season and your best bet is to find them at your local farmer's market. Raw scapes can be very pungent, so don't let their delicate appearance fool you! If you can't find them, just use garlic instead.
Ingredients:
1 stick salted butter, at room temperature
1 tablespoon garlic scapes, finely chopped. If you can't find garlic scapes substitute 2
cloves of crushed garlic.
2 tablespoons fresh parsley, finely chopped
1/2 teaspoon grated lemon rind
1/4 teaspoon kosher salt
1/8 teaspoon pepper
Directions:
Add the garlic scapes, parsley, salt and pepper to the soft butter.
Combine until everything is evenly distributed.
Scoop the mixture onto a piece of plastic wrap and shape it into a long roll.
Close the wrap over the butter on one side and roll the butter into a sausage, then twist at the ends. This will help form a nice cylinder.
Place in the fridge until ready to use.
Slice into rounds for serving.
——————————————————————
Italian Salsa Verde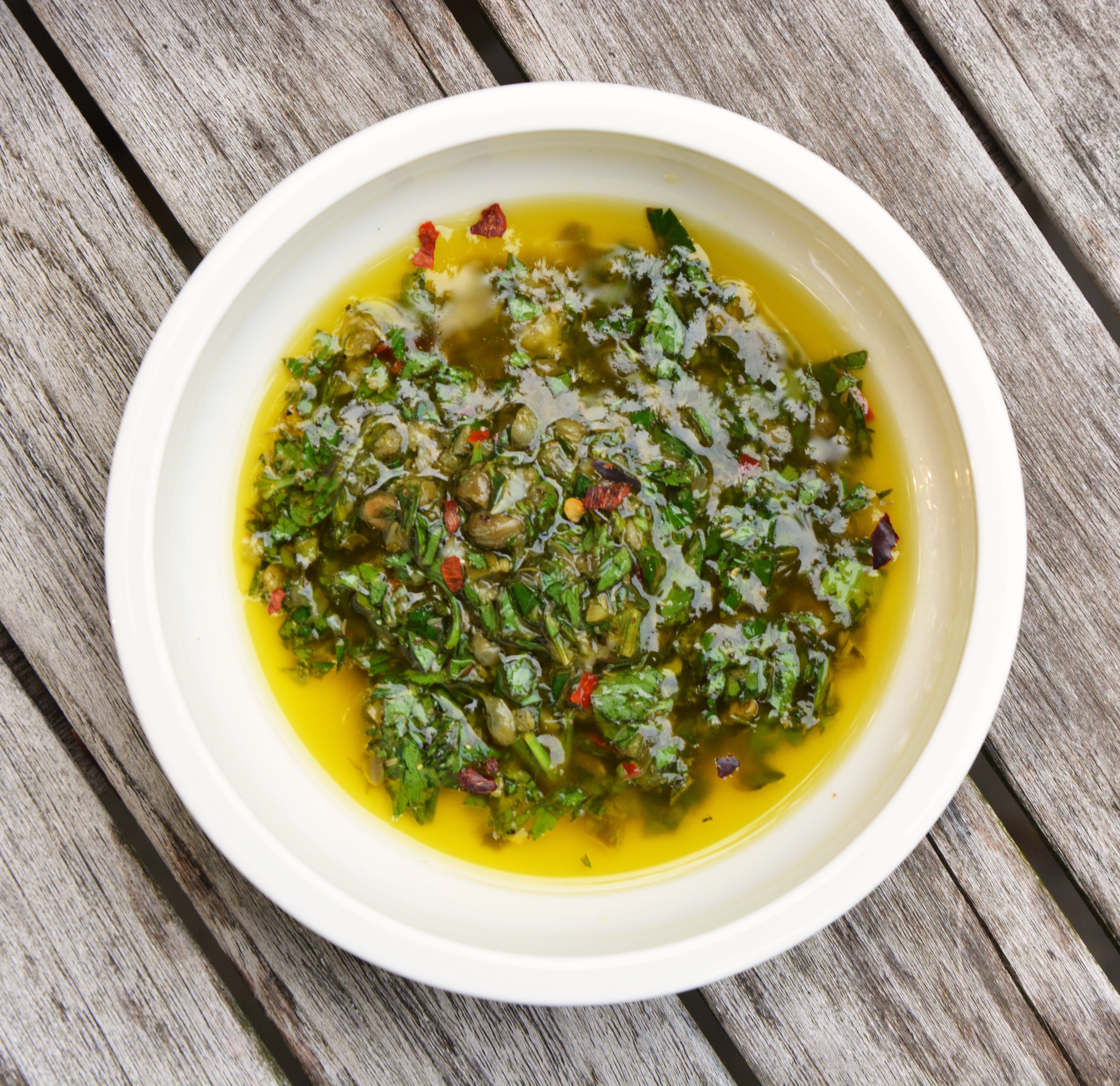 Ingredients:
1 clove garlic, minced
3/4 teaspoon kosher salt
1/2 teaspoon pepper
1/2 teaspoon red pepper flakes
Grated rind of 1 lemon
3 tablespoons freshly squeezed lemon juice
3/4 cup extra-virgin olive oil
3/4 cup (packed) chopped parsley
1 tablespoon capers, drained and chopped
Directions:
Add the first five ingredients to a small bowl or mortar.
Using a wooden spoon or pestle, mash it all to a paste.
Whisk in the lemon juice, then olive oil little by little until blended.
Stir in the parsley and capers.
Taste and season with more salt and pepper if necessary.
Cover and chill until ready to serve.