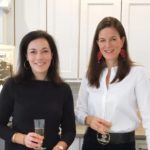 This week, On the Table: The Villeroy & Boch Official Blog is excited to welcome Kirsty and Donata from gather & be as guest bloggers! gather & be was founded in 2018 by Kirsty and Donata, two friends with a passion for food, cooking and entertaining. They want to empower you to just get into that kitchen and be the best cook and host you can be! With a few tried, true and completely doable recipes up your sleeve, hosting doesn't need to be stressful. Kirsty and Donata want you experience how rewarding it is to be able to create delicious food, gather your friends and family around and just be. Head to www.gather-be.com to check out all of their mouth-watering recipes!
Oh, the joy of meals with picky eaters! If you have kids, then you know exactly what we're talking about. There's nothing more irritating than your favorite little person refusing to eat the meal that you've slaved (or not, but still!) over to make. We've found that our kids weren't born picky eaters, but around the age of 12 months, they suddenly changed from pliable in their tastes to demonic in their refusal to eat certain foods, usually those that would do them good. We're looking at you, broccoli!
Making food fun and nurturing our kids' relationship with it is key to overcoming the obstacles of selective eaters. Bright colors in food and tableware make mealtime less of a chore and more of an engaging activity. Here are our top three tips for letting your cherubs unleash their creativity in the kitchen, whilst adding nutrients to their meals, and fostering their imagination!
1. Let them help. Make sure you have plenty of time to prep the meal if you're letting your littles lend a hand. It will be messy, they will get dirty, but take a deep breath! Zen. Remember that patience is a virtue and these are valuable life skills! Children like to be in control and be involved in adult tasks and you'll be surprised at the foods they'll try if you let them help prepare them. So hand them a whisk to do some mixing, let them wash berries, even at the cost of a sopping wet kitchen floor and every kid deserves to have been elbow deep in flour at some point in their childhood. But make sure that if they "help" you in the kitchen, they help with cleaning up too!
Never Leave Your Child Unattended In the Kitchen, But Those Little Fingers Can Do Some Nimble Tasks!
Here are some guidelines:
2-3 year olds can wash produce, pick herbs off of stems, knead dough, tear lettuce.
4-5 year olds can mix ingredients, roll dough, sieve flour. Try and smuggle some counting skills
in there!
6-7 year olds can break eggs, peel carrots, arrange a salad, cut a banana with an appropriate
knife.
8-9 year olds can move on from these tasks and can learn to chop vegetables, scoop batter,
measure out ingredients.
10-11 year olds can start using the stove under close supervision and work pretty independently.
2. Breakfast is a great way to get nutrients in! Most kids love pancakes, whether you make them from scratch (see our recipe here) or use your favorite pancake mix (we love Bob's Red Mill Buttermilk Pancake Mix). A stack of pancakes is wonderful as is, but your children will probably love these pancake animals even more. We are big supporters of the "Breakfast for Dinner" movement. Pancakes, fruit, and a delicious smoothie make a great weeknight meal! You can up the nutrient value of any batter by adding some of the following:
• Ground flax: a great source of protein, fiber, and omega 3 fatty acids, which are great for brain development. It has no taste and will go undetected in pancake batter and smoothies!
• Chopped apples
• Raisins or dried cranberries
• Oats
• Nuts
Instead of sugary syrups (or that addictive hazelnut spread) use a topping such as Greek yogurt mixed with honey or pure maple syrup. You can also add a few tablespoons of Greek yogurt to any pancake batter to increase the protein value.
As we've established that kids like to be in control, prepare a toppings bar for breakfast. Using little bowls or a muffin tin (lined with cupcake lingers for easy clean up), fill them with healthy options and let them decorate their own pancakes with funny faces. Raisins can be eyes, banana slices ears, shredded coconut hair, and nuts noses. The options are endless!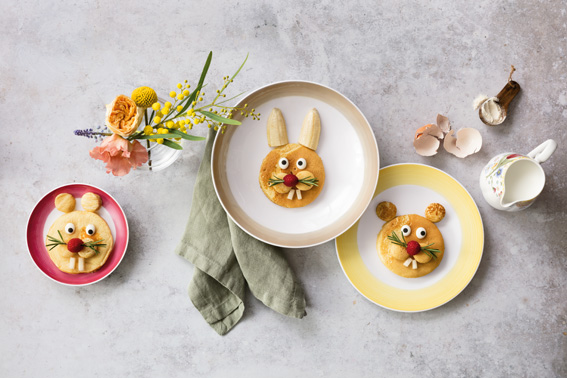 3. They say you eat with your eyes first and kids are definitely no exception! It's important to fill your plates with a rainbow of fruits and vegetables. Using all these delicious toppings will cover the food part of the equation. Serving the rainbow on vibrant porcelain such as these Colorful Life plates from Villeroy & Boch will give your kids' food even more zing!