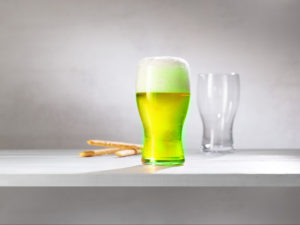 Let's face it, St. Patty's Day isn't complete without green beer. We've got a recipe so that you can celebrate the holiday with this bubbly, emerald-colored drink at home!
Ready for this incredibly complicated recipe? For every 12 ounces of beer, add 1 drop of green food coloring–that's it! Choose your favorite beer (it works best with a pilsner or pale ale), no special bartending skills required 🙂 Don't worry, the flavor of the beer won't change–only the color.
It's a fun and festive way to celebrate the day. And don't worry, Villeroy & Boch has a ton of beer glasses specifically designed for the enjoyment of your favorite type of beer! Happy St. Patty's Day! Sláinte!