One of our readers commented on a previous post about the Audun collection, asking for ways to make it festive for Christmas. With help from our brand ambassador and eight-generation founding family member, Isabelle von Boch, we've come up with a few ways to bring the Audun collection to your holiday table!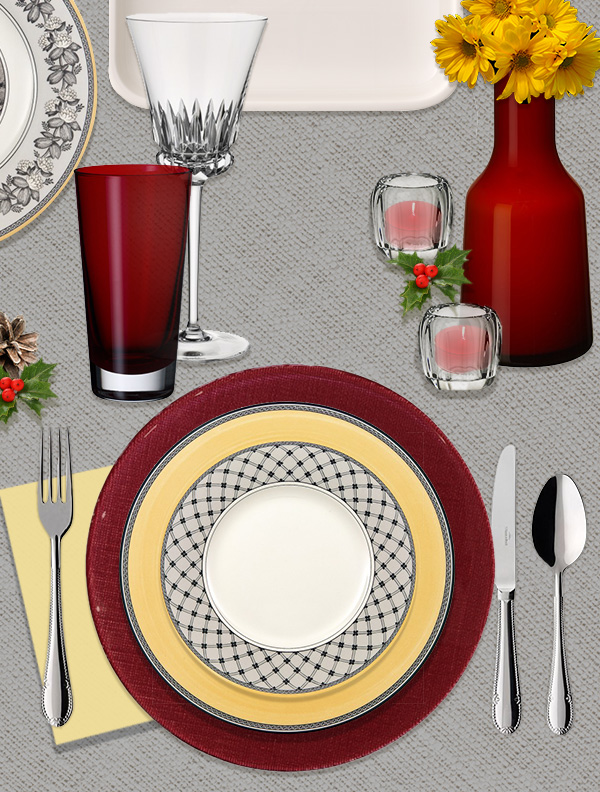 Using a red charger from our Verona collection, make dinner plates from our Audun Chasse collection and salad plates from our Audun Promenade collection really stand out. Dress the table with a light grey tablecloth and accent this with V&B yellow cocktail napkins. Add in flatware from our Mademoiselle collection and colorful glassware from our Colour Concept collection. Finish this look off with gorgeous lead-free crystal white wine glasses from our Grand Royal collection. For fun table accents, add in a mini deep cherry vase from our Nek collection, as well as a clear Coloured Delight tea light holder with a red candle.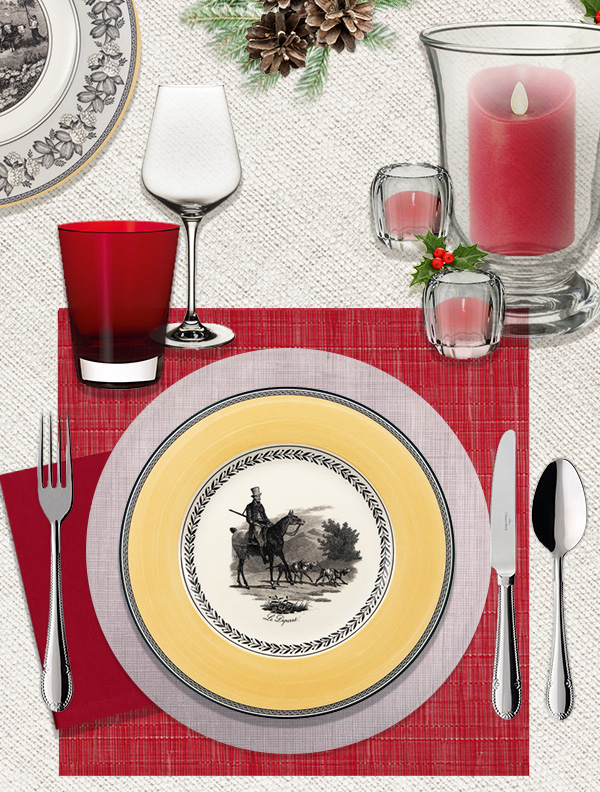 Make the Audun Chasse collection pop using a clear charger from our Verona collection to set the stage. Pair this look with a neutral tablecloth and a Chilewich bamboo placemat in "Poppy." A red cocktail napkin, Mademoiselle flatware set, red Colour Concept tumbler, and La Divina white wine goblet (all from Villeroy & Boch) help to complete the look! For other festive additions, add a red candle to a V&B Helium hurricane lamp or clear tea light holder from our Coloured Delight collection.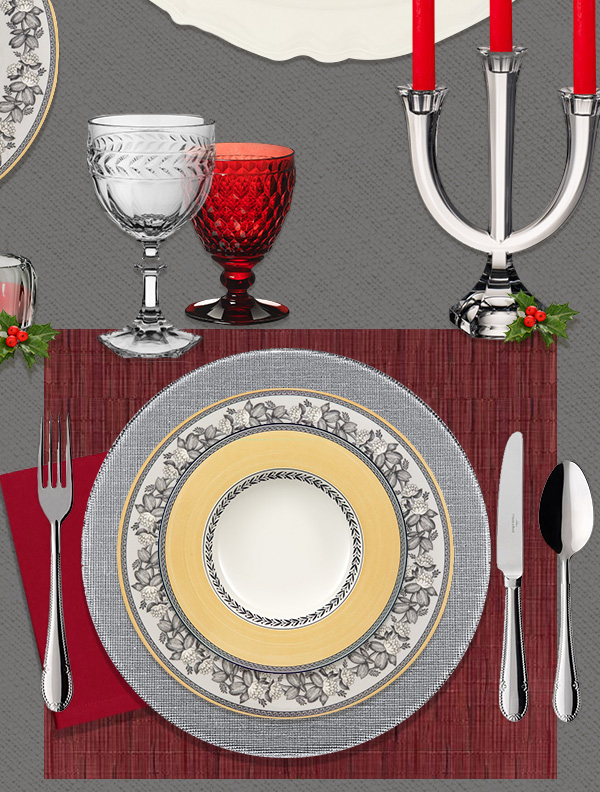 Outfit your holiday table with a deep grey tablecloth accented with a Chilewich bamboo placemat in "Cranberry." Next, using a silver charger from our Verona collection, make Audun Ferme dinnerplates and Audun Fleur soup bowls stand out–pairing them with red V&B cocktail napkins and our Mademoiselle flatware. Add in colorful glassware, like the red goblets from our Boston Coloured collection, and finish it off with beautiful crystal & classic wine glasses from our Miss Desiree collection. Keep serving platters clean and simple–we suggest using our Manoir oval serving platter. Dress up the table even further using a V&B candelabra with red candles and a clear Coloured Delight tea light holder with a red candle.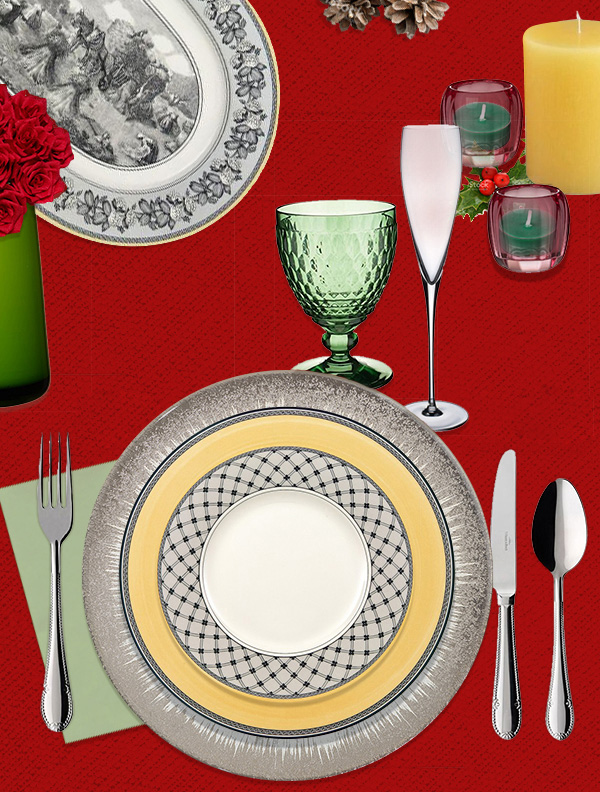 Make our Bloomingdales-exclusive Belissimo charger in platinum pop against a red tablecloth. Pair dinner plates from our Audun Chasse collection with appetizer/dessert plates from our Audun Promenade collection and dress them up with green V&B cocktail napkins and flatware from our Mademoiselle collection. Add in green goblets from our Boston Coloured collection and classic champagne flutes from our Allegorie crystal collection. Add in other pieces from our personal Audun collection–like the Audun Ferme oval platter! Complete this cheerful holiday look using a mini vase from our Numa collection in "Juicy Lime" and make it stand out by adding in red roses. Next, place green candles inside a Coloured Delight tea light holder in "berry."