When temperatures begin to drop and the holiday season rolls in, there's nothing quite like snuggling up indoors. This is nothing new for the Danes—they've been taking part in the practice of hygge for decades. Hygge is the Nordic art of creating a cozy home atmosphere! In fact, it's defined as "a quality of coziness and comfortable conviviality that engenders a feeling of contentment or well-being."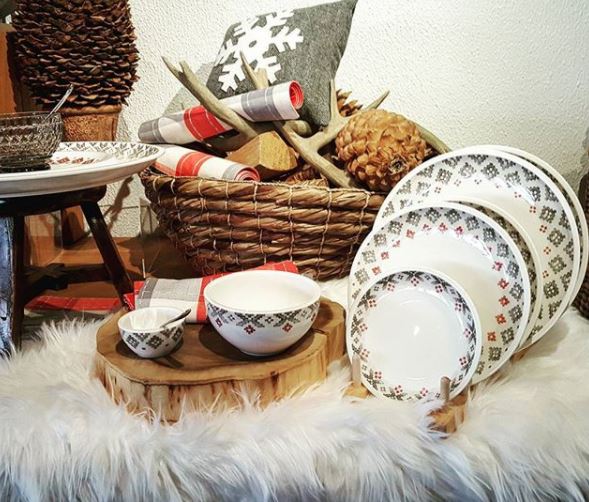 From warm lighting to wonderful smells and good conversation, hygge is all about mastering that warm and fuzzy feeling. Picture it: a crackling fire burning in the fire place, snow falling outside your window, a cup of sweet hot cocoa (topped with a toasted marshmallow, of course!), a fuzzy blanket, a good book, the smell of holiday cookies wafting from the kitchen, and the soundtrack from Irving Berlin's "White Christmas" on the record player.
Artesano Montagne Brings That Warm Feeling to Your Table
With the Artesano Montagne collection from Villeroy & Boch, you can easily bring some hygge vibes into your home. Artesano Montagne sets the stage for a cozy, cabin-like feeling. The design of the collection is inspired by traditional Scandinavian knitting patterns—featuring the timeless snowflake and little diamond pattern in warm grey and deep red hues on premium white porcelain. Artesano Montagne is both rustic and modern.
The collection includes a range of plates, mugs, and bowls that are dishwasher- and microwave-safe—and pair perfectly with the grainy acacia wood and cork products from the Artesano Original collection. Accent your table with gorgeous goblets from our Boston Coloured collection (we recommend Smoke and Red) to complete a chic winter chalet look.