You know what they say–"Live everyday like it's Fat Tuesday." 😉 Our friends over at gather & be have graced us with yet another delicious recipe that we'll be trying out ASAP!
Fat Tuesday celebrations will undoubtedly look a lot different this year, but that's not going to stop us from enjoying a themed dessert! With February quickly approaching, we're looking forward to Mardi Gras AND eating a Mardi Gras staple: King Cake! Will you be the lucky one to find the baby?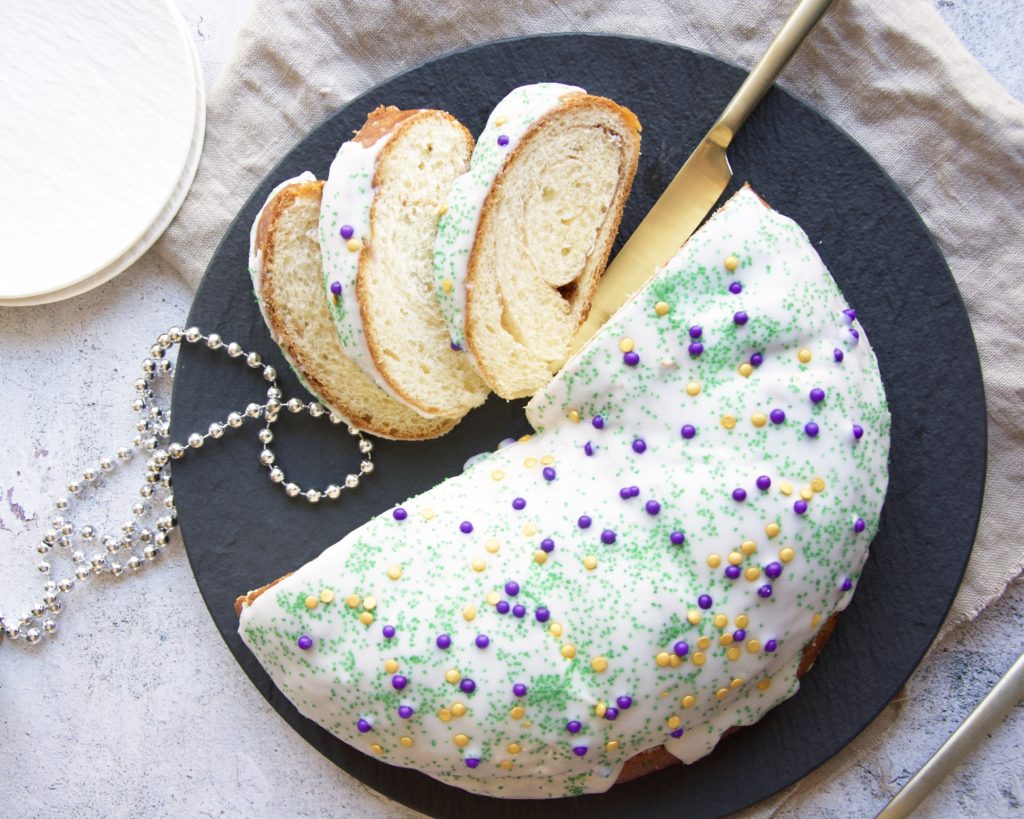 Ingredients for 2 King Cakes
(1 to keep, another to safely drop off to a loved one)
Dough:
1 cup whole milk
1/4 cup butter
2 packages (1/2 oz.) active dry yeast
2/3 cup warm water (about 110 degrees F)
1/2 cup white sugar
2 eggs
1-1/2 teaspoons salt
1/2 teaspoon freshly grated nutmeg
5-1/2 cups all-purpose flour
Filling:
1/2 cup sugar
1 tablespoon cinnamon
1/4 cup melted butter
Topping:
2 cups confectioners' sugar
2 tablespoons water
A few drops almond extract
1 pinch of salt
Sprinkles
Plastic baby figurine (like this one)
Directions:
Bring the milk to a boil while stirring. Remove it from the heat as soon as it starts bubbling. Stir in 1/4 cup of butter and set the pan aside to cool.
In a large bowl, dissolve the yeast in warm water with 1 tablespoon of sugar. Let stand until creamy–about 10 minutes.
Add the cooled milk mixture to the yeast mixture and whisk in the eggs.
Stir in the remaining sugar, salt and nutmeg.
Beat the flour into the mixture, 1 cup at a time.
Once the dough comes together, turn it out onto a lightly floured surface and knead until smooth and elastic–about 8 to 10 minutes.
Lightly oil a large bowl, place the dough in the bowl and turn to coat with oil. Cover with a damp cloth or plastic wrap and let rise in a warm place until doubled in volume–about 2 hours.
Once the 2 hours is up, punch the dough down and divide in half.
Grease 2 baking sheets or line with parchment paper.
For the filling, combine cinnamon and sugar in a small bowl. In another bowl, melt 1/4 cup of butter.
Roll each dough-half into a large rectangle (approx. 10×16″).
Brush the melted butter over each rectangle and sprinkle half the sugar/cinnamon mixture over each rectangle.
Starting with the long side, roll up one rectangle tightly, like a jelly roll. Bring the ends of the roll together to form a ring, pinch together until they close. Repeat with the other rectangle.
Place each ring on a prepared baking sheet. Using scissor, make cuts 1/2 of the way through the rings at 1-inch intervals. Let the rings rise in a warm spot until doubled in size–about 45 minutes.
Preheat the oven to 350 degrees F. Brush with the remaining butter and bake for 30 minutes.
Meanwhile, prepare the glaze by whisking together all the ingredients. Glaze the cake while warm and decorate with sprinkles immediately. Push the baby figurine into the cake from the bottom.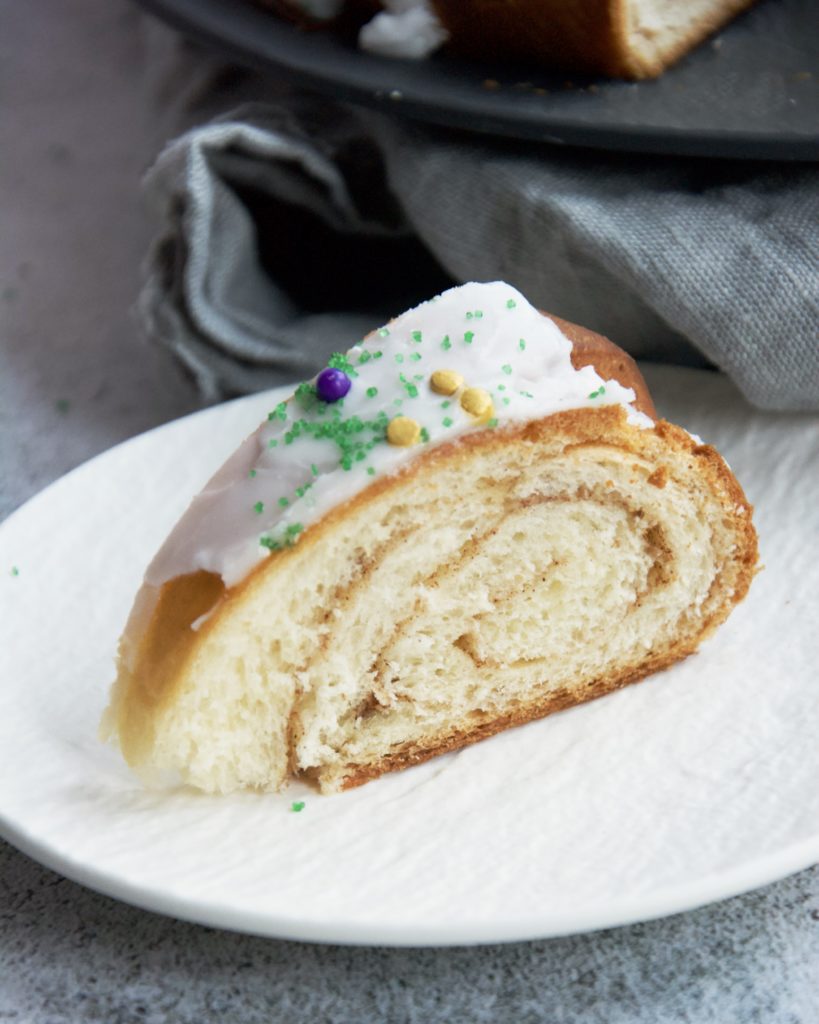 Setting the stage for the absolutely GORGEOUS King Cake shown here is our Manufacture Rock dinnerware. Available in black (Rock) or white (Blanc), the Manufacture Rock collection adds a rustic, slate-like look to your table. The colored-through porcelain is dishwasher-safe, microwave-safe, and makes food really POP!
Remember, finding the baby is good luck and means being "king for a day," but it also means that whoever finds it is responsible for bringing the King Cake to next year's Mardi Gras party–luckily, this recipe has that lucky person covered 😉
Recipe courtesy of gather & be. Find the original recipe here. Be sure to follow the gather & Be ladies on Instagram: @gatherandbe.