Temperatures are beginning to drop, which means the holidays are just around the corner. Now more than ever, we understand the importance of family, traditions, and doing whatever we can to make our homes feel cozy–especially during the holiday season.
Though we have a number of different holiday tableware and decor collections, the story behind our Toy's Fantasy collection holds a special place in Isabelle von Boch's heart. Inspired by a German Christmas tradition that brings a sense of nostalgia and longing for her childhood, Isabelle explains the inspiration behind Toy's Fantasy:
As the story goes, when the seasonal chill sets in and the skies begin to burn red at sundown, it's believed that the angels are above, baking cookies for all of the children on the "nice list." St. Nicholas then delivers those treats to the good children on the day of the Feast of St. Nicholas (December 6th).
The Feast of St. Nicholas is a long-standing German tradition, dating back centuries. According to German lore,  children leave a boot and a paper plate (or bunter teller) outside their bedroom doors on the night of December 5th in hopes that St. Nicholas will stop by and leave cookies and other treats.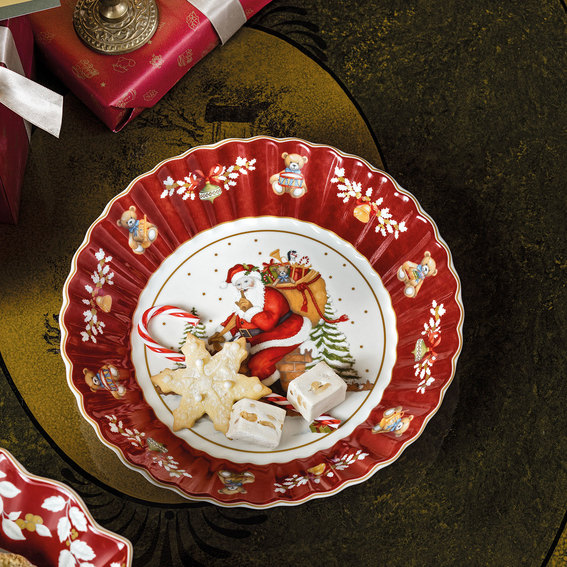 Share In This German Holiday Tradition With Your Loved Ones
The Toy's Fantasy collection embraces this enchanting German holiday tradition with porcelain plates that are designed to mimic the shapes of the bunter tellers. Each year, when we release our Toy's Fantasy collection, we keep the same fluted paper plate shape and update them with new themes and designs—making them limited edition collectibles you can share with family and friends!
Fill these bunter teller-shaped keepsakes with cookies, cakes, breads, and other Christmas goodies for a socially-distanced cookie drop for friends and family this holiday season! It's a great way to safely bring Christmas cheer to the ones you love.
From Isabelle and the rest of our V&B family to yours, we hope you have a happy and healthy holiday season!