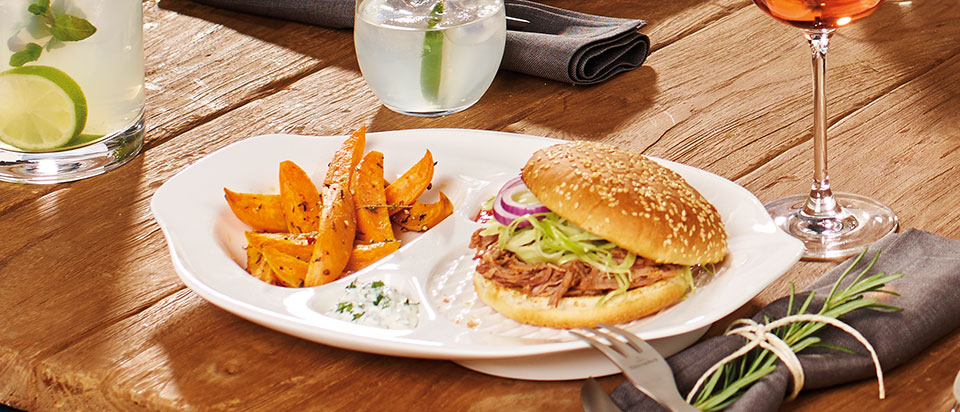 Memorial Day Weekend is THIS weekend and many of us are planning to spend the weekend outside, enjoying the *hopefully* beautiful weather. A lot of us celebrate those who have sacrificed their lives for this country by throwing a backyard barbecue. In addition to grilling up burgers and hot dogs, we've got a pulled pork recipe for you to serve at your backyard soiree that's sure to impress every guest.
Ingredients:
Rub
2 tablespoons salt
1 tablespoon brown sugar
1 tablespoon paprika
1 teaspoon garlic powder
1 teaspoon cumin
1 teaspoon coriander
1 teaspoon black pepper
1 sprig each of thyme, rosemary, and majoram
3 tablespoons mustard
Sauce
1 cup white wine
1 cup apple juice
1/4 cup whiskey
1/4 cup maple syrup
Other
Aluminum roasting pan
Aluminum foil
Plastic wrap
Directions:
Pluck and chop the leaves of fresh thyme, rosemary, and majoram and crush with a pestle
Rub meat with mustard, crushed herbs, and rub,
Wrap the marinated meat in plastic wrap and place in the fridge for at least 12 hours
Preheat your oven to 450 degrees F
Remove the pork shoulder from the plastic wrap and place in a roasting pan
Pour the white wine, apple juice, whiskey, and maple syrup mixture over the pork shoulder and baste the meat, repeating once every hour.
Roast the pork for 1 hour
Reduce the oven temperature to 325 degrees F and roast for another 2 to 2 1/2 hours
Remove the pork from the oven and cover with aluminum foil, allowing to rest for 30 minutes
To serve, use a fork to pull the meat free, shred, and mix with the roasting juices from the pan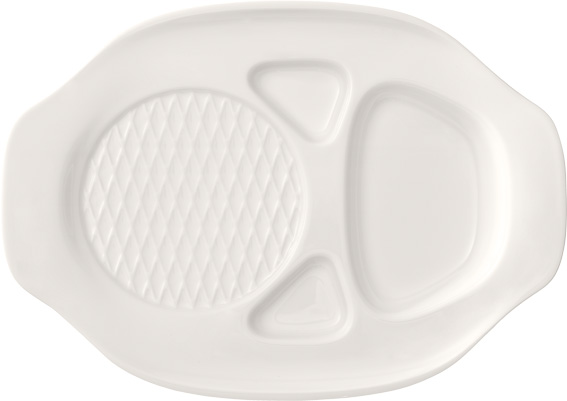 We recommend serving your pulled pork sandwiches on the burger plates from our BBQ Passion collection. These plates have been specially designed with a lattice pattern that keeps burger buns from getting soggy–which will come in handy especially after you lather your pulled pork sandwich in your favorite BBQ sauce! Our BBQ Passion collection includes a number of pieces that are perfect for the summer season and allow you to enjoy your favorite grilled foods to their fullest potential. Each piece in the collection was designed with specific intent, and all pieces are dishwasher-safe so you don't have to worry about standing over the sink after you spend time behind the grill.
Have a happy, safe, and healthy Memorial Day Weekend. Thank you to all who have given their lives for this beautiful country, and all current military members and veterans. Thank you for your service.