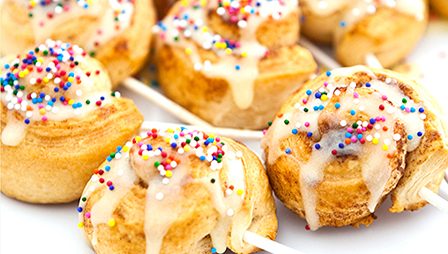 There's nothing quite like ooey, gooey cinnamon rolls! The scent of cinnamon, butter, and brown sugar wafting through the kitchen is unlike any other. Think about when you walk past a Cinnabon at the mall, the smell is intoxicating! We've come up with a recipe that allows you to enjoy these ooey, gooey treats at home, but in bite-size portions on sticks! (Hello, portable, fun & scrumptious snacks!)
Ingredients:
Makes 20 cinnamon rolls
20 bamboo skewers, cut in half (20 sticks total)
Dough
4 cups flour, plus more for dusting
1 packet instant yeast
1 cup whole milk
1/2 cup unsalted butter, softened
2 eggs
1/2 cup granulated sugar
1 teaspoon salt
Filling:
3/4 cup brown sugar, packed
3/4 cup pecans, chopped
2 teaspoons cinnamon
1/4 cup butter, melted
Glaze:
1/4 cup butter, softened
1 teaspoon vanilla
3 ounces cream cheese, room temperature
2 cups powdered sugar
¼ teaspoon salt
Directions:
Preheat oven to 350°F
In a saucepan, heat milk until it begins to simmer. Pour milk into bowl of a standing mixer and add the yeast. Stir with spoon until combined. Add flour, butter, sugar, salt and eggs. Mix with hook attachment at medium speed until dough is sticky and pulls away from sides of bowl. Remove dough from bowl, shape into a ball and set aside
Grease mixing bowl with non-stick cooking spray, place dough back into the bowl, cover in plastic wrap and let the dough rise in a warm spot. Approximately 1 ½ hours. The dough will double in size
In a small microwave safe bowl, melt butter and set aside. In a medium separate bowl, combine brown sugar, pecans and cinnamon
Prepare two baking sheets by spraying them with non-stick cooking spray
Transfer the dough to a large work surface. Extend into two 8 x10" pieces. Brush pieces with melted butter and top with filling.
Starting on the longer side, roll each piece and finish with the seam side down
Cut each roll in 1-inch pieces. Place each cut piece on baking sheet. Cover once again and let rise in a warm spot for approximately 25 minutes. Rolls will double in size once again
Bake rolls for approximately 25 minutes or until golden
To make the glaze, mix cream cheese, vanilla, butter, salt and powder sugar in bowl of mixer until mixture is creamy
Insert a bamboo skewer into each roll and top with cream cheese glaze
Sprinkle with colorful sprinkles, if desired
We recommend baking these mini treats in one of the dishes from our Clever Cooking collection. Our Clever Cooking collection can go straight from the oven to the table, with lids that can double as baking sheets or trivets. Best of all, our Clever Cooking collection is dishwasher safe, so you won't be stuck at the sink scrubbing off the gooey cinnamon filling and sticky glaze!