Time is flying, and Father's Day will be here before we know it. It's time to get serious about shopping for the perfect gift for the leading man or men in your life! Sometimes guys (ahem, dad, brothers, husbands, etc) can be hard to shop for. We're here to make the process a little easier with a few Father's Day gift ideas for your special guy(s).
With Father's Day comes cliché gift ideas for dad (think: tie). Avoid giving a boring gift this year; our BBQ Passion collection has a ton of unique gifts for men that enjoy mastering the grill!
Each item in our BBQ Passion collection is designed to enhance the serving, dining and enjoyment of grilled foods. All the items have been designed with intent and specific types of food in mind.
Kebab Platter
Who doesn't love a good kebab? The BBQ Passion Skewer plate is designed to serve your favorite type of kebab. The platter's raised ridges hold the skewers of the kebab, raising it to allow the juices to drip off the meat and vegetables—to avoid soggy bites! The platter can hold up to six kebabs, and the set includes metal skewers.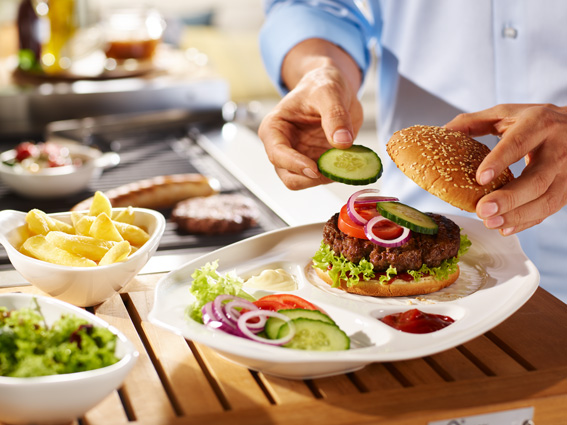 Burger Plate
You can hardly have a barbecue without a burger. The Burger Plate is designed for the specific enjoyment of your favorite type of burger—whether it's a cheeseburger, turkey burger, veggie burger—the list goes on and on. The lattice design of the plate ensures that your burger bun never gets soggy! The plate also features compartments to hold your favorite condiments and toppings.
Grill Pan
The Grill Pan makes it easy to cook and serve your favorite vegetable side dish. The pan features a removable handle that you can use to safely place the pan on the grill.
Steak Plates
The BBQ Passion Steak Plates come in an array of different sizes and are perfect for your next backyard barbecue. They feature handles that make them easy to transport, making it easier for guests to mingle and enjoy the food at the same time. Use these plates to serve the main course, whether it's steak, pork chops, ribs, or even dessert!
All the items in the BBQ Passion collection are dishwasher- and microwave-safe, so clean up is always a breeze! This Father's Day, let Villeroy & Boch help you find something for the important men in your life!