A New Year has begun and many of us have made resolutions that we'd like to keep. It's likely that many of those resolutions are about personal health, like making more time for the gym and eating healthier.
Meal prepping is a great way to help stay on track with that New Year's resolution. Prepping your meals ahead of time takes some stress away from your daily routine and keeps you from making those last-minute terrible food choices. Sure, the drive-through window may seem convenient when your busy schedule keeps you on-the-go, but it's not the best choice for your body.
Dedicate one day a week (meal prepping is a great Sunday activity!) to preparing for the week. Plan your meals ahead so that you'll know exactly what you need to buy for a recipe before you hit the grocery store. Buy enough ingredients to make lunch or dinner (or both) for Monday through Friday, and use your weekends for a cheat day!
Meal Prep Like a Champ & Keep Your New Year's Resolution All Year Long
Food storage containers go hand-in-hand with meal prep, but constantly eating out of a plastic container can really make lunch feel blasé. With the brand new To Go collection from Villeroy & Boch, you can add a touch of sophistication to your to-go meals!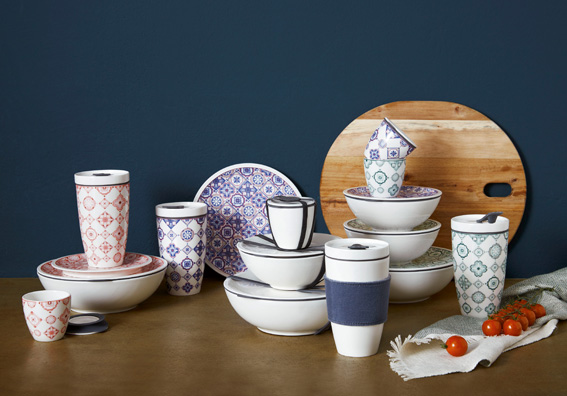 The To Go collection allows you to say "goodbye" to plastic containers and "hello" to a stylish, environmentally-friendly, and elegant way to enjoy your meals on-the-go. Featuring spill-proof cups, containers, and bowls with lids that double as plates, the To Go collection brings the refinement of a sit-down meal everywhere your busy life takes you. Best of all, all items in this collection are microwave- and dishwasher-safe, adding even more convenience to your life!
Choose an understated look with the To Go collection in plain white, or go bold with one of our three retro patterns inspired by tile designs from the Villeroy & Boch archives. There are three colors schemes to choose from, including Rosé Caro (a soft pink), Jade Caro (a deep green), or Indigo Caro (a purplish-blue). This year, make meal prep more fun with the To Go collection from Villeroy & Boch and take the stress out of staying on track with your New Year's resolutions!
Happy 2019!