Decorating a table for the Halloween season doesn't have to focus all on jack-o-lanterns, monsters, and fake blood. Focusing on unique shapes and subdued colors can help you set an elegant, ghostly table, that's still fun for all, but steers clear of the kitschy décor. By adding a few pieces, like dark sparkly chargers to give white dinnerware a dark as night base, you can create a table that's perfect for the holiday and add unique items to your collection!
Dress up and change the theme of your existing dinnerware with the help of table linens and chargers. Black and orange are the colors most associated with Halloween, but both colors are generally not primary players in an everyday look! Bring the theme to the table with fabric tablecloths, runners or napkins. In this setting, we paired a fun, lace black tablecloth adorned with spider web designs with an orange silk runner and a black linen napkin. Black or charcoal glassware (like the tumbler and charger) helps to complete the look and makes the white dinnerware really pop! To make the table truly Spooktacular, we added Halloween-inspired accents.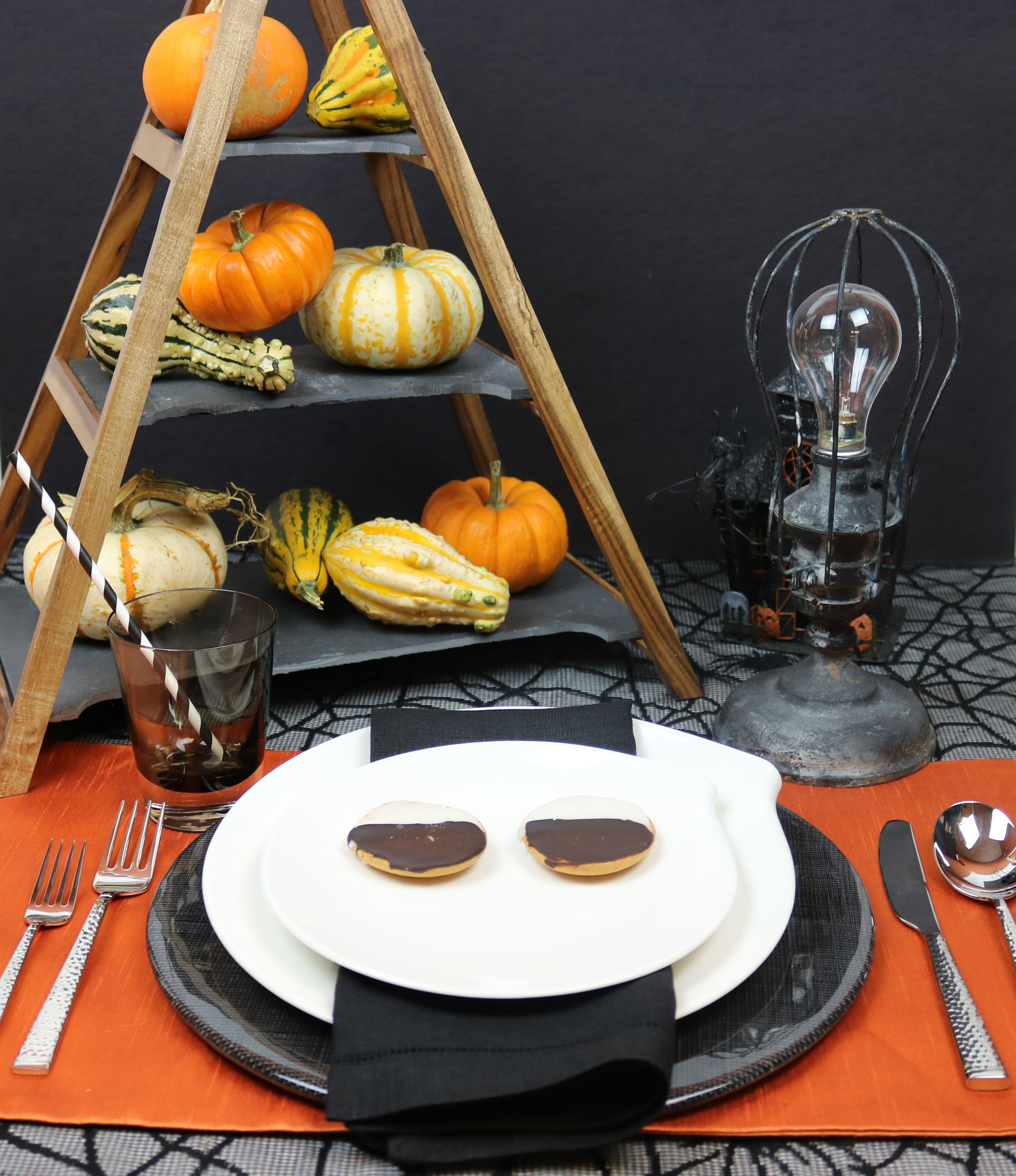 Featured in this look: Flow dinnerware, Blacksmith flatware, Artesano 3-tier serving stand, Colour Concept tumbler in Smoke, and Verona glass charger in Black (with some delicious black and white cookies giving life to our friendly ghost).
If you're not a fan of the black and orange combo, have no fear! We have more inspiration for you. Here, the black lace spider web tablecloth steals the spotlight! We removed some of the elements from the previous look for a more understated holiday tablescape. The rustic wood accents help to complement the tableware and flatware, while setting the stage for the elegant, lace pumpkin décor accents. This look is finished off with a place card set atop an adorable little pumpkin!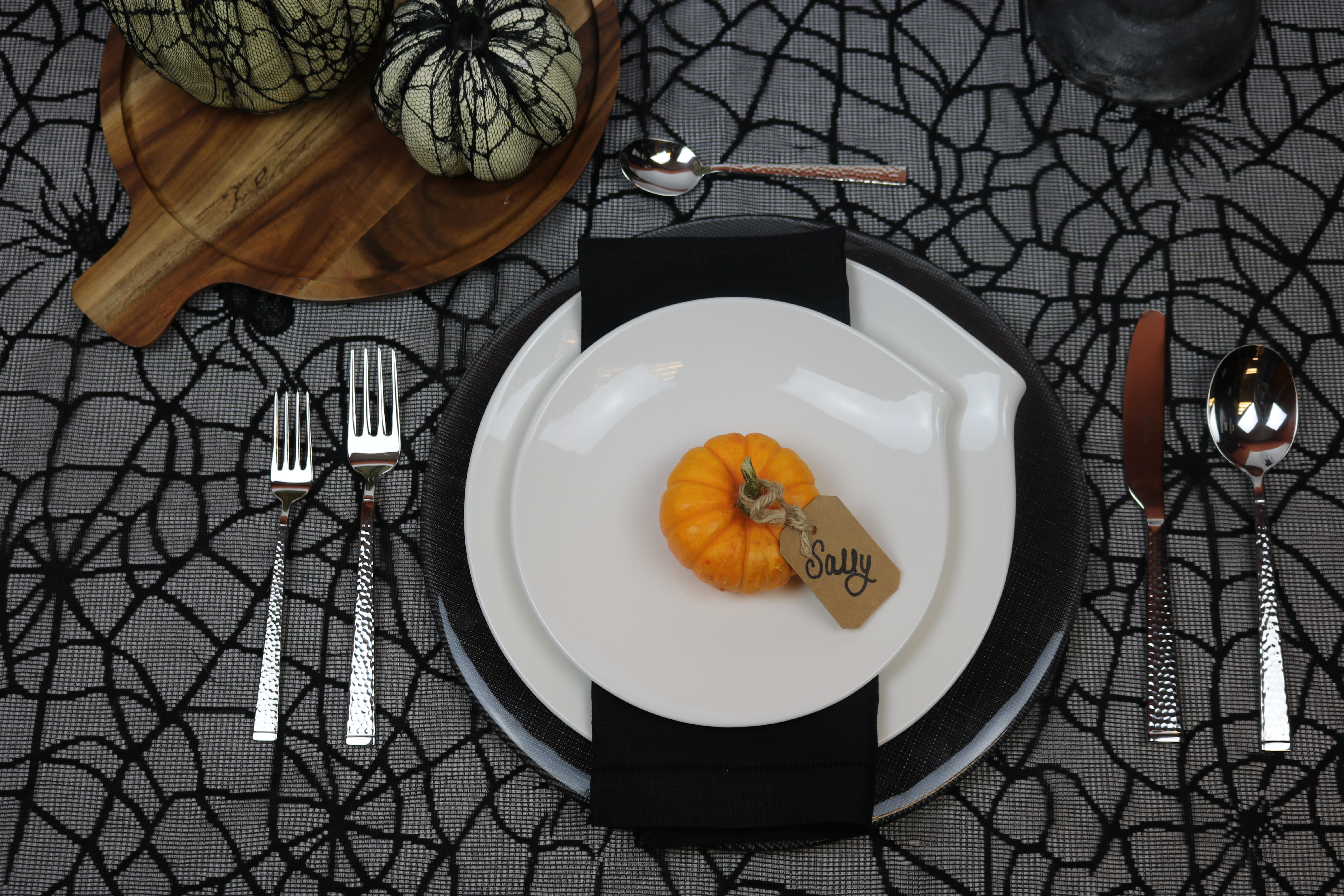 Featured in this look: Flow dinnerware, Blacksmith flatware, Verona glass charger in Black and Artesano Originial Acacia wood antipasti plate.
What's Halloween without the treats? This tablescape is all about setting the stage for delectable desserts—no tricks! Again, we kept many of the same elements from the previous tablescape, but dressed it up with colorful glassware pieces. Once again, the black lace spider web tablecloth sets the stage, and the black charger and cloth napkin help the crisp white dinnerware to really stand out. The green glassware goes perfectly with the Halloween motif and pops against the black and orange of the holiday-themed sandwich cookies! What good are cookies without some coffee? We included our New Wave Caffe coffee set. Finally, a glittery and ghoulish haunted house and striped drinking straws complete this whimsical look!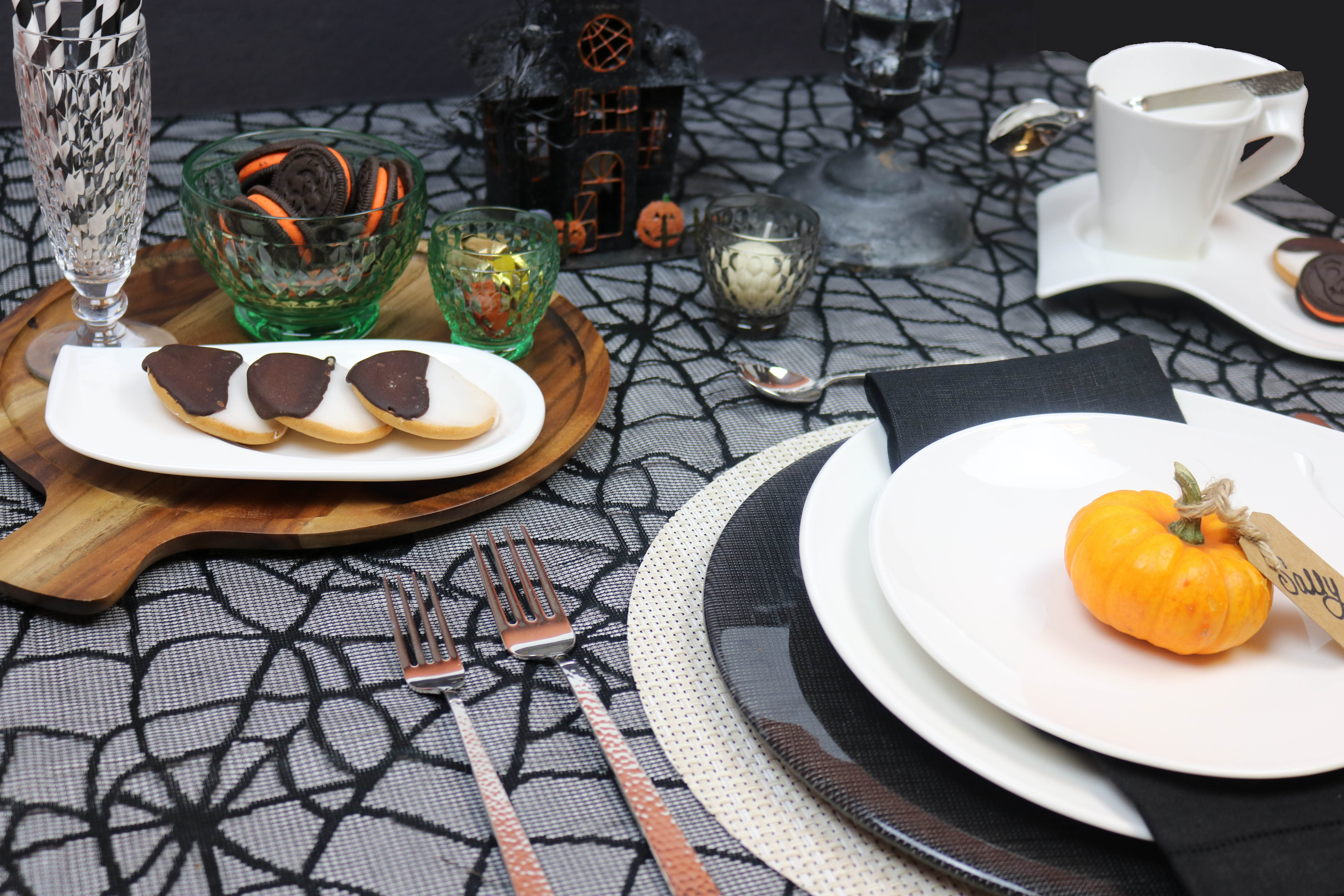 Featured in this look: Flow dinnerware, Verona glass charger in Black, Blacksmith flatware, New Wave Caffe coffee set, Artesano Original Acacia wood antipasti plate, Boston glassware in Clear, Green, and Smoke.
We hope this post gave you some wicked (😊) tablescape inspiration for the Halloween season!
P.S. Did you catch our movie reference on the place card?😉