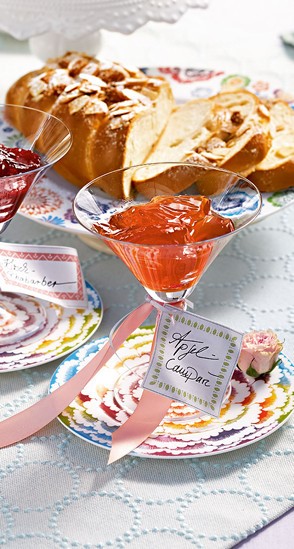 Ingredients:
4 1/2 lbs. rhubarb
2 1/2 cups water
3 3/4 cups orange juice
2 1/2 cups sugar
1 lemon
1 vanilla bean pod
Directions:
Wash the rhubarb and dice finely
Add the water and rhubarb to a sauce pot and bring to a boil
Once boiling, allow to simmer until the rhubarb falls apart
Pass the mixture through a strainer and allow to cool
Mix the orange juice with the sugar and the juice of 1 lemon in a pan and bring to a boil
Once the mixture begins to bubble, allow to cook for 3 minutes, stirring continuously
Dice 1 vanilla bean pod and add it to the pan
Allow to simmer for a few more minutes then remove any foam with a ladle
Pour the finished jelly into a screw-top jars
We recommend using a cocktail glass to serve the jelly in a fun way! We used a martini glass from our Maxima glassware collection. This jelly is the perfect accompaniment for any brunch table, and our Anmut Bloom dinnerware collection sets the perfect springtime table!