Roll out the red carpet and get ready for the big night! The Oscars are just around the corner, and we've got some Oscar-worthy snack ideas that are perfect for hosting a fabulous party or cozying up on the couch! Awards night is Sunday, March 4th, and while you're watching stars walk the red carpet in their gorgeous gowns and tailored tuxes, enjoy these sophisticated spins on a classic movie treat!
Meet Movie Theater Popcorn's Very Mature Cousins: Parmesan-Rosemary Popcorn & Truffle Popcorn
Parmesan-Rosemary Popcorn
Ingredients:
16 cups of hot popcorn
1/2 cup grated parmesan cheese
3 tablespoons olive oil
1 tablespoon finely chopped, fresh rosemary
2 teaspoons kosher salt
Truffle Popcorn
Ingredients:
16 cups of hot popcorn
6 tablespoons melted butter
1 1/2 tablespoons truffle oil
1/4 cup grated parmesan cheese
1 teaspoon kosher salt
1/2 teaspoon black pepper
Directions:
Toss all of these ingredients together with the popcorn and voila!
You can modify the recipes based on party size–whether you're hosting 20 of your closest friends or cuddling up with that special someone.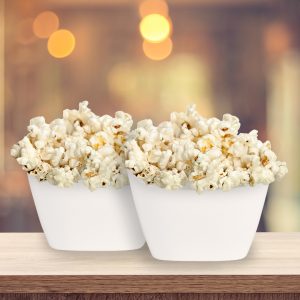 For a cute way to serve this savory snack at your Oscar gathering, we recommend using the French Fry Cups from our BBQ Passion collection. Though obviously intended for french fries, we think these cups would make cute individual popcorn buckets!