By Anne Faber
I think many Luxembourgers have fond memories of making Wäffelcher at their grandparents'. These thin, buttery wafers are baked individually in a round waffle maker and wrapped around the handle of a wooden spoon while still hot, so that they get a cone shape. While I was rolling Wäffelcher for this book, I suddenly thought it would be really fun to fold them into fortune cookies instead and hide messages inside!
I also jazzed up the traditional recipe by adding black sesame seeds to the batter – the inspiration for this comes from a trip to Thailand, where I once ate thin coconut-flavored wafers specked with black sesame seeds and rolled up just like in Luxembourg. My favorite treat from Luxembourg with an Asian twist!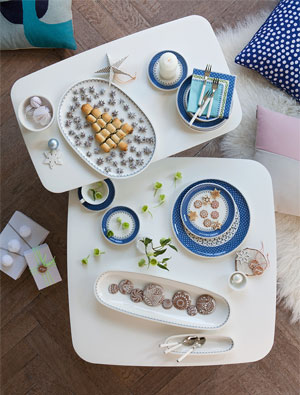 Makes 25 • Prep 45' • Resting 30' • A little effort
2 eggs
85g sugar
1 tsp vanilla sugar
85g butter, melted + extra for greasing
85g flour
a pinch of salt
1⁄2 tsp black sesame seeds (optional)
25 paper messages, to stick into the cookies
Put the eggs into a bowl and whisk together with the sugar and vanilla sugar. Add the melted butter, whisk again, then add the flour, salt and sesame seeds and beat to a smooth batter.
Set aside to rest at room temperature for
30 minutes. This will make the batter less runny.
After 30 minutes, switch on a round waffle iron. Butter the iron, then pour a heaped teaspoon of batter into the center. Close and bake the wafer until golden (every waffle maker is different, it can take between 30 seconds and 2 minutes, just open it from time to time to peek inside).
Now you need to work quickly: remove the wafer with a spatula, and put onto a wire rack. Place a fortune in the center of the wafer. Quickly fold the wafer in half, then fold the two edges towards each other so that you get a crescent shape. This needs to be done really fast because the wafer will harden and become brittle within seconds.
Place the folded fortune cookie into a muffin tin so it hold its shape as it cools. Leave to cool completely, then store in a tin for up to a week.
TIPS
The diameter of a traditional Wäffelchen is about 15cm. As these are fortune cookie wafers, you'll want the wafer to be on the small side. The diameter I aim for is about 12cm, as the wafers are easier to fold when they're small.
It's very likely that you'll burn your fingers while shaping the fortune cookies… My solution is to wrap both my thumbs and index fingers in foil so I can't feel the heat. It may look very odd, but it is a very handy trick indeed!
You can find plenty of printable fortune cookie messages online.
Black sesame seeds are available in Asian supermarkets. They are a bit crunchier than white sesame seeds, but their taste is very similar. You can of course use white sesame seeds in this recipe.
Recipe from the book "Home Sweet Home – My Luxembourg", Editions Schortgen (http://anneskitchen.co.uk/the-book-3/)
Visit Anne's website at http://anneskitchen.co.uk/