"The holidays hold so much meaning for so many people," says Isabelle von Boch. "But beyond that, the holiday season — especially Thanksgiving — has become one of those rare times when entire families sit around a table for an extended period of time to enjoy a meal."
Because it's a rare moment for people to slow down, set their phones aside (hopefully) and enjoy time together, the table has to be memorable. And this year, Villeroy & Boch has reimagined the holiday table's traditional aesthetic in a cooler set of hues. "It'll make you look at the holidays in a different way, with fresh eyes," says von Boch, the company's brand ambassador and an eighth-generation member of its founding family.
Enter Casale Blu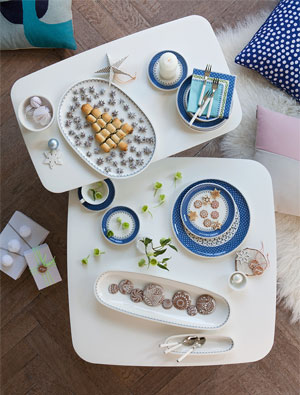 Enter Casale Blu: defined by saturated-yet-subtle blue tones, it evokes the graphic decorative style of traditional Italian ceramics (specifically, those practiced in the Umbrian town of Deruta since the 12th century). But, as with so many Villeroy & Boch lines, this style, while historically relevant, is made contemporary enough to fit perfectly into any table or décor style. And we'd like to present it as the basis for not only the Thanksgiving table this year, but the rest of the festive season, including Christmas or Hanukkah.
"I'm always fond of formalizing the casual, and casualizing the formal," says von Boch. And, ironically, Casale Blu will do both for the holiday table: Its bowls and plates, with their eye-catching color and graphic details, add European flair to any space you grace them with.
When it comes to setting your table with Casale Blu, von Boch's advice, as always, is to mix and match within the collection. And this collection makes that very easy (and fun) to do. The primary blue color is peppered with accents of yellow or green in four distinct patterns. Mix plates, bowls, cups, and more in different patterns, even within settings, and you'll evoke the Italian way of life — aesthetically beautiful yet effortlessly laid-back.
Into this "perfectly mismatched" look, add some bold blue or green glass accents (like the Verso vase, in the bold "Caribbean Sea" color). Beyond that, von Boch recommends introducing natural elements into the mix, for a richly textured, undeniably autumnal look and feel. Woven jute or sisal placemats, wooden serving bowls and utensils (like an acacia plate or salad servers from the Artesano Original line), and even stone accents will bring nature in, adding a relaxed tone to this inspired, global look. The result: a setting in which you'll want to linger for hours, making memories — and setting some new holiday traditions.