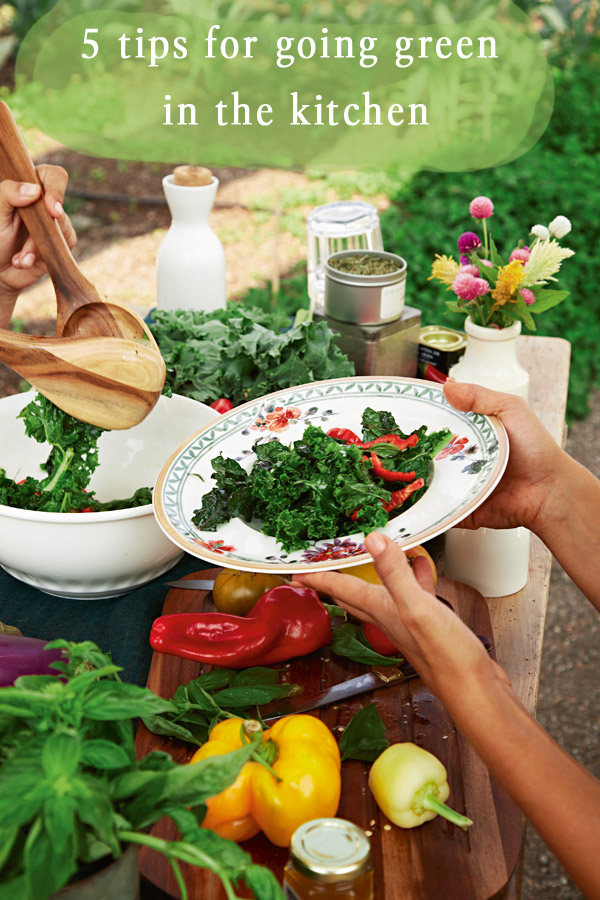 In the spirit of Earth Day this Friday, we think now is the perfect time to evaluate how we all can do our part to be conscious of our impact on this beautiful world we call home. To help you on your quest to incorporate eco-friendly habits in the kitchen, we have gathered five easy ways that you can go green in the kitchen today.
Skip the paper, and the plastic
Opt for reusable dinnerware and flatware rather than paper plates and plastic utensils. Bring your own reusable bags to the grocery store. Use dish rags instead of paper towels. All of these small steps will drastically cut back on the waste you create in the kitchen.
Filter your water
Similar to the last tip, investing in a water filter will reduce waste by eliminating the use of plastic water bottles. This also has an added bonus of saving you money. Plus, it allows you the freedom to store a water pitcher in your refrigerator, which you can add lemons, mint leaves, basil or cucumbers to for tremendously tasty hydration.
Use Your Dishwasher
You may not believe this, but running a full dishwasher actually saves more water when compared to washing dishes by hand. That's good news for all of us!
Buy Quality
An initial investment in high-quality pots, pans, cutlery and dinnerware may cost you a bit more originally, but it will save you money in the long run because you will not have to replace these items down the road. This in turn is eco-friendly, as it will save on waste and also on the resources needed to create these products, package them and ship them.
Eat Sustainably
Buy locally grown produce and sourced foods. If possible, you can even plant yourself an herb garden or vegetable patch for fabulously green eating!