Interview By Stephen Milioti

When she was growing up in Germany, Isabelle von Boch — an eighth-generation member of the von Boch family — didn't know much about Thanksgiving. "In Europe, we didn't grow up with the holiday," she said, "so I had to reinvent it." Now a resident of Carmel, California, she has done just that. Thanksgivings celebrated at her home are at once lush and laid-back.
"In America," she says, "Thanksgiving is the only time when I see people actually taking time and spending hours at the table, which is something I am familiar with, being European. But I never see that here. That's my favorite thing, people connecting, taking their time. Thanksgiving is a day when we allow ourselves to linger and connect and talk and … be."
Here, we asked her for tips on how to create an environment — both the table and beyond — to set off your Thanksgiving feast in its best possible light, and make sure your holiday environment possesses the same combination of elegance and livability that always defines her design aesthetic. It's a relaxed-yet-luxe look that's worth celebrating: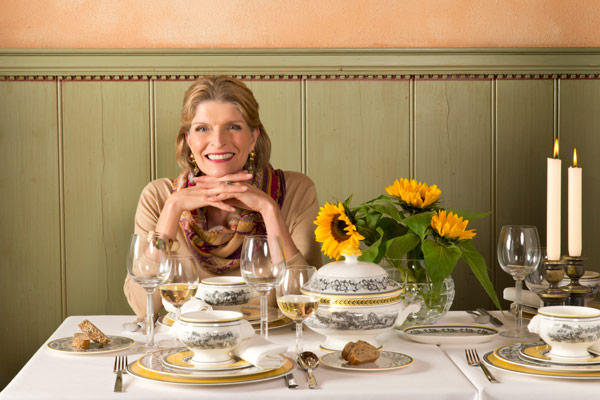 SM:  What are the three most essential elements and the two most important pieces of the Thanksgiving table?

IvB:  The first essential element is familiarity. Thanksgiving is a time to pull out things from around the house that evoke great memories — pieces that mean something, and have purpose — and put them on or near the table. Family photos, an antique ladle, your grandmother's gravy bowl.
Another key element is to be laid-back and relaxed. Create a warm atmosphere that doesn't feel stuffy — somewhere you'd love to sit for hours and talk.
Lastly, things have to be comfortable. Don't have one dipping bowl for 12 people. Set a couple of them out. Same with the cranberries … if it's something everyone reaches for, divide it around so people aren't reaching too far.
As far as two most important pieces: the centerpiece and the turkey platter. For the centerpiece, it can be everything from florals, to an old soup tureen. Again, select something of meaning to you.
SM:  What are the biggest "faux-pas," in your eyes, that you've seen made at a Thanksgiving table?
IvB:  When people bring food to a Thanksgiving meal, they don't always bring it in the most attractive plates. Let's just say there are a lot of unattractive baking dishes out there. A bad platter will downgrade the experience. So have some extra platters handy to transfer everyone's dishes onto before serving. Make sure you transfer them all, though, so you don't call out specific people for having inappropriate dishes!
Paper napkins of any sort are a faux pas. Use cloth napkins – always. When you use paper napkins, guests get the feeling that you just don't care, and didn't go the extra mile.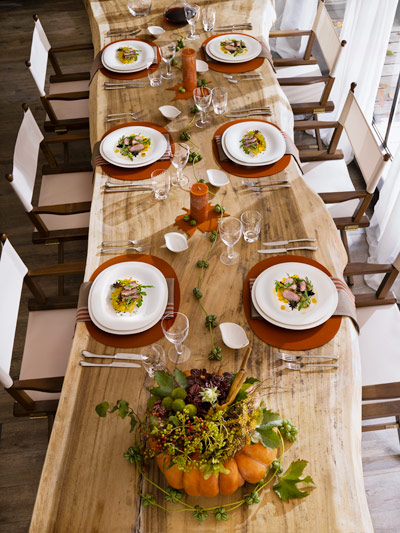 SM:  Let's talk colors. Can you offer some ideas for how to mix pieces to achieve a traditional Thanksgiving color palette (i.e., fall colors)? And, on the opposite end, how about an idea for a non-traditional color palette? (Brights? Or cool tones?)
IvB:  Orange, rust and earthy brown tones are traditionally fall, and instantly classic. For something more modern, try purples and apple green, with white. Or purple and gray for a more modern, even urban look. If you have a classic-modern table (set with Villeroy & Boch La Classica in white), put a twist on the classics: Go for white- or green-colored pumpkins that stores sell alongside the regular orange varieties. Or dress it down with silvery foliage or twigs and branches rather than multicolored florals.
SM:  Styling-wise, can you offer some ideas for a truly bountiful, lush table, and then some for a minimal table?
IvB:  Absolutely. There are so many elements besides the dishware. If you're looking to add warmth, go with a rough-hewn raw-edge wooden table, and get rid of the tablecloth and placemats. If you're going more lush, layer placemats and tablecloth in complementary (or contrasting) colors and luxe materials. Or go more bohemian-luxe by mixing pattern on pattern. For minimal looks, it's just about removing many of those layers. No one said you need to have a tablecloth or placemats. Take both of those elements off a wooden table and you have the basis for a pared-down, modern look.
SM:  You're big on mastering the mix. Can you offer some tips for how to mix styles for the Thanksgiving table, both within the same Villeroy & Boch collections and between different collections? How to add accessories to complement them?
IvB:  One of our classics, and a top selling pattern in North America, Audun, is made to be mixed all together, so within that collection, go for it. With the different patterns within the Audun collection you can create a more country look, while selecting Chasse or Ferme; these go well with a more traditional table in rusty, burnt orange, beige or earth tones. Audun's Fleur or Promenade décors go with a more contemporary table. And if you're looking to go even more modern, combine Audun Fleur or Promenade with pieces from the all-white Artesano Original line or mix them with colors such as cool grays – e.g. our Colour Concept chargers made of glass in the colour "smoke" . That's the great thing about Audun; designed in the 1830ies it's classic and evocative of the past, yet, if you choose certain pieces, it works brilliantly in contemporary settings.
Beyond this, runners, placemats, and napkins are great ways to add personality and set the tone. Go for a modern check or stripe, or a classic brocade/silk, depending on the mood you want to set.
Next, crystal, silverware, and accessories matter. Go for wood candleholders for a less formal look (or put tea lights in carved-out pumpkins if you want to be even less formal than that) — or crystal if you want to be more traditional. Or mix and match more formal and more casual — I love the concept of casualizing the formal and formalizing the casual. If you have a more formal table, add a whimsical element by varying the color of drinking glasses at place settings. Little unexpected touches like that are what really catch people's eyes.
SM:  A lot of times, people put so much focus on the table that they forget the rest of the dining room/area. What are a few changes/adds people can make in the room that will connect the feeling of the table to the rest of the room?
IvB:  If you have room, set up a buffet table next to the table in the dining room, so that you have an "overflow" area for serving plates, dishes, glassware and more. And decorate it in a similar fashion as the table. Use accessories to connect the look, from chargers to table linens. They don't have to be matchy-matchy — in fact they shouldn't be — but they should harmonize in some way with the table and the rest of the room. Lastly, hang a fall-colored wreath in the space — full and lush if you're going traditional, or spare and sculptural if you're going modern. Since we're on the topic, make sure that the rest of your home is fall-focused, as well. Hang another wreath right at your door, so that people get excited for what's inside.
*Last day for guaranteed shipping by Thanksgiving: Sunday, November 11, 2015