We love a good wine chat almost as much as we love sipping on a wonderful glass of wine in itself. So, as you can imagine, we were thrilled to be able to have a Q&A session with Karen MacNeil, the only U.S. winner of every major wine award in the English language, host of Wine, Food and Friends with Karen MacNeil (PBS nationally), and author of The Wine Bible. Really, we could go on and on about her wine expertise and accomplishments, but in short, she's a truly fascinating sommelier. Read on for everything from the biggest wine myths to must-try pairings from the expert herself!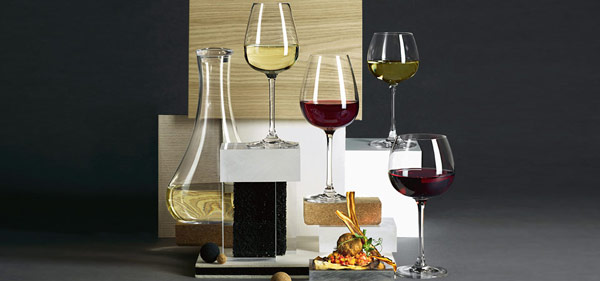 All Your Wine Questions Answered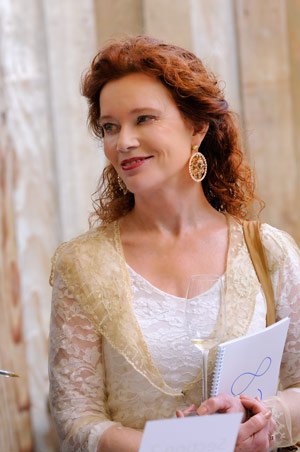 V&B: Your list of wine accolades is amazing! What started your love of and career with wine?
Karen: We often think we choose our careers and our interests. But sometimes they choose us. I've always felt that wine and food chose me. At 6, I wanted to cook; at 15 I started having a glass of wine with dinner. I don't ever remember deciding to fall in love with them. I just always had a passion for them.
V&B: What's the best glass of wine you have ever enjoyed?
Karen: That's the kind of question that's impossible to answer. Here are five:
1945 Chateau Leoville Barton (Bordeaux)
2000 Chateau Margaux (Bordeaux)
1946 Toro Albala Pedro Ximenez Sherry (Jerez, Spain)
1956 Veuve Cliquot (Champagne)
1970 Louis Martini Pinot Noir (Napa Valley)
V&B: What is your absolute favorite white wine and food pairing?
Karen: Dungeness crab with melted butter and a top Puligny Montrachet from Burgundy.
V&B: What is your absolute favorite red wine and food pairing?
Karen: Roast rack of lamb with a top Paulliac from Bordeaux.
V&B: When we think of wine, we think of Italy, France, Spain, Argentina and Napa Valley. What surprising place-outside of these wine renowned regions- have you found to produce wonderful wine?
Karen: Hungarian Tokaji is absolutely one of the greatest (and most historic) wines of the world. It's very savory and a touch sweet. The European nobility used to drink it when they were near death, believing that a mere sip could restore their health.
In a more modern sense, I am very impressed by the wines of Austria, Slovenia, and Canada; and the very top wines of Australia (many of which are not widely exported) are sensational.
V&B: What are your favorite bottles of wine under $20, $50 and $100?
Karen:
Under $20: Spanish and Portuguese reds.
Under $50: Washington State cabernets and red blends, French Chateuneuf-du-Pape, and California sparkling wines.
Under $100: The world is wide open at this price. Everything from fine Champagne to great Napa Valley cabernet sauvignon to luscious pinot noirs from California, Oregon and Burgundy.
V&B: If we could only visit one winery in the USA, which would you recommend?
Karen: Schramsberg in the Napa Valley. The dark, winding, underground caves were hand dug in the 1800s by Chinese immigrants who had just finished completing the Transcontinental railroad.
V&B: Chilling red wine: yes or no?
Karen: Yes, but only until it's slightly cool, not to the point where it is cold. Imagine an air conditioned movie theater. Red wine should never be colder than that.
V&B: What wine myths have you come across that simply must be debunked?
Karen:
That red wine does not go with fish. (Try grilled salmon and Oregon pinot noir!)
That you should open a bottle of red wine a few minutes early so that the wine can breathe. (Merely removing the cork won't make much difference. You have to pour the wine out into a glass or decanter and really mix it with oxygen to have it breathe).
That women have better palates than men. (Alas, scientific research suggests this is not true).
V&B: Villeroy & Boch makes a number of wine glasses that are crafted to fully release the aromas of specific wines. How important is it, in your opinion, to select the right glass for your wine?
Karen: Very important. A poorly designed glass can completely undermine a great wine. On the other hand, a well designed glass with a thin lip, a good shape, and a generously-sized bowl will allow a great wine to be fully experienced. It's very easy to prove this to yourself by trying the same wine out of two different glasses—one, a great glass; and one, a poor glass. Why spend money on a great wine then drink it in a way that negates the wine's beauty?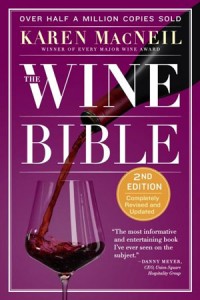 The Wine Bible second edition by Karen MacNeil is available at all major booksellers. For a signed, personalized copy, go to http://www.karenmacneil.com/.