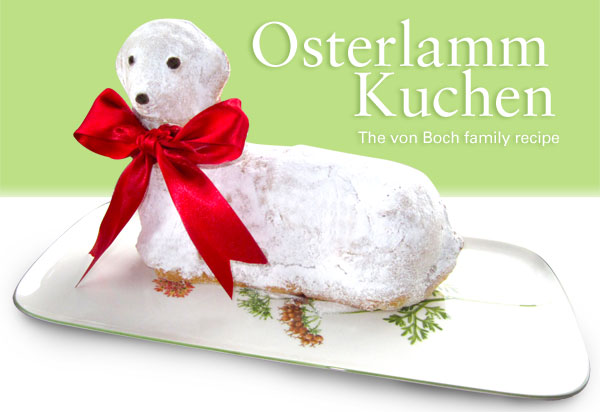 In many parts of Europe, including Germany, the 'Osterlamm Kuchen' (Easter Lamb Cake) is a central part of any Easter table. For Christians, the lamb symbolizes Christ, the 'Lamb of God'. However, there is a general tradition, not confined to Christians, that Easter is the time of new life and the season's new lamb, which is just coming onto the market.
Every family in Germany has their own slight variation on this cake. However, I'm (obviously) bias towards our von Boch family recipe that has been handed down from generations past. Traditionally this cake is made with a 'marble cake' batter, similar to a pound cake batter. This recipe adds lemon zest for a delightfully fresh flavor. Dusted with confectioner's sugar and finished off with a simple, yet elegant bow, this cake makes a lovely centerpiece and is enjoyed by children and adults alike.
Happy Easter!

Marble Cake Recipe
Ingredients:
1 3/4 sticks butter, at room temperature
1 cup sugar
1 teaspoon vanilla extract
Zest of 1 lemon
4 eggs
2 cups all-purpose flour
Pinch of salt
2 tsp. Baking powder
Confectioner's sugar to decorate
You will also need a lamb cake mold available at most specialty kitchen stores.
Method:
1. Preheat the oven to 325F.  Lightly grease and flour the lamb cake mold and set aside.
2. Cream the butter and sugar until light and creamy.  Add the vanilla extract and lemon zest.
3. Add the eggs, one at a time, continuing to blend well after each addition.
4. Sift the flour, salt and baking powder together in a small bowl and slowly incorporate into the creamed butter mass.
5. Transfer the cake batter into the tin, placing the tin on a baking sheet.  Bake on the middle shelf for 40-45 minutes, until a wooden stick inserted into the middle of the cake comes out clean.
6. Allow to cool in the tin for 15 minutes before carefully removing the cake, and cooling it completely on a cooling rack.
7. When completely cool, sift powdered sugar over the top.
8. Decorate with chocolate drops for the eyes and nose.