As adults, we look back fondly on the memories we have of celebrating the Easter holiday during childhood. For me, I remember many Easter celebrations in the German countryside and the traditions that my family built, and still uphold! When I was a child, my sister and I used to venture out into the woods near our home on the Saturday before Easter to gather moss and flowers to build a cozy nest for the Easter bunny—in hopes that he would visit! On Sunday morning, we would excitedly run out to the nest and find chocolate bunnies, eggs, and other candies left for us by the Easter Bunny!
Another tradition that I remember fondly is painting eggs with my family—in fact, we still do this today! My family would always paint eggs together and it'd get quite competitive! As one of seven siblings, we were always competing to create the most beautiful egg! Later in the day, our family would gather around the table that was always delicately decorated with Easter décor and our painted eggs to celebrate the holiday and enjoy brunch together.
Of course, every family has their own special traditions and rituals. These traditions are what make each family unique, and help to instill a sense of belonging, love, and security within the family. We're able to invoke nostalgia by reminiscing on memories like these from our childhoods, so it's important that we do the same for our children and grandchildren! Gathering around the table is important for a family. It gives us time to slow down from our usual hectic schedules and really enjoy one another's company. It's a time to relax and create memories with the ones with love, and setting a special table helps to create an atmosphere that your family won't want to leave!
Evoke Nostalgia at Your Easter Table
The Annual Limited Edition Easter collection from Villeroy & Boch is a great addition to your Easter table, and is especially great for children and grandchildren. The whimsical motifs, featuring the Easter bunnies, chicks, and painted eggs, instantly brings me back to my childhood and I'm sure it'll delight the little ones at your holiday gathering. Because the Annual Limited Edition Easter collection is updated each year, the plate, bowl, and mug in the collection become collectibles and keepsakes that you can share with your family, and that can be passed down through generations.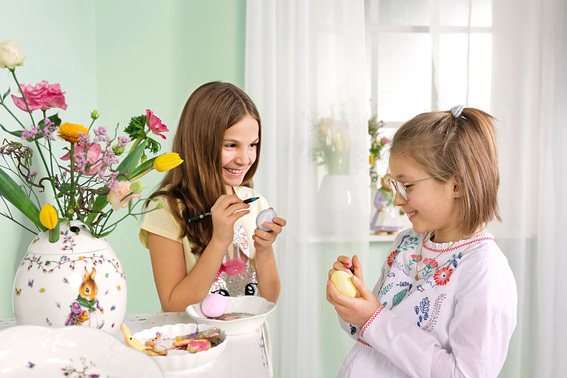 Begin a new tradition with your children or grandchildren by setting a special place for them at the Easter table with this collection. They're sure to love the fun, scalloped shapes of the plate and bowl and because the collection is made from high-quality premium porcelain that's extremely durable, you don't have to be fearful of giving it to small children. Your children and grandchildren will look back on that special feeling they had sitting down at a table with a fun place setting just for them! They may even keep the pieces for years to come, or choose to pass them down to their own children.
I still have some of the Easter decorations my mother used to set out for the Easter holiday. I even brought them with me from Germany to the United State when I moved. These pieces are so special to me, and they fill me with warm feelings and memories of my family celebrating the Easter holiday. The Annual Limited Edition Easter collection from Villeroy & Boch may do the same for your children and grandchildren!
From my family to yours, I hope your Easter holiday is filled with family, traditions, and creating new memories with the ones you love.
Sincerely,