It's the time of year we all look forward to: winter's chill finally gives way to the vibrant bloom of spring. Outside, things get a little sunnier and brighter. So why not bring that vibe inside? Here, Isabelle von Boch shares ideas for you to make sure your table is ready for the welcomed seasonal transition.
Isabelle's number-one tip: add green. "Color impacts our emotions and feelings. And green, in particular, symbolizes vitality, health, prosperity and energy, and connects us with nature … so it's essential to bring it into our homes to usher in spring." The goal, Isabelle notes, is simple: to "bring the forces of life and nature into your space — and your heart."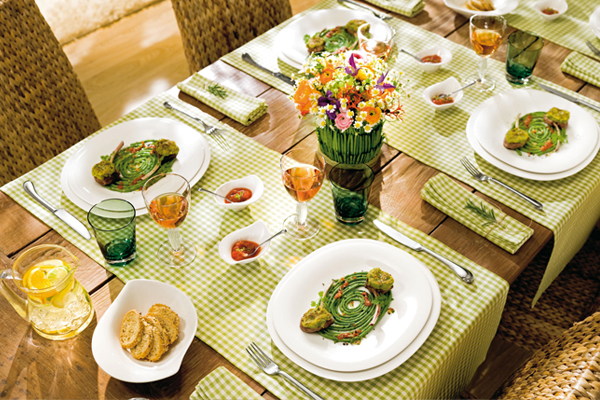 Below are more ideas from Isabelle for giving your space a fresh face for the new season:
Get set with spring patterns. Classic floral patterns are perfectly cut out for spring. Villeroy & Boch's Mariefleur, for example,"…creates a whole 'meadow effect' — that of a true abundance of flowers," says Isabelle. Use dinnerware that features florals, fruits, foliage and greenery, or even beautiful butterflies. These will be perfect for the warming season! One way to add these touches to your table with ease is to purchase salad plates or bowls in these vibrant patterns and to layer them atop your everyday dinnerware- and viola!- you are spring-ready.
Charge it up. Glass and porcelain chargers instantly add depth, dimension and visual interest to your table. Choose green glass chargers or premium porcelain chargers with vibrant patterns for a spring-perfect dose of color.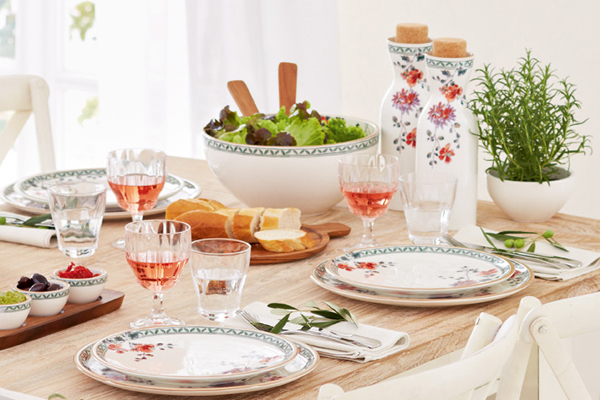 Add a vase (or a few). Vases are an easy way to add color to your table and your home "A vase, to me, has to be beautiful enough to be kept out always, and look beautiful even when flowers aren't in it," says Isabelle. Opt for vases in solid spring pastels, or with vibrant patterns to really enliven the atmosphere.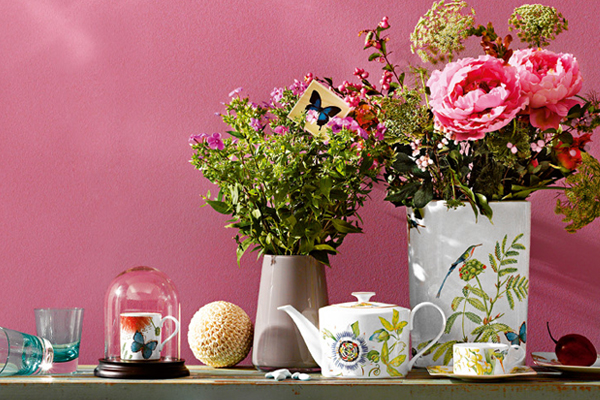 Master the mix. Spring is the best time to curate a lighthearted tone. That means forget being matchy-matchy, and vary patterns and textures — just like you would in a spring outfit. "Put a plaid or stripe tablecloth against the floral-pattern dinnerware and solid chargers," says Isabelle. "It'll instantly give dimension to your tablescape."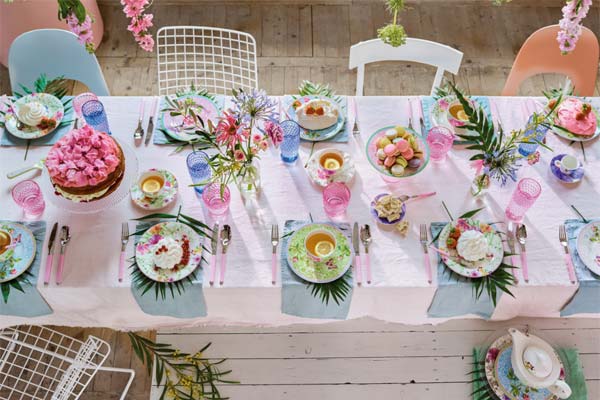 Finish the look. Placemats, runners, napkins and even napkin rings are the perfect plus to put touches of green throughout. And don't forget to add an element of actual nature with decorative grass or a bouquet of spring flowers. Lastly, embrace the shapes of nature and opt for porcelain pieces that mimic the forms of leaves or other natural elements.