This chilly weather has us craving soup on a regular basis. Elevate your soup game with this spectacular recipe for Hot and Sour Soup from guest chef Michelle Tchea. Your taste buds will thank you!
Hot and Sour Soup from Chef Michelle Tchea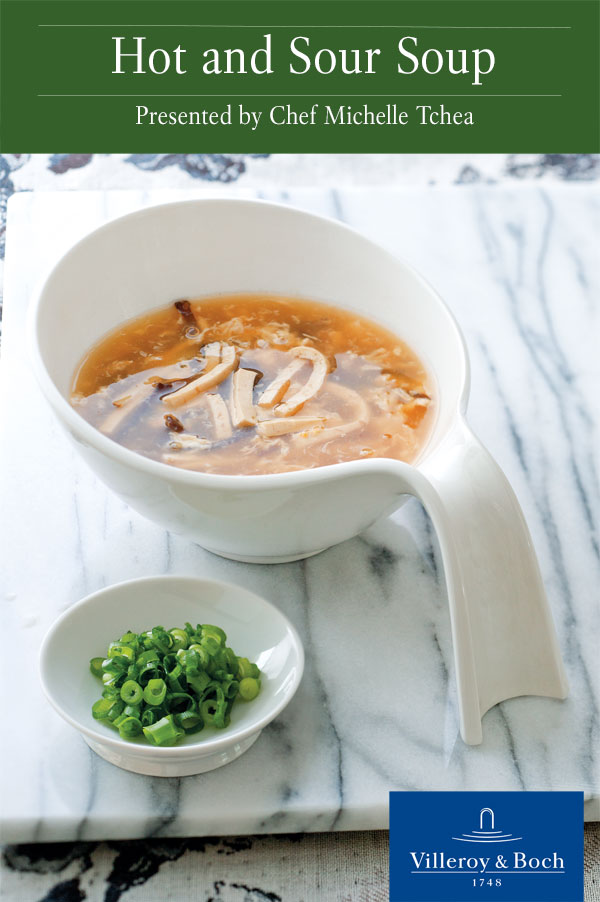 Hot and Sour Soup Ingredients
Wood Ear Fungus, 1.5 oz soaked in 3 cups of water
½ a Carrot cut into thin strips
Canned bamboo shoot, 1 oz finely sliced
Sugar, 1 tsp
Black vinegar, 1 Tbsp
Dark soy sauce, 1 Tbsp
Ground white pepper, to taste
Grilled bean curd strips, 2 oz (Recipe below)
Cornstarch, 1 tsp mixed with 2 Tbsp cold water
Ground chili paste, 1 tsp, optional
1 Egg, lightly beaten
Sesame oil to taste
Grilled Bean Curd Ingredients
Firm Bean Curd 5 1/3 oz.
Vegetable Oil, 2 Tbsp
Scallions, to garnish
Grilled Bean Curd
Using a sharp knife, carefully cut bean curd into strips. 
Heat oil in a shallow pan and lightly grill bean curd strips on high heat until golden brown. Move the pan with a heavy jiggle rather than using a spatula to loosen bean curd strips. Remove from heat.
Hot and Sour Soup
Remove mushrooms from water and chop them finely. Set aside, Reserve water.
Bring reserved water to a boil. Reduce heat and simmer on low.
Add the carrot, bamboo shoot, wood ear fungus and simmer until the vegetables are tender; about 10 minutes.
Add sugar, black and white vinegars, and soy sauce. Season with pepper.
Add bean curd strips and heat through.
Add cornstarch to thicken.
Add ground chili paste, if using.
Turn off the heat and slowly drizzle in the egg. Serve hot with extra white pepper and a drizzle of sesame oil.
Enjoy!
Recipe by Michelle Tchea