12 Bottle Bar has been a cocktail contributor to our blog for years and we are excited now to announce the launch of their book, The 12 Bottle Bar. We sat down with them for a toast and to learn a little about the inspiration behind this must-have book for creating your own unique cocktail hour at home.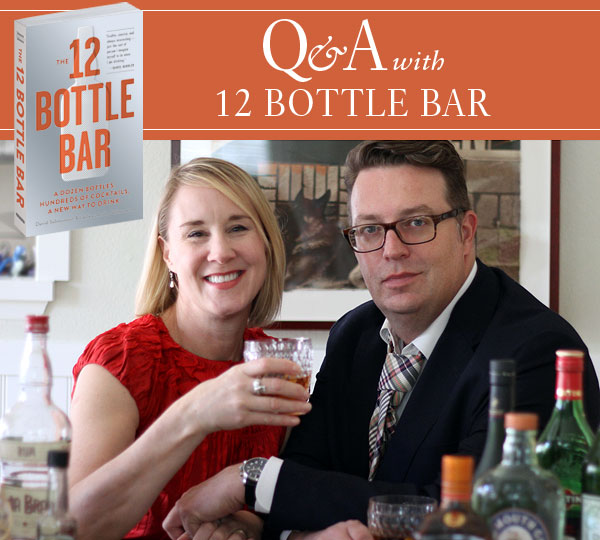 Congrats on the launch of your latest book, The 12 Bottle Bar. With the motto of "A dozen bottles, hundreds of cocktails" the message is clear: you don't need all the bells and whistles to create a functional and exciting at-home bar. How long did it take you to conjure this credo? It was a gradual evolution. We loved cocktails, but there was this multitude of issues. In bars, cocktails were very expensive. At home, when we tried to use recipes we found in modern magazines, the ingredients were often obscure and very expensive, plus the drinks could be quite complicated to assemble, especially for someone at home who just wants to make an enjoyable cocktail. So, the thought process grew and took on a life of its own and eventually resulting in that "aha, 12 bottles!" moment — limit the ingredients, cover the basic, and get creative.
I love how you've broken it down even further, by budget and by personal taste. It makes the whole idea of Cocktail Hour less daunting and lots more fun. By investing in what you want, you can incorporate Cocktail Hour in your life to create special slow-down-moments with family and friends. What is the latest thing you have added to your bar? Bar bling! Along with the flavor of the drink itself and the enjoyment it brings by helping you slow down for a moment, making a drink is a satisfying sensory experience itself. The equipment you use is arguably as important as the drink. And, while we make it clear that you can gather all your essential tools for about $50, if you really start enjoying the process, it's fun to indulge. So, we just bought a gold-tone Japanese jigger and heavy-duty cobbler shaker. There is nothing more useful about them than the solid workman-like variety, but the warm glow from the golden tone and the sheer beauty of them as objects just adds to the overall experience.
This book is really such a fun read. There are plenty of anecdotes about the history of the cocktail–from its early beginnings, famous hotel recipes and even some famous bartenders that we thought were impressionist painters! When you and your wife, Lesley, are home alone, what cocktail are you making? And if guests were coming over, what's your favorite party cocktail? We will probably start sounding like a broken record, but our go-to style of drink is the Sour. From the daiquiri, to the margarita, to the sidecar, you cover a lot of cocktail territory there and you can always find a satisfying flavor combination by tweaking the type of citrus and sugar you use. For parties, it's all about ease and spending time with your guests, so punches and batched drinks best fit the bill. Whether it's basic navy grog or something more festive with sparkling wine, a punch just screams party time because it is by definition a drink meant to be consumed by a group – and usually a very happy one.
What is your mindset when you are preparing drinks for someone? (ie, I want to relax them or wow them or create a specific mood) In the book, we have approached our cocktail classifications in a rather unorthodox manner. It's not about the "official" drink styles like Sour or Manhattan-style drinks, it's about spirit preferences and drink profiles. A person's mood, the time of year, and especially the mood of the moment can all influence the right drink for the moment. So, after people decide on a spirit, we ask whether they want a drink that is tangy and citrusy, sweet and fruity, or strong. Of course, it's important to take into account whether there is a flavor they detest or adore; it helps personalize the experience. When we say "Drink what you like", we aren't saying just grab whatever you feel like, we are trying to encourage them to actually ask themselves, "In this moment, what flavors and sensations to a want to enjoy?"  An easy way to discover what a group, large or small, like is to make one each of a handful of different drinks and let people share. They'll quickly let you know their favorites. That said, sure, we like to wow our friends sometimes, so we'll flame an orange peel or  serve a tiki drink in a hollowed out pineapple or create a unique infusion. Drinking should be fun and the delivery of the cocktail is part of that package.
You talk about setting up the perfect bar at home. What are the essential hardware? What make the perfect cocktail glass?It's relatively inexpensive to start making drinks. You need a good set of jiggers or measuring cups, a Boston shaker (usually a metal tin and a large pint glass, which can also be used for mixing), a long stirring spoon, and a solid, hand-held juicer should get you started, along with the usual kitchen tools like a sauce pan. When it comes to glassware & barware, do take a moment to find something you enjoy holding. The glass needn't be expensive, but the smoothness, heft, and general pleasing quality in hand all help add to one's drinking pleasure. Just as wine is less enjoyable in a red cup, the glassware you choose for a cocktail should serve a purpose beyond the mere functional. You should feel better just by holding it.
We've all heard of accentuating food with a right wine, but what are the tricks to creating a tasting menu with cocktails? Is there the same interplay between food and a mixed drink? Cocktails can be incredibly tricky because spirits, while often used in cooking, don't necessarily pair naturally with foods. That said, think about the time of day and what you are eating. Before dinner, aperitifs are ideal because they tickle the palate and excite it for the food to come. Heavy, spirit-driven cocktails will dull one's tongue for the meal.  Spirits and spicy food tend to bring out the worst in each other, so lighter or sweeter drinks are best with hot food. If you plan on serving cocktails with food, look to the ingredients you would cook with. What pairs naturally? You won't put a sweet, fruity tiki drink with a charbroiled steak, but you could certainly serve it with roast pork belly. Consider what dishes are the most easily pair-able and which ones need to stand on their own, then look for common ingredients and flavor profiles to bridge the two.
I love the Garnishes & Syrups section of the book. With recipes for caramelized pineapple syrup, ginger syrup and homemade grenadine, you're really adding this wonderful layer of sophistication and wow factor. And, making homemade cocktail onions for your martinis!! What a fun hostess gift those would be. All these little details and fresh ingredients really help one to create a signature Cocktail Hour that is well within reach. I can only imagine when you go to farmer's markets…are you shopping for your cocktails or your meals? Since a cocktail usually precedes a meal, at least at our house, we are shopping for both!  The farmer's market is an incredibly rich canvas from which to draw inspiration. Think of what drinks you like – sours, tiki, drinks with infused spirits – and go on a treasure hunt. Do the beets look intense today? Infuse some vodka. Have you found the most stunning bunch of basil or rosemary? Make an herbal simple syrup. By using fruits, vegetables, and herbs as a jumping off point, you can create drinks that reflect your palate, personality, and moment in time in which they were created. That is one of the most important messages we hope we impart in the book. Making drinks isn't that difficult, as long as you start with great ingredients and just experiment.
Where is your favorite place to get a cocktail when not at home? At the home of one of our friends. Bars are wonderful and full of inventive, often utterly mind-blowing concoctions, but  following up to the question above, the idea of cocktails is more about coming together and sharing a moment. We like to do that with good friends, new and old. Mixing a drink together or for one another is one of life's great, contained, and almost instantly gratifying pleasures. 
Learn more about 12BottleBar.com


Enjoy some of our favorite cocktails from 12 Bottle Bar: 
https://blog.villeroy-boch.com/2014/07/cosmopolitan-cocktail-recipe/
https://blog.villeroy-boch.com/2012/02/recipe-champagne-punch/
https://blog.villeroy-boch.com/2011/12/recipe-spiced-curacao-coffee/
https://blog.villeroy-boch.com/2011/09/cheers-to-the-last-days-of-summer/