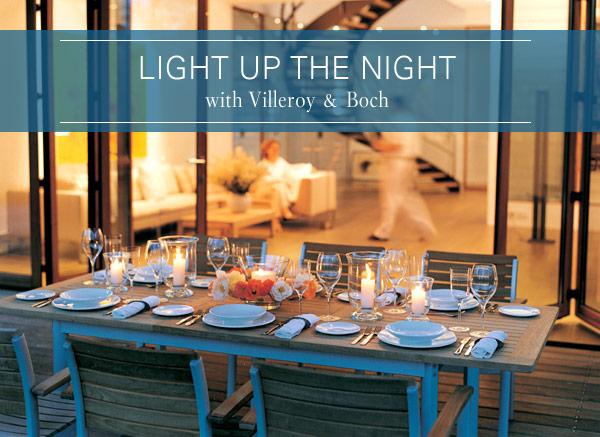 When getting ready for a summer party, I always make sure that the flicker of outdoor candlelight is omnipresent. I love the romance it brings! Outdoor candlelight also adds an entrancing calm to any summer tablescape. Who doesn't love to watch the flicker of the flames while smelling the fresh summer evening air? Whether you are creating a centerpiece or niche vignettes throughout your garden area, here are a few tips to creating a glowing candlelight presentation that reflect the warm and effortless season of summer.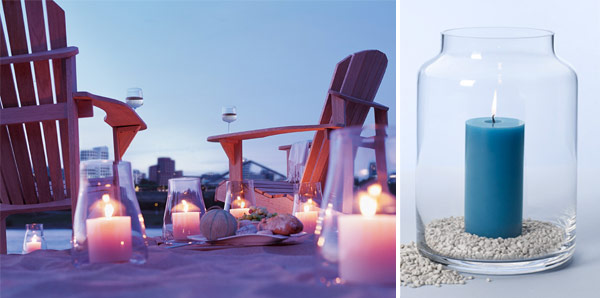 Bring the beach to you
If you can't make it to the beach, bring elements of the beach to your summer tablescape. Create a candlelight centerpiece with a glass hurricane filled with sand and a pillar candle. This effect is wonderful when presented as a cluster of large hurricanes accented with seashells, sea glass and other nautical themes.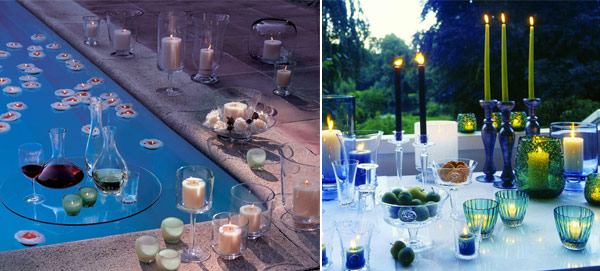 Display varying heights
Whether you choose to display clear glass or an eclectic array of colors, be sure to switch up the shapes and heights. Use long and short candlesticks, footed hurricanes, votives and vases. This will create added drama, energy and a more dynamic flickering of candlelight.
Accessorize your candlelight
After you create your summer tablescape centerpiece and niche vignettes, accessories with flowers, rocks, seashells, found objects and themed accessories.
Votives, votives, votives
Add votives where you can. Votives add a gentle flicker suggesting quiet spaces to converse, creating pathways where you want them, and are a welcoming gesture to find at each place setting. Tip: if you are not using all of your glasses, place tealights in your old fashioned bar glasses.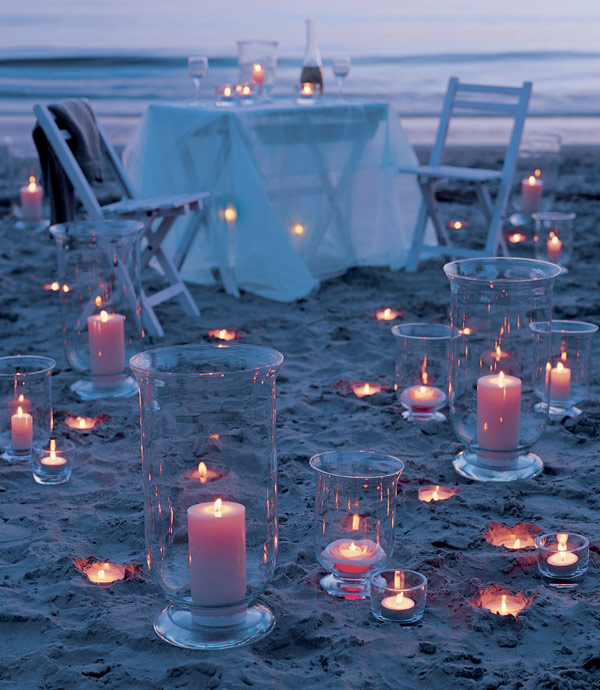 Create ground level light
Once your summer tablescape is planned, think about the rest of your outdoor space and safely scatter hurricanes, vases and votives. Place them in areas of low traffic but high visibility. The more you display, the more dramatic it gets. This is a great time to use flameless candles. They flicker like actual candles, but they last forever and are not a fire hazard.
Whether you are planning for a small gathering, a large reunion or a romantic party of 2, light up your summer nights with the entrancing glow of outdoor candlelight.
Yours in light,