We won't say it. We refuse. But, it's almost over. Dunzo.
Where did the time go? We can either fight Mother Nature or celebrate her. Join us in the latter with this yummy, gingery, sweet treat. A ripe and sumptuous gift that only summer can bring. Thank you summer. We'll always love you. But who's that sexy guy around the corner? Fall, you say? Hey now.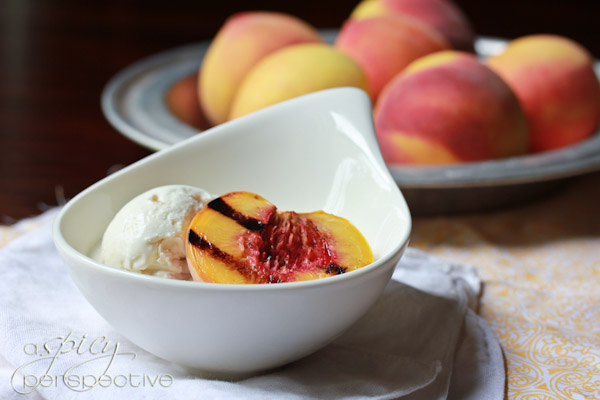 Recipe: Grilled Peaches and Ginger Ice Cream
Ingredients for the Ginger Ice Cream
• 2 1/2 cups Half and Half
• 1 1/2 cups Heavy Cream<
• 1 cup sugar
• 2 egg yolks
• 1 tsp. vanilla extract
• Pinch of salt
• 2 inch piece of fresh ginger
• 1/2 – 1 cup chopped crystallized ginger
Ingredients for the  Grilled Peaches
• 6 firm, but ripe, peaches
Instructions
For the Ginger Ice Cream: Place the half and half, cream, sugar, egg yolks, vanilla and salt in a medium sauce pot. Place over medium heat and whisk well.
Slice the piece for fresh ginger into several slices and toss into the pot.
Bring the mixture to a low boil, whisk well and remove from heat as soon as it thickens a little. (Watch that it doesn't boil-over.)
Place a lid on the pot and allow the mixture the steep for 20+ minutes.
Place in the refrigerator for at least 4 hours or over night. If in a hurry, place in the freezer for 1 hour, until cold but not frozen.
Once chilled, Pour through a sieve into the bowl of an electric ice cream maker. Turn the ice cream maker on and churn until thick, 20-30 minutes.
Once the ice cream in "soft-serve" consistency, pour the chopped crystallized ginger in. Add 1/2 cup if you like ginger. Add 1 cup if you LOVE ginger!
Allow the ginger to mix through, then turn off the machine and spoon into an airtight container. Freeze until ready to serve.
For the Grilled Peaches: Cut the peaches in half and remove the pits. Place on a hot grill, face-down. Grill 2-3 minutes per side.
Serve the warm grilled peaches with a scoop of candied ginger ice cream!
Preparation time: 20 minute(s) active time
Cooking time: 15 minute(s)
Number of servings (yield): 6 large servings, 12 small servings
Recipe provided by A Spicy Perspective