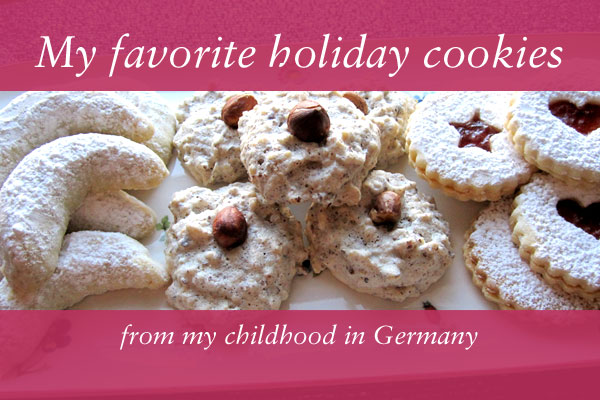 So many of my happiest childhood memories involve making and eating traditional German Christmas cookies. I've opened up my family recipe book to share my favorite cookies with you. I hope you'll enjoy them during the holidays and throughout the year.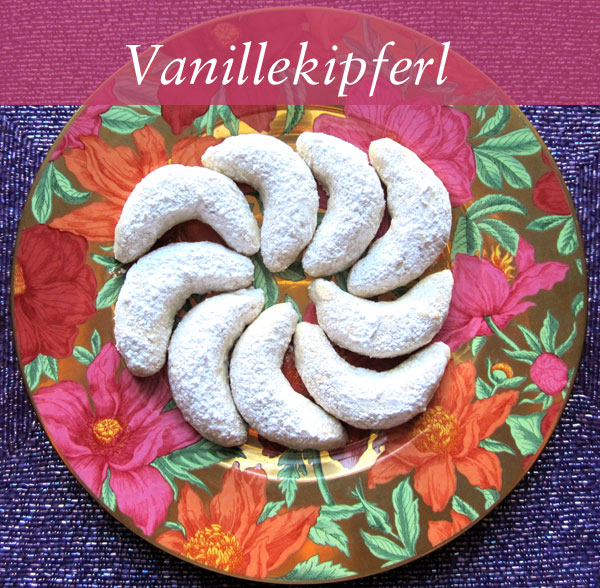 In Germany the 'Adventszeit' is widely celebrated on the four Sundays preceding Christmas. During this time, many types of 'Plätzchen' (cookies) and sweets are prepared and shared. Vanillekipferl are traditionally made with ground almonds or hazelnuts and vanilla, and finished off with a generous dusting of powdered sugar.
Although store bought ground nuts (they are difficult to find in the US) and vanilla sugar can be used, the family recipe favors freshly ground almonds and vanilla scraped from the bean.
Many afternoons in the 'Adventszeit' are spent with the family gathered in the kitchen, telling stories, baking, decorating, and getting into the holiday spirit. Everyone helps out, and the only dispute is over who gets to lick the spoon at the end!
Vanillekipferl
Makes 60 cookies
Preparation time: 1 hour + 12 hours resting time
Baking time: 20-25 minutes
Vanillekipferl keep well in an air-tight container for up to 3 weeks.
Ingredients
• 2 vanilla beans
• 2 cups all purpose flour
• 1 cup ground almonds
• 1/3 cup sugar
• 1 3/4 sticks (7 oz.) unsalted butter, cold, cut into small cubes
• 1 cup powdered sugar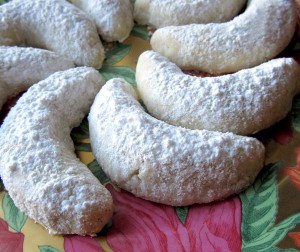 Method
1. In a large bowl, combine flour, almonds, sugar, and butter.
2. Halve the vanilla beans lengthways and scrape out the seeds. Add to the other ingredients.
3. Using your hands, rub your fingers through the flour and butter to mix well. After 2-3 minutes the mixture should resemble bread crumbs. A food processor can be used for this, but make sure to pulse carefully and not to over-mix.
4. If at this stage, if the dough is too dry and will not stick together to form a mass, incorporate another 1/2 tablespoon of butter into the mixture to moisten.
5. Form a dough ball and divide it into four. On a lightly floured surface, roll each quarter into a 1-inch roll. Wrap each roll in cling-film and let rest in the fridge for at least 12 hours.
6. Preheat the oven to 325F. Line a large baking tray with parchment paper.
7. Cut each roll into 1/2 inch discs. Form each disc into a roll and bend to create a crescent shape. Place cookies on the baking tray, being careful not to space them too closely together.
8. Bake for 20-25 mins until the edges are lightly browned. Carefully remove the cookies from the baking tray, and dust generously with powdered sugar whilst they are still warm. Leave to cool on a cooling rack.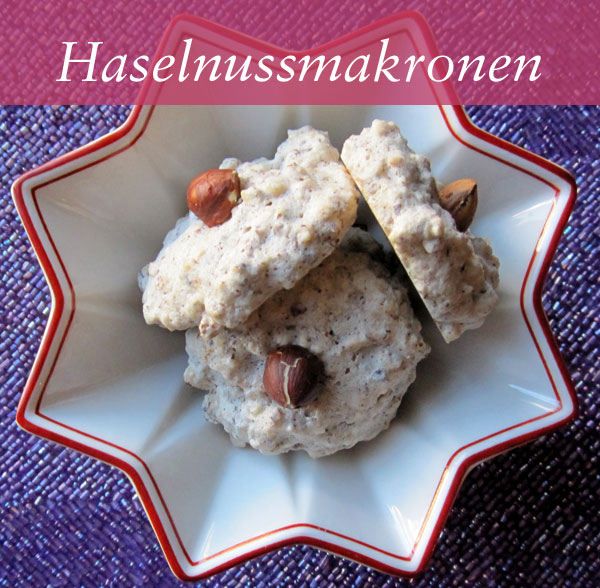 Haselnussmakronen are my favorite holiday cookies. The family's secret to these crunchy hazelnut-meringues, is lightly toasting the hazelnuts before grinding them in the food processor. To toast them, simply spread the nuts on a baking sheet and bake at 350F for 5-7 minutes, turning once.
Haselnussmakronen
Makes 35
Preparation time: 30 minutes
Baking time: 25 minutes + 30 minutes cooling in the oven
Haselnussmakronen keep well in an airtight container for 3 weeks.
Ingredients:
• 2 egg whites
• Pinch of salt
• 1/2 cup sugar
• 2 cups ground hazelnuts
• 35 whole hazelnuts for decoration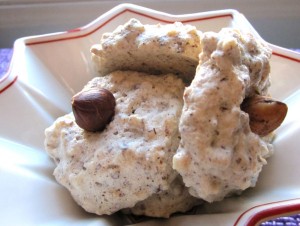 Method:
1. Preheat the oven to 275F. Line a baking sheet with parchment paper.
2. In a large bowl, mix the egg whites and salt at high speed until stiff. Add the sugar a little a time, continuing to mix until shiny.
3. Using a large metal spoon, carefully fold in the ground hazelnuts until incorporated into the egg white.
4. Using teaspoons, drop walnut-sized balls onto the lined baking sheet, topping each with a hazelnut for decoration.
5. Bake for 25 minutes. After 25 minutes, turn off the oven and open the door very slightly (you can use a cork to do this). Leave the macaroons in the oven for 30 minutes to cool before removing the tray. Carefully peel the macaroons off of the paper and allow to cool completely.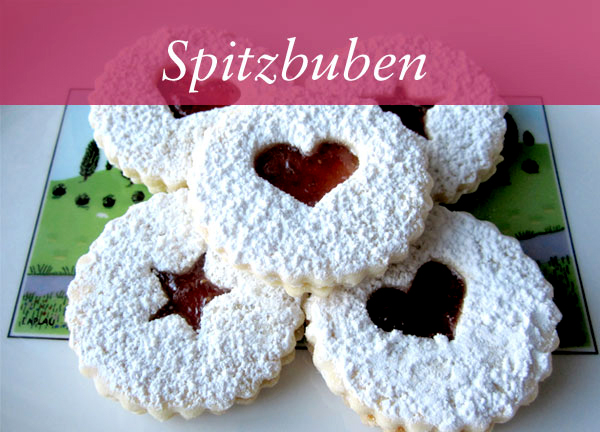 By now you've got the picture. If I could eat cookies for every meal, I would! Even as a family on Christmas Eve, there was not a lot of cooking, but a lot of cookies. These Spitzbuben are another one of my favorites.
Spitzbuben
Makes 40
Preparation Time: 1 hour + 2 hours resting time
Baking Time: 10-12 minutes
Spitzbuben will keep well in an airtight container for up to 3 weeks.
Ingredients:
• 2 1/3 cups all-purpose flour
• 1 1/8 cups ground almonds (almond flour)
• 1 cup powdered sugar
• 1 pinch of salt
• 2 teaspoons vanilla extract
• 7 oz. (1 3/4 sticks) butter, cold & cut into small pieces
• 1 egg
• 3/4 cup raspberry jam, or other red jam
• 1 teaspoon brandy, or other fruit liqueur (optional)
• powdered sugar for dusting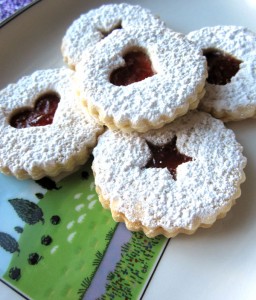 Method:
1. In a large bowl, bring together the flour, almonds, powdered sugar, salt, and butter. Add the vanilla extract to the egg and whisk lightly with a fork. Add the egg mixture and the butter pieces to the dry ingredients.
2. Work the dough with your fingers, rubbing the butter into the flour until you have a breadcrumb-like consistency. Work the mixture a little more with your hands until it comes together. Do not overwork the dough. The crumbliness of the dough ensures a crisp and crunchy cookie.
3. Form the dough into a disc, wrap in cling-film and leave to rest in the fridge for at least 2 hours.
4. Line the baking trays with parchment paper, pre-heat the oven to 350°F.
5. Halve the dough and on a lightly floured surface, roll out to about 1/8" thick.
6. Using a cookie cutter shape of your choice, cut out shapes, re-rolling the dough, until it is finished. Using an apple corer or another mini cookie cutter shape, cut out the center of half of the cookies.
7. Lay out the cookies on the baking tray and bake 10-12 minutes until golden.
8. Stir the jam until smooth (adding a teaspoon of brandy or fruit liqueur if desired), and place a quarter-sized drop of jam on the whole cookie-halves.
9. Press this together with a cut-out cookie and leave to cool. When cool, dust with powdered sugar.