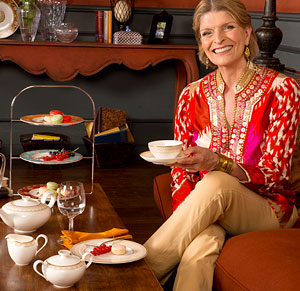 Villeroy & Boch is a brand to be trusted. Its dinnerware sets the tables of the Pope, crowned royalty, households of the rich and famous, and renowned restaurants on every continent.
The company is 266 years old and an exception in modern industry since it is still family owned.  The eighth generation is actively creating and proudly producing extraordinary tableware designs treasured the world over.
Isabelle von Boch inherited her family's passion for dinnerware and is an ardent advocate for using your good china everyday. "Does your china own you, or do you own your china," she asks consumers during her store appearances as national spokesperson for the company her ancestors founded as a tiny pottery in what is now the Lorraine region of France. It is a role which suits her well. She is proud of her heritage and happily shares family anecdotes and lore that include links to van Gogh, the Vatican and Europe's royalty with customers.
Isabelle wants to change how people eat. In America, china has become synonymous with special occasions and formal entertainment. But beautiful dinnerware and radiant crystal can bring a touch of beauty and glamour to your daily life that you surely deserve.
Isabelle thinks of china like a little black dress or basic flannel suit. If it's good quality to begin with, it can be dressed up for formal occasions, or dressed down for more casual looks with the simple use of accessories. A crisp damask tablecloth, sparkling crystal stemware and candlelight obviously will create a more formal mood, but the same pattern can take on a completely different, more low-key and casual personae when paired with placemats and colored glassware.
Self-proclaimed as one of the world's worst cooks, Isabelle relied on the china to camouflage the food she served in the busy Carmel, California, household where she and her husband raised their two children. She believes that (psychologically at least) using fine china makes the not-so-tasty just a wee bit more palatable—a valuable tip for anyone else who also is cooking-challenged.
Those who come within Isabelle's orbit adore her. She is a contagious character who just happens to be a zealot about dinnerware and everything you could possibly want to know about the subject: how to buy and care for china and crystal; how to "dress" a table for any occasion or mood; which pieces to buy when starting a household.
Isabelle enjoys sharing her knowledge about the latest trends in dinnerware as the editor of the Villeroy & Boch On The Table blog and through her Fashion of Tableware Tour, which may be coming to a city near you.